AGLD DAO is about to release Loot Chain
AGLD DAO will soon release Loot Chain.
Adventure Gold (AGLD) DAO has announced the upcoming launch of Loot Chain, a dedicated Layer 2 network developed based on the Loot community. This development is an important step in uniting the Loot community and reviving the Lootverse. AGLD DAO is built to serve its ultimate mission: incentivizing the Lootverse. Loot Chain solves the challenges of gas fees and autonomy in the ecosystem, allowing AGLD DAO to better achieve its mission.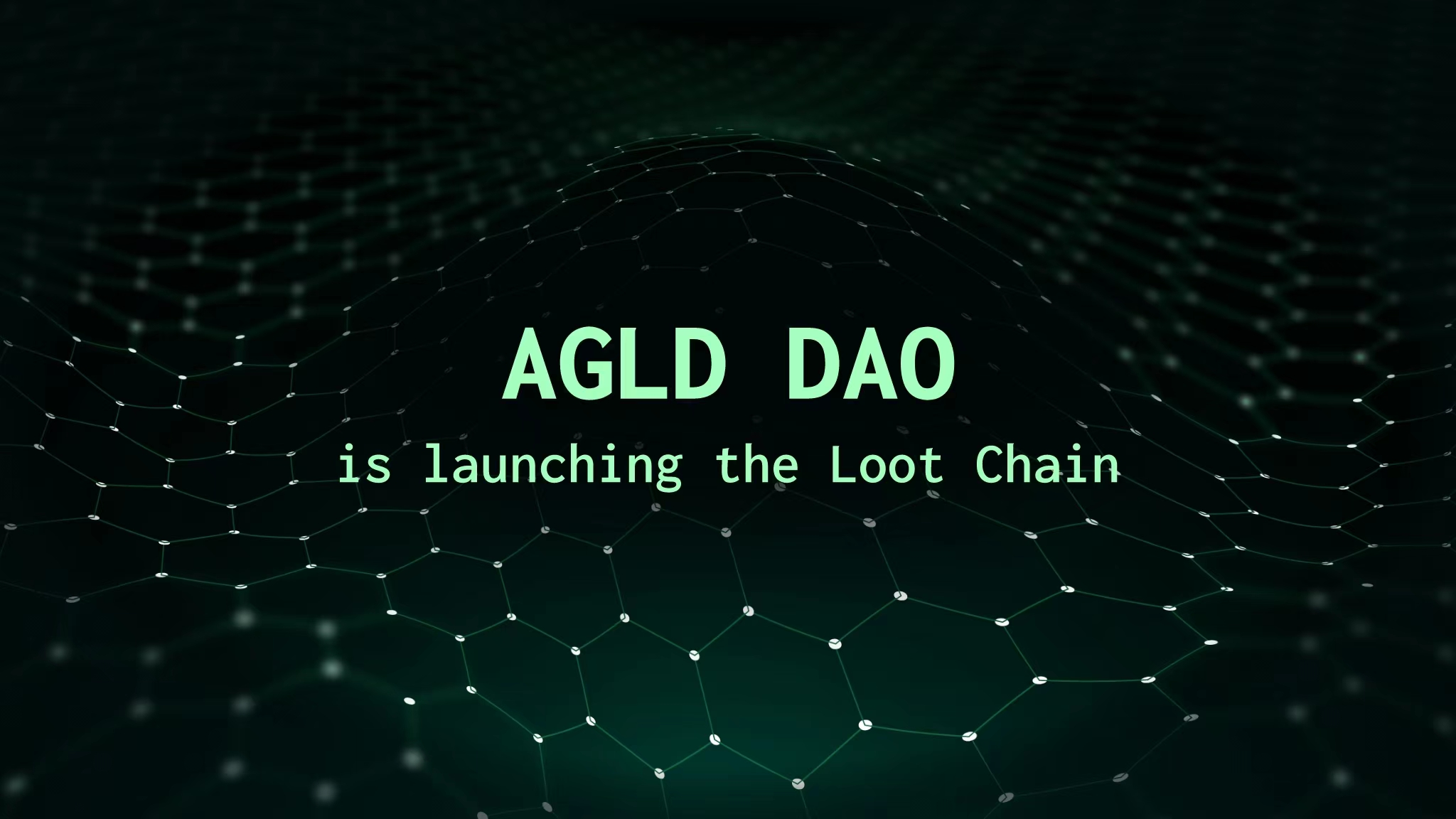 Why build a chain for the Loot community?
Gas Fees and Autonomy
Like other communities in the NFT field, the Loot community has been struggling with the high gas fees in the Ethereum network. Gas fees have become a major obstacle for Lootverse NFT holders to participate. Loot Chain aims to alleviate this problem by providing a more cost-effective execution environment for transactions.
The inspiration for Loot Chain came from the recognition of the Ethereum network that its own Layer 1 network is not the best place for the development of Lootverse. Ethereum's high gas fees have limited the growth of Lootverse, especially for users who hold NFTs of lower value, as the cost of transferring often exceeds the return, making participation in Lootverse less attractive.
In addition, some Lootverse projects have already moved out of Ethereum and are seeking broader development space. However, these chains are not Loot-centric and are limited to their own roadmaps. Loot Chain will provide autonomy for Lootverse and prioritize the development needs of Lootverse.
Not the First Chain in the NFT Community
The concept of a proprietary chain for the NFT community is not new. For example, Axie Infinity launched its own Ethereum sidechain Ronin to solve similar problems. As their announcement (https://medium.com/axie-infinity/introducing-ronin-axie-infinitys-ethereum-sidechain-8745e31eaef1) states, the high gas fees on Ethereum have limited their growth and user experience. Loot Chain aims to address similar flaws for the Loot community, providing a more efficient and cost-effective environment for transactions and development.
Loot Chain: Home of Builders
Loot Chain aims to be the home of Lootverse builders. It will be the preferred place to build new games, tools, and even autonomous worlds in Lootverse. Whether creating or developing, there is no need to look elsewhere for the toolkits they need.
Loot Chain will provide an execution environment for Lootverse games, allowing developers to operate games on Loot Chain with the advantage of low gas fees. They can run in-game assets such as tokens or NFTs on Loot Chain, and even run the entire logic and state of the game on Loot Chain.
What is Loot Chain?
Loot Chain is a Layer2 that supports EVM, built by Caldera using OP Stack. Based on the wide distribution and liquidity of AGLD within and outside the Loot community, AGLD will also be used as gas fees on this network. The chain also uses Polygon as the data layer (DA Layer), significantly reducing the cost of building, deploying, and operating Loot Chain.
Loot Chain aims to provide a low-cost, high-speed environment for transactions. We will work with experienced RaaS team Caldera ([https://caldera.xyz](https://caldera.xyz/)) to achieve this goal. While maintaining the EVM development environment, the chain will support instant block production, a major upgrade for the whole-chain games that the Loot community has always been passionate about.
In addition, Loot Chain is upgradable to ensure that it always meets the needs of Loot community developers. This flexibility is crucial in the rapidly developing blockchain industry. Most importantly, this is Loot community's own chain, managed by the Loot and AGLD communities, no longer bound by other factors, but their own home.
Future Roadmap
The future of Loot Chain is worth looking forward to. At the time of this article's release, AGLD also released multiple NFT and game demos developed based on the chain. In the near future, developer toolkits and other supporting products will be released. These toolkits will provide necessary resources for developers to create and develop in Lootverse. Incentive and pledge plans for the AGLD community will also be launched to further promote ecosystem growth and development.
As the community progresses, AGLD will continue to listen to feedback and make necessary adjustments to ensure that Loot Chain effectively achieves the community's vision. AGLD is committed to making Loot Chain a powerful and efficient platform to promote innovation and creativity in Lootverse.
AGLD also welcomes creators and developers from all fields to join in building the new home of the Loot community. The spirit of Loot is always there, and Lootverse will always exist!
---