Details of Base's current progress: Starting the Genesis Window, allowing the creation of "Path to Mainnet" NFTs.
Base is currently progressing with the creation of "Path to Mainnet" NFTs by starting the Genesis Window.
Author: Excerpt from Base
Translation: Felix, BlockingNews
Earlier this year, Base announced the launch of its testnet, an Ethereum Layer 2 network built on the OP Stack that provides developers with a secure and low-cost way to build decentralized applications on-chain. Incubated by Coinbase, Base's mission is to increase economic freedom and opportunity around the world. To achieve this goal, Base is launching a platform aimed at bringing millions of developers and billions of users into the crypto economy.
Base has been building the Mainnet Genesis, the first step in delivering a decentralized platform that scales Ethereum through fast, low-cost, and secure transactions. As Base prepares to upgrade from the testnet to the mainnet, it has published a roadmap to keep the community informed of its progress.
Base Builders
Since the launch of the testnet, Base has received widespread response from the developer community and projects deployed on the testnet, including use cases such as gaming, NFTs, infrastructure, developer tools, wallets, security, DeFi, oracles, analytic tools, bridging, payments, DAOs, social, etc. Representative projects include:
Blackbird is a Web3 platform designed specifically for the travel and hospitality industry, aiming to establish direct connections between restaurants and guests through loyalty and membership services. The platform unlocks rewards for returning customers to participating restaurants. Blackbird launched its beta earlier this year, which included a rewards program for Williamsburg restaurant GERTIE and the Upside Pizza Club, which offers members a slice of pizza every day for a year, as well as access to private concerts and events.
Blockingrallel is an NFT-based trading card game that allows users to truly own their cards and other in-game items as they battle enemies in a sci-fi world. Bringing its ecosystem to the Base mainnet, Blockingrallel enables users to collect and engage with the game at a lower cost.
Thirdweb aims to make it easy for developers to deploy on the blockchain with its toolkit. The team proved the ease and speed of deployment with the game it launched itself, Web3 Warriors, the first game built on Base.
OAK is a community currency in Oakland. Residents can use OAK-branded stablecoins at local businesses, which not only keeps value circulating locally, saving merchants from high transaction costs, but also promotes local economic development.
Base Mainnet Genesis Standards
Building a blockchain is a complex engineering task, and Base's approach to launching its mainnet takes inspiration from other similarly complex mainnet launches. Base's top priority is ensuring network security, followed by smooth and efficient communication so that developers can prepare, and thirdly, timely deployment of the mainnet.
It is worth noting that the Base testnet has been running since February 23. Check out the documentation to get on the testnet and start building. During the testnet window, Base will focus on:
Auditing the OP Stack and Base infrastructure to improve platform security
Load testing the OP Stack and Base infrastructure to ensure scalability
Ensuring a high-quality developer experience
Guiding newcomers through educational content such as Builder Quest and Base Camp
As the mainnet release approaches, Base has a set of items that need to be completed:
Successfully complete the Regolith hard fork in the testnet (completed)
Successfully conduct infrastructure review with the OP Labs team (completed)
Successfully upgrade the Optimism mainnet Bedrock
Successfully complete internal and external audits with no major issues
Prove the stability of the testnet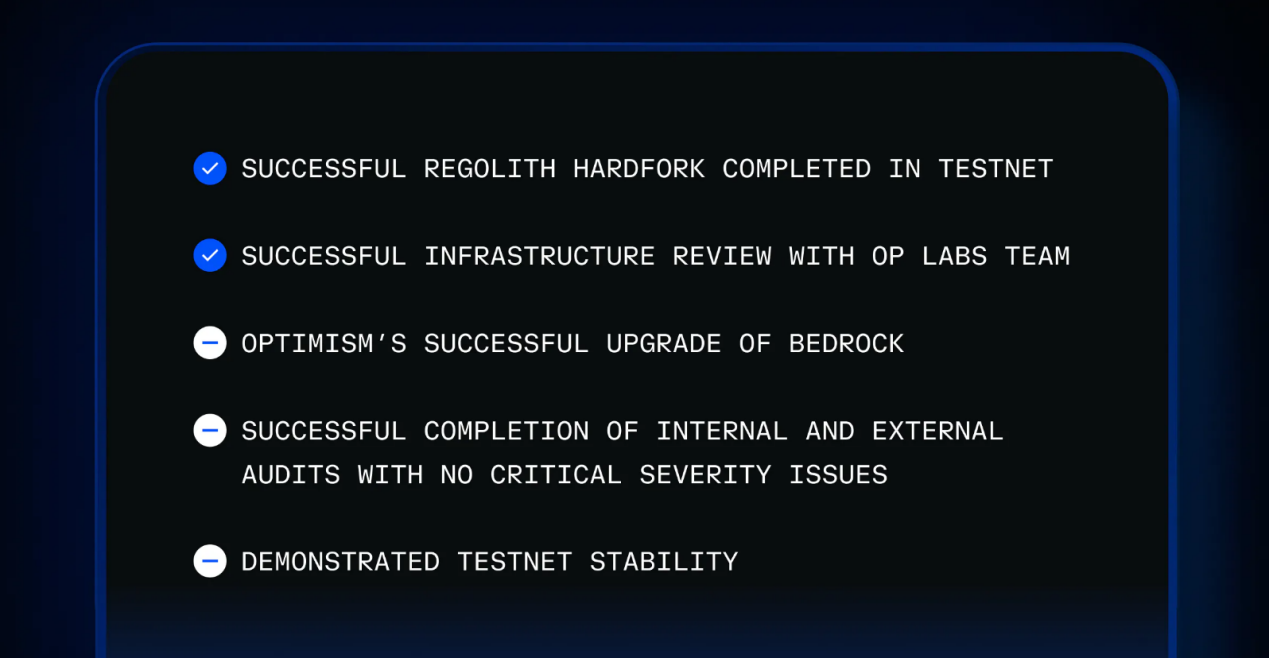 Genesis Window
After the mainnet genesis block is generated, Base will open the Genesis Window—a dedicated, coordinated window for developers to deploy dapps on the Base mainnet. During the window, Base will focus on supporting developers and ensuring their success.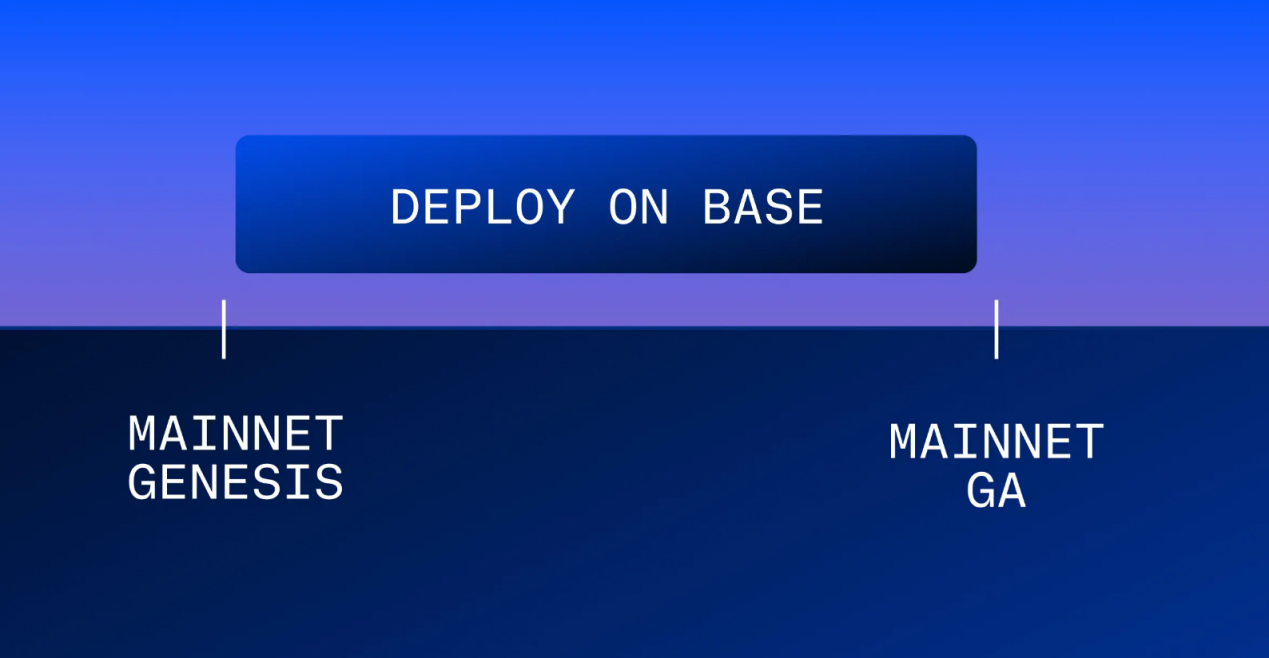 Base's goals during the window are to ensure that developers can:
Deploy with confidence: During the Genesis Window, developers will be able to securely, easily, and reliably deploy their dapps to Base.
Get fast technical support: The Base core team will provide technical support to any dapp deployed during this window through the Discord channel.
Be recognized as Genesis Builders: Base will support and recognize early dapps deployed on the Base mainnet.
"Journey to Base Mainnet" NFT
Base has a grand vision to bring the next million developers and one billion users to the blockchain. In order for users to be able to actively participate on this long journey, Base has launched the "Journey to Base Mainnet" NFT. Details for NFT minting: link.
Related Reading: A Quick Look at Base, the New Ethereum L2 Network Based on OP Stack Launched by Coinbase
---