Binance faces a double attack from regulators and competitors, with investors withdrawing $4 billion in capital.
Binance under pressure from regulators and competitors, with $4 billion in capital withdrawals by investors.
Authors: Eric Johansson, Adam Morgan McCarthy, Trista Kelley; Source: dlnews
Translation: Blocking, Shanouba
Summary
The $3.8 billion fund outflow and market share shrinkage that Binance experienced in June may just be the beginning of its problems.

The exchange giant still attracts large-scale trading because "liquidity attracts liquidity".

But that may be changing. As prosecutors intensify their investigation of Binance, financial giants are entering the cryptocurrency field.
June is over, and Binance CEO Zhao Changpeng must have breathed a sigh of relief. DefiLlama data shows that investors withdrew $3.8 billion from the world's top cryptocurrency exchanges in June, more than twice the outflow in May and the worst performance since December. However, Zhao and his struggling company may not see any signs of relief yet. Binance is being scrutinized by US regulators, has shut down operations across Europe under pressure from officials, and is preparing to face potential criminal charges in the US.
The real trouble
If that wasn't enough, financial giants such as Fidelity, BlackRock, and Charles Schwab are now seeking a larger share of the cryptocurrency market. "Binance seems to be facing increasing difficulties and getting into real trouble," regulatory expert and former Citigroup executive Sean Tuffy told DL News. However, Zhao Changpeng and his exchange do have one advantage: their massive scale. As a preferred cryptocurrency trading market with daily trading volumes exceeding $8.2 billion and assets worth $59 billion, Binance is hard to ignore. Investors are still trading the digital assets they choose on its exchange. "Binance is still the focus of liquidity because liquidity attracts liquidity," said one institutional cryptocurrency trader who declined to be named.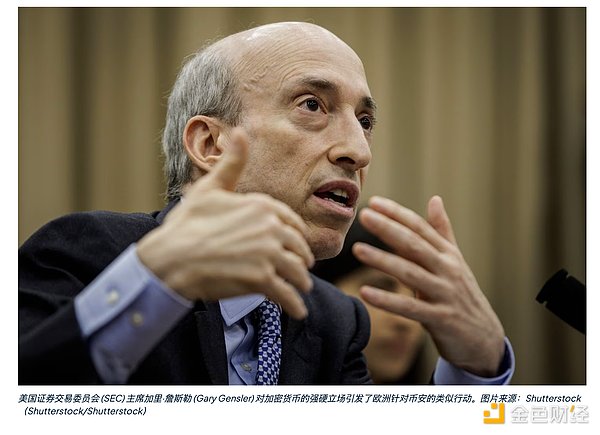 However, this situation may only be temporary. There are increasingly expectations that US prosecutors will follow the SEC's lead and bring criminal charges against Binance related to its US business.
The issue is that Binance has not registered with the US Securities and Exchange Commission as an exchange, broker, or clearinghouse.
Although Binance and other cryptocurrency companies argue that they do not need to register because digital assets are different from stocks and bonds, SEC Chairman Gary Gensler disagrees. The agency has filed lawsuits against Binance and Coinbase for allegedly failing to comply with legal requirements.
In theory, Binance may be able to survive the agency's civil lawsuits, according to Riyad Carey, a research analyst at blockchain analytics firm Kaiko. Many financial institutions that have been subject to SEC enforcement actions eventually settle. For example, competing exchange Kraken settled with the SEC in February of this year by paying a $30 million fine and closing its margin trading business.
Carey told DL News, "The SEC's lawsuit doesn't mean a death sentence for Binance International. Perhaps they will pay a fine or some other form of settlement. That's usually the case."
A serious issue
But criminal charges are another matter. "For Binance, this is definitely a more serious issue that will affect its future development," Carey said. A Binance representative told DL News that the company's assets match its throughput and have strong liquidity. When asked about the possibility of criminal charges, a spokesperson quoted comments made earlier this year by the company's chief strategy officer, Blockingtrick Hillman. Hillman said, "Binance takes compliance issues very seriously and regularly engages with US law enforcement agencies." Since FTX's failure last year raised concerns about opaque crypto exchanges, Binance has found it difficult to boost confidence in its operations. According to data from DefiLlama, Binance's customers have withdrawn $16.7 billion from the exchange since FTX went bankrupt on November 11. As Binance's investors and liquidity are affected, its competitors are seizing the opportunity.
According to data from DefiLlama, since FTX's bankruptcy, centralized exchange OKX has seen $4.1 billion in deposits, about one-fifth of Binance's asset size.
TradFi is here
At the same time, financial giants are also rising. Fidelity, Schwab, and market-making firm Citadel Securities, led by hedge fund billionaire Ken Griffin, have teamed up to launch a new exchange called EDX Markets.
Meanwhile, BlackRock, the world's largest asset manager with $9 trillion in assets, is competing with Fidelity and Cathie Wood's Ark Invest to secure approval from the US Securities and Exchange Commission (SEC) to launch a bitcoin exchange-traded fund.
"Given the scrutiny on Binance, institutional investors will consider their options," said Jacob Joseph, research analyst at CCData.
Meanwhile, Binance is facing damage in another business area – its stablecoin Binance USD. The circulating supply of BUSD has decreased since the SEC ordered Blockingxos to stop issuing BUSD in February because it was an unregistered security.
According to DefiLlama's data, the total circulating supply of BUSD has decreased from $16 billion in February to $4 billion. This may further reduce investors' interest in the entire Binance ecosystem as BUSD loses its appeal as a convenient means of converting fiat currency into cryptocurrency.
Pressure in Europe
Then there is the huge change in Binance's fate in Canada and Europe. In May, Binance withdrew from Canada, blaming the country's new, stricter cryptocurrency regulations.
In June, Binance suddenly announced that it would no longer accept new customers in the Netherlands because it had failed to obtain official approval from the Dutch authorities. At the same time, German regulators rejected Binance's licensing application. The exchange withdrew its application in Austria and stopped offering virtual currency services in Belgium because authorities ordered a halt. Binance is also not allowed to offer any regulated activities in the UK. Meanwhile, French prosecutors have reportedly launched a preliminary investigation into Binance's alleged failure to comply with background check and anti-money laundering regulations.
All of this pressure has had an impact. According to data from The Block Research, Binance's share of the spot cryptocurrency market has dropped from about 60% to 42%. In June alone, Binance's market share dropped 7%.
Ronaldo partners with Binance
Zhao Changpeng has long maintained that Binance is financially stable and compliant with regulations. He often dismisses challenges and criticism as baseless or fake news.
On Monday, Zhao celebrated Binance's latest celebrity partnership – soccer superstar Ronaldo launched his NFT collection on the exchange's NFT market and wore a Binance jersey.
However, the major event in the cryptocurrency field is not NFT, but rather Bitcoin's 87% surge this year. As optimism spreads, Binance's indicators seem to be moving in the wrong direction. And the worst may be yet to come.