BlackRock "helps" Bitcoin break through $26,000, reaching the highest level in a week
BlackRock boosts Bitcoin to $26,000, highest level in a week
Author: BlockingBitpushNews Mary Liu
Less than 24 hours after BlackRock, the world's largest asset management company, submitted its spot Bitcoin ETF application, Bitcoin has broken through $26,000 and hit its highest level in a week, with a 24-hour increase of about 4%, and Ethereum has risen 3% to $1,718.06. The altcoin market has also been boosted, with Solana and Cardano rising 4.5% and 2% respectively, BNB rising 2.75%, Litecoin rising 3%, and Uniswap tokens rising 4%.
BlackRock's "boost"
If the SEC gives the green light, BlackRock's iShares Bitcoin Trust will become the first ETF in the US to track bitcoin prices rather than futures contracts related to cryptocurrencies. MicroStrategy's stock price has risen by more than 5%, and Grayscale's GBTC negative premium has narrowed, adding positive sentiment to the crypto market.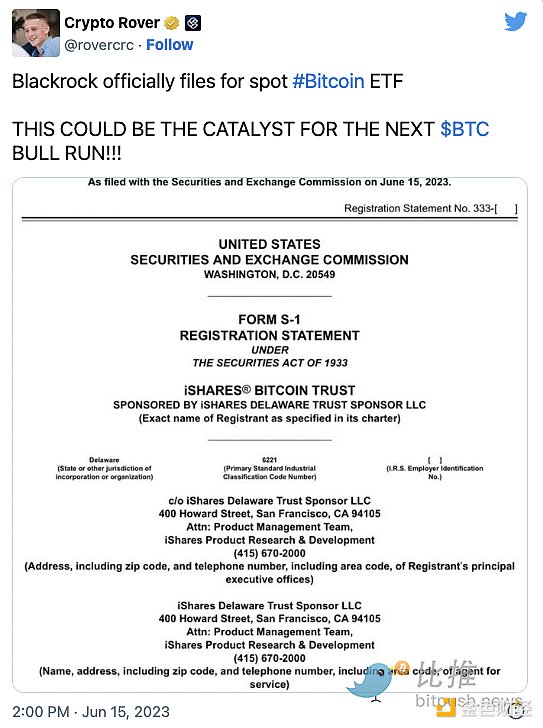 Gustavo Schwenkler, associate professor at the Leavey School of Business at Santa Clara University, commented: "An important purpose of Bitcoin as an asset class is to achieve diversification. It differs in terms of risk profile from traditional financial markets. If this is approved, I can expect more institutional investors to add bitcoin to their portfolios… this will institutionalize the market in a way that is currently impossible."
So far, the SEC has rejected all companies' spot Bitcoin ETF applications. BlackRock's filing came a week after the SEC sued its cryptocurrency custody partner Coinbase for violating securities laws, leading many to speculate about BlackRock's intentions.
Mark Connors, head of research at Canadian cryptocurrency asset management firm 3iQ, said on social media that the timing of BlackRock's application may reflect its "implied support" when facing legal action by the US Securities and Exchange Commission. In the proposed iShares Bitcoin Trust, Coinbase will serve as the trustee for Bitcoin in the trust.
Connors wrote: "The timing of BlackRock's application can be seen as eliminating regulatory concerns by reiterating their commitment to Coinbase and a regulated spot Bitcoin trust in the same action, which is undoubtedly an advantage for Coinbase and the entire industry, as the filing establishes clear processes for custody, liquidity, and price monitoring, which will have a positive impact on Coinbase's business prospects and industry adoption."
Bitcoin Dominance on the Rise
Previously reported by Blocking, on June 14, 2023, the Fed's FOMC stabilized interest rates at 5-5.25% after ten consecutive rate hikes. The next day, the European Central Bank announced a 0.25% increase in its three main interest rates, effective June 21, 2023. These developments triggered a sell-off of Bitcoin, pushing it to a three-month low.
However, the price of BTC quickly rebounded from the bottom, sparking another bullish sentiment. Bitcoin's market dominance has peaked since July 2021, indicating renewed interest from traders and investors in the leading cryptocurrency.

Recent TradingView data shows that Bitcoin's dominance, i.e., the percentage of BTC in the total market value of cryptocurrencies, has reached as high as 49.8%. This is an unprecedented level since July 2021, when Bitcoin's dominance exceeded 48%.
It is worth noting that in April of this year, Bitcoin's dominance briefly touched 48.83% and then oscillated within a certain range.
Is the bearish trend fading?
According to Yan Allemann, co-founder of Glassnode, the current stage of this trend is a retest of the $26,200 level. Allemann believes that this is an important stage because it will determine whether Bitcoin can break through the previous resistance level and move towards the next target of $27,200.
Crypto Con, a market analyst, believes that one of the most accurate indicators of whether Bitcoin is bullish or bearish is the 140-day moving average (140DMA), which indicates that BTC's price is below this key level. The 140DMA is a widely watched indicator in the cryptocurrency market because it clearly indicates whether Bitcoin is in a bullish or bearish phase.
When BTC's price is above the 140DMA, it is a bullish signal indicating that the cryptocurrency may continue its upward trend. Conversely, when the price is below the 140DMA, it is a bearish signal indicating that the cryptocurrency may experience a downward trend.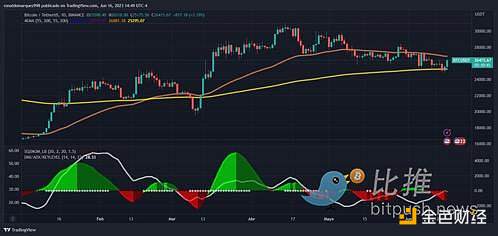 Crypto Con states that from a technical chart perspective, BTC needs to stay at the $26,000 level throughout the weekend to continue its upward trend, and sustained prices above this level may indicate that BTC is likely to rebound next week.
Specifically, if the BTC price surpasses the direct resistance level of $26,060, it indicates further bullish buying activity. Breaking through $27,343 will push the price up to the next resistance level of $28,090. Conversely, if BTC falls from its current position and drops below $25,550, it means that the bulls are retreating and it could fall to the important support level of $20,000.
---