BitKeep Research Report: The Development of Blockchain in Hong Kong
Blockchain Development in Hong Kong - a BitKeep Research Report
Abstract
Starting from June 1st, Hong Kong has officially implemented virtual asset regulatory provisions, accelerating the development of the Hong Kong blockchain market.
Strict regulatory regulations are formulated to protect the safety of investor assets, while facilitating the introduction of more institutions and fresh foreign capital.
Hong Kong has set up the Web3 Hub Eco Fund to actively promote the development of Hong Kong's ecological projects.
Using an encrypted wallet is the best way for users to interact with the blockchain network and the assets they hold.
1. Hong Kong Blockchain Background and Current Situation
In May, the Hong Kong Securities and Futures Commission officially announced that virtual asset regulatory provisions will be implemented starting from June 1st, and retail investors can buy and sell virtual assets on licensed trading platforms as early as the second half of the year. CZ also shared on Twitter that the Hong Kong cryptocurrency regulatory provisions have landed on CCTV2's economic information broadcast, and tokens in the Hong Kong and China sectors have ushered in a very strong rally.
It is worth noting that China Central Television broadcasted a report on Hong Kong accepting cryptocurrencies, although it was only 98 seconds long, there was no negative evaluation of cryptocurrencies, which is very different from China's attitude towards cryptocurrencies in 2019.
1.1 Status of Hong Kong Financial Center
With the rise of blockchain technology, Web3 is gradually replacing Web2 as the next generation Internet framework. As a traditional financial center, Hong Kong is actively exploring how to maintain its status in the world of Web3.
As an international financial center, Hong Kong has become a hot spot for blockchain and digital asset fields. Unlike the attitude of surrounding Asian countries towards cryptocurrencies, Hong Kong is gradually accepting and actively developing blockchain technology, and more and more companies are choosing to establish institutions or subsidiaries in Hong Kong. In addition, Hong Kong is also actively promoting the regulation and standardization of digital assets and blockchain technology to meet the growing digital asset market and investor demand.
1.2 Hong Kong Blockchain Situation
2023 is destined to be a year without a shortage of hotspots. In the first half of the year, hotspots such as the Ordinals protocol, BTC NFT, memecoin, and LSDFi will be overwhelming, and the current meme coin frenzy has also expanded to the Bitcoin market for the first time. As the Asian financial center, the emergence of blockchain technology has also brought new opportunities to Hong Kong's financial industry, and Hong Kong's blockchain market has maintained a rapid development trend in recent years.
With Hong Kong's more open attitude towards blockchain, Hong Kong has become another global virtual asset center city after London, New York, and Singapore, and Hong Kong is also expected to become a regional virtual asset center in Asia. In fact, Hong Kong has been layouting in the blockchain industry for a long time. Since 2018, it has launched the "Fusion Competition" to encourage local companies to participate in the development of blockchain and other technological fields. At present, Hong Kong's financial technology companies have exceeded 600, including mobile payments, cross-border wealth management, wealth and investment management, compliance technology, virtual asset transactions, and other categories. At the same time, it has launched virtual asset ETFs and continued to hold multiple large-scale blockchain industry summits.
II. The Development of Hong Kong's Blockchain
Hong Kong has gone from being skeptical and not recognizing the financial nature of cryptocurrencies to hosting the 2023 Hong Kong International Web3 Conference. With the development and changes of the encryption industry, Hong Kong's regulatory policies have also become clearer, and Hong Kong has also continuously improved its understanding of web3 technology and applications. The financial market is like a boat against the current. If Hong Kong, as the Asian financial center, does not actively accept new things and the development of the market, then opportunities will be handed over to others, such as more open countries like Singapore.
2.1 Early Suspicion Phase
In the past, the Hong Kong government held a cautious and suspicious attitude towards cryptocurrencies. In 2013, the Hong Kong Monetary Authority issued a statement pointing out that cryptocurrencies such as Bitcoin did not meet the definition of currency or financial instruments and therefore did not require regulation. In 2018, the Hong Kong Securities and Futures Commission also issued a warning notice, reminding investors to pay attention to false ICOs and false digital asset trading platforms. Cryptocurrency exchanges in China were required to immediately stop trading, and exchanges were required to stop serving Chinese citizens. After the implementation of the cryptocurrency ban in China, mining machine institutions have successively shut down, and China has fallen out of the top ten in the global computing power rankings. However, in recent years, with the rapid development of global blockchain and cryptocurrencies, the Hong Kong government's attitude has also eased slightly. In 2019, the chairman of the Hong Kong Securities and Futures Commission stated that Hong Kong intends to allow cryptocurrency investors to operate under supervision rather than fully banning cryptocurrency trading. At the same time, the Hong Kong Monetary Authority is also actively studying the issuance of central bank digital currencies (CBDCs) and cooperating with countries such as mainland China and Thailand to explore cross-border digital currency payment systems.
Overall, although the Hong Kong government's attitude was not completely open at the time, Hong Kong is gradually changing its attitude towards these new types of assets with the development of blockchain and cryptocurrency.
2.2 Accelerated Development Period from 2017 to Present
Since 2017, Hong Kong's blockchain industry has experienced an accelerated development phase, mainly due to the support and promotion of the Hong Kong government and enterprises. In 2017, the Hong Kong Monetary Authority initiated a laboratory experiment to explore the feasibility of using blockchain technology in the Hong Kong interbank network. Since then, Hong Kong's blockchain industry has experienced rapid development. In 2018, the Hong Kong SAR government established a blockchain dedicated working group to promote Hong Kong as a global leading blockchain center. At the same time, more and more companies are conducting blockchain business here, such as Ant Blockchain under Ant Financial, Coinsuper invested by Sequoia Capital, etc.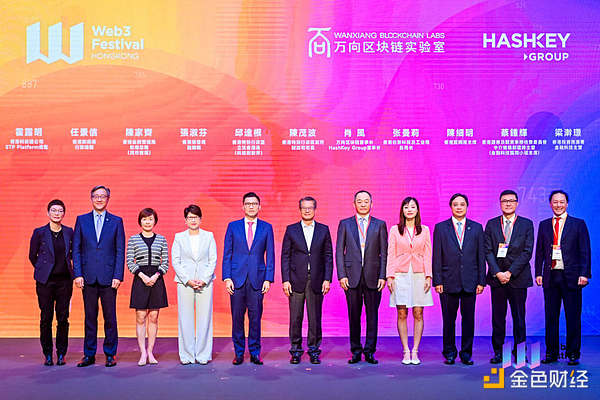 At the same time, Hong Kong's blockchain ecosystem is constantly improving. For example, the Hong Kong Industrial Research Institute has cooperated with the Wharton School of Business to launch a blockchain certification course to provide practitioners with relevant knowledge and skills. In addition, in 2022, Hong Kong publicly sold the first batch of encrypted asset ETFs in Asia, and also launched a series of blockchain and digital asset-related activities and summits, such as the Asia Blockchain Summit, providing a platform for communication and cooperation in this industry. Nowadays, with the introduction of new economic policies after the epidemic, the reconstruction, consolidation and development of Hong Kong's financial center status, Hong Kong will have a lot of development space in the encryption field.
2.3 Policy Environment and Regulatory Attitudes and Measures
Coinbase CEO Brian Armstrong once said on Twitter: The United States faces the risk of long-term loss of its financial center status. Because they have no clear regulatory rules for cryptocurrencies, the regulatory environment is also very poor. The encryption market is open, and other regions are leading. Previously it was the European Union and the United Kingdom, and now it is Hong Kong.

Only in an appropriate regulatory environment can investors be better protected and more conservative investors be attracted to participate more centrally. In response to regulatory issues, Hong Kong's first step is to announce the issuance of a legal operating license to CEX, which is very important. The reason why many exchanges cannot operate in certain countries is because the country does not recognize the existence of the exchange. Taking the Bitget exchange as an example, they have obtained many licenses globally, and I believe they will soon obtain a legal operating license in Hong Kong. The latest policies issued by Hong Kong specify the participation requirements of institutions, enterprises, and individuals in detail, including individuals who invest more than HKD 8 million in assets or institutions whose assets exceed HKD 40 million and are located in Hong Kong, etc.
In fact, the pace of blockchain regulation in Hong Kong is not slow at all. As early as September 5th, 2017, the Securities and Futures Commission of Hong Kong (SFC) issued a "Statement on the First Token Issuance", which stated that the cryptocurrency involved in the first token issuance may belong to the securities defined by the "Securities and Futures Ordinance", and the team or fund engaged in the first token issuance must register with and be regulated by the SFC.
This time, Hong Kong issued a number of guidelines related to crypto assets, including the "Guideline on the Application of Virtual Asset Trading Platform Operators", "Guideline on Anti-Money Laundering and Counter-Terrorist Financing (Applicable to Licensed Corporations and Virtual Asset Service Providers Licensed by the SFC)", "Preventing Money Laundering and Terrorist Financing for Licensed Corporations and Virtual Asset Service Providers with Associated Entities" issued by the SFC, "SFC Disciplinary Fines Guidelines", "Securities and Futures Ordinance" and "Anti-Money Laundering and Counter-Terrorist Financing Ordinance". In addition, the SFC stated that licensed virtual asset trading platforms should follow a series of proper investor protection measures covering establishing business relationships with customers, governance, disclosure, token due diligence and inclusion before providing trading services to retail investors, and temporarily prohibit services such as stablecoins, proprietary trading, and lending.
Only reasonable regulation can ensure the healthy and positive development of the market, attract a large number of international companies to develop in Hong Kong, and introduce more institutions and fresh foreign capital.
III. Construction and Development of Hong Kong's Blockchain Ecosystem
The Hong Kong Web3.0 Carnival has become an international event in the crypto community in recent years, bringing together leading projects in various fields. The event has experienced exponential growth, and has also focused more attention on Hong Kong as an international financial city. Avalanche, Conflux, EOS, Fantom and other protocols have joined the Hong Kong Web3 Hub Ecological Fund, and the secondary market trading sentiment is high, with a variety of projects performing very well.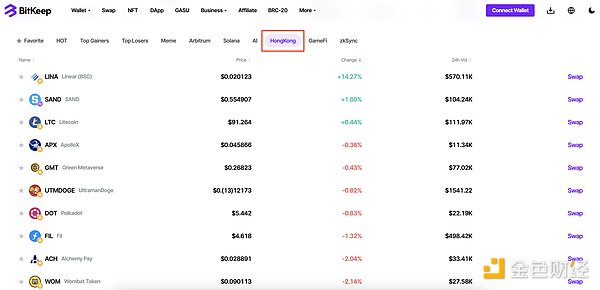 3.1 Hong Kong Concept High-Quality Projects
Conflux Network ($CFX)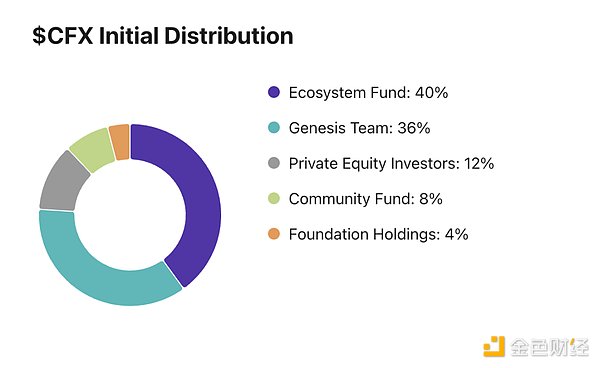 As the leader in the Hong Kong market, the rise of Conflux token $CFX is also the most obvious, with short-term gains of nearly ten times due to the positive news in Hong Kong. The core team of Conflux is very strong, having established strategic cooperation with Xiaohongshu, jointly issued a stablecoin on the chain with the Shanghai municipal government, and collaborated with large companies such as China Telecom. It is not difficult to see that Conflux's ecology is mostly based on the B-end and has a very strong government background, forming its unique ecology.
As an old public chain, the performance of ecological projects on Conflux does not look impressive. If it still wants to maintain its leading position in the future, the development of high-quality on-chain ecology is crucial. Therefore, rather than looking at the public chain, it is better to look at its ecology. If Conflux wants to catch the next tenfold opportunity, relying solely on itself will be a great pressure, but it is not impossible to rely on one or several ecologies. Everyone can pay more attention to the existing ecology on Conflux or the new projects that will be publicly released. You may be able to seize the next tenfold opportunity.
AlchemyBlockingy ($ACH)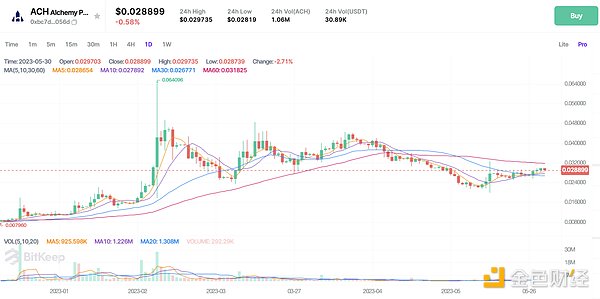 AlchemyBlockingy is a payment solution provider built on Ethereum and BNB Chain, and is one of the channels with the lowest and safest fiat deposit rates. BitKeep OTC has supported transactions using AlchemyBlockingy. Alchemy Blockingy officially supports purchasing cryptocurrencies through methods such as Apple Blockingy, Google Blockingy, and Visa, and its application scenarios are very broad, known as the Alipay of the currency circle. Not only is the project itself strong, but the partners are also very powerful, such as Binance, Polygon, Avalanche, OKX, MEXC, etc. Even CZ is optimistic about the development of AlchemyBlockingy, but the positioning of this project for native blockchain projects needs to be discussed. It is more like a bridge connecting the real world and the Web3 world, and it is relatively friendly for newcomers to the Web.
Element NFT Platform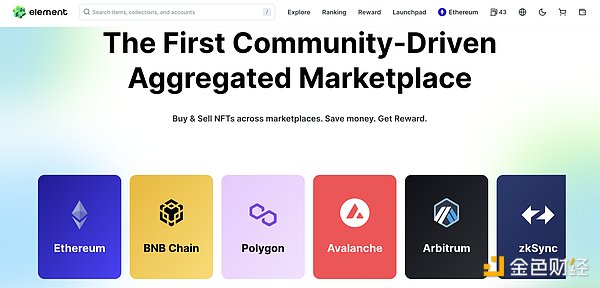 Element has been laying out the Hong Kong market for a long time, and its headquarters is also in Hong Kong. It is a relatively high-quality NFT platform among the Chinese project group. Hong Kong has many multinational consumer goods companies, all of which have a demand for issuing NFTs. We can see that as more and more traditional brands such as Nike, Li Ning, and Starbucks use NFTs as new narrative means for brand IP and achieve impressive results, more and more brands are joining the NFT marketing army. This approach has indirectly introduced more fresh blood into the NFT market and also lowered the threshold for NFT experience, which is beneficial to the connection between the NFT market and the real world. If Element can accept these fresh blood, its development prospects are also very promising.
SELFKEY($KEY)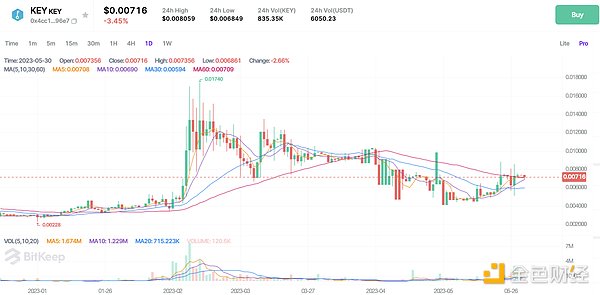 SELFKEY is also one of the recent popular Hong Kong concept projects. As a DID concept project, it is committed to providing users with autonomy, enabling them to control their identity and digital assets. Core functions include: digital identity authentication, communication privacy, digital asset management, smart contracts, KYC/AM, etc. In addition, SELFKEY is a pure Hong Kong team. However, there are currently many projects doing DID, so in addition to the hype of Hong Kong concepts, SELFKEY's own functions need to keep up. Everyone also needs to consider the overall state of the entire track, but currently the performance of the entire DID track is not very strong, and everyone needs to consider it more.
The Sandbox($SAND)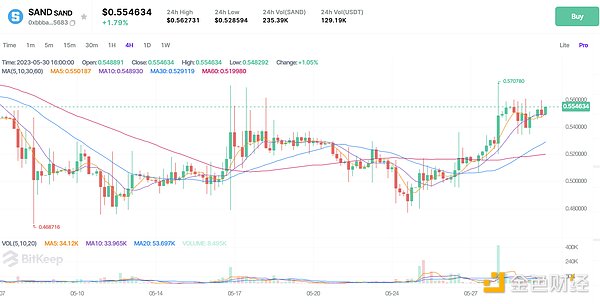 The Sandbox was founded in 2012 and is one of the leaders in the Metaverse concept project. It is a decentralized, community-driven game ecosystem where players can create NFTs, upload them to the in-game market, and teleport them into the game. The project has raised funds twice with a total amount of 95.1 million US dollars, and its main investors are SoftBank Vision Fund, Animoca Brands, Blue Pool Capital, Polygon Labs, Liberty City Ventures, Samsung Nex, etc.
3.2 Hong Kong Blockchain Development Prospects
Looking at the global market, currently only Hong Kong has both cryptocurrency-friendly policies and an active market, and can radiate the entire global market. This has a huge impact on the global cryptocurrency market, and Hong Kong has unique advantages in both market and policies, so the entire industry is very excited.
Hong Kong established the Web3 Hub Ecological Fund on May 14th to promote the construction of the Hong Kong Web3 ecological environment. The fund project is composed of Web3 industries such as blockchain, cloud services, and media, and is used to support more overseas Web3.0 companies to settle in Hong Kong. The fund will be chaired by Hong Kong Financial Secretary Chen Maobo, and the management committee will be composed of experts from various fields such as financial technology, blockchain, and cryptocurrency. Now, various tracks are beginning to lay out Hong Kong concepts. The Hong Kong market is still in its early stages and lacks necessary infrastructure. As an entry point for tens of millions of users to enter the Web3 world, the BitKeep wallet has been providing users with the most convenient asset management services throughout the year. It supports 90+ mainstream public chains and 250,000+ on-chain assets. The NFT market and one-click completion of asset exchange services are readily available. Now, a Hong Kong concept coin special area has also been established, and real-time K-line, project details, market trend reminders and other functions can help novices easily experience the charm of the blockchain world.
As the application scenarios of blockchain technology continue to expand, it is foreseeable that the blockchain industry in Hong Kong will continue to grow and develop in the future. At the same time, Hong Kong needs to deepen its research and application of blockchain technology.
IV. Risks and Opportunities of Hong Kong's Blockchain
As the cryptocurrency industry is still in its early stages, in order to maintain healthy development in Hong Kong, it is still necessary to focus on clarifying the legal status of cryptocurrencies, clarifying the regulatory standards and regulatory responsibilities of financial regulatory agencies and governments, establishing and improving laws and regulations for virtual asset regulation, formulating industry standards for virtual assets, and improving access and exit mechanisms for related companies such as virtual asset exchanges and virtual asset funds.
Regulation is the primary task facing the development of blockchain in Hong Kong. The new regulations clearly limit the types of tradable tokens and the types of services that exchanges can provide. Cryptocurrencies must comply with the strict regulations of the SFC. The regulatory regulations emphasize that tradable tokens are only non-securities tokens, have at least 12 months of history, and have been included in two cryptocurrency indices. Secondly, the regulation prohibits exchanges from offering coin-based wealth management products, loans, and deposit services. In addition, the regulation prohibits exchanges from providing derivative trading, such as perpetual contracts. However, the regulation recognizes the importance of derivative trading in the cryptocurrency market and will further study it.
Asset security is one of the most concerned issues for all participants. Due to the decentralized nature of blockchain, the difficulty of regulation is high, and the government is difficult to comprehensively control data and financial security issues. Moreover, the volatility of the cryptocurrency market may also increase investment risks. At the same time, due to the complexity of blockchain technology itself, there are also technical risks and security risks.
In recent years, there have been many news of exchanges running away or going bankrupt. Asset security issues have also attracted people's attention. The prosperous development of blockchain in Hong Kong will attract a lot of fresh blood, and cryptocurrency wallets are the best choice for users to interact with the blockchain network and their assets. "Without keys, assets are not really yours" is a slogan in the cryptocurrency world. Unlike centralized exchange wallets, decentralized wallets' private keys are kept by the users themselves. Once lost, they cannot be retrieved. Taking the BitKeep wallet as an example, the interactive interface is simple and easy to use, and transactions and viewing of one's own cryptocurrency assets can be easily completed. Moreover, the wallet is always online, so it can be operated in real time, which is very friendly to beginners. In order to protect users' asset security, BitKeep also applies its original DESM encryption algorithm. Even if the mobile phone is lost, the user's cryptocurrency assets will not be lost. In addition, a million-dollar security guarantee fund has been set up to escort everyone's fund security.
Summary
The development of Web3 in Hong Kong is still in the experimental stage and there are currently many possibilities. If it is found that the desired goals cannot be achieved after a period of time, or if regulatory issues lead to financial incidents, policy reversals may occur. Therefore, the Hong Kong government attaches great importance to regulation and will strive to draw regulatory red lines and safeguard bottom lines.
Hong Kong's well-regulated market provides an orderly and reliable investment environment for the blockchain market, and it is believed that more encrypted assets will be added to the Hong Kong market in the future. Overall, Hong Kong's blockchain development is still in its early stages and, under the strict supervision of the Hong Kong government and relying on its unique advantages, the Hong Kong blockchain industry will surely develop healthily and sustainably.
---