ConsenSys' L2 network Linea mainnet is launching this week. Here's everything you need to know
ConsenSys' L2 network Linea mainnet launches this week. It is an Ethereum Layer 2 solution that offers ultra-fast transaction processing, low transaction fees, high scalability, and interoperability with Ethereum. Linea can be used for DeFi, NFT marketplaces, gaming applications, and supply chain management. Linea uses Optimistic Rollups to process transactions off-chain, which enables interoperability with Ethereum and faster processing times with lower fees. Keep an eye on ConsenSys' social media channels for updates on the exact launch date and time.
Author: Linea, translated by Blockingxiaozou
After a successful public testnet, Linea has reached a milestone that brings us closer to a more scalable Ethereum. Now, Linea is recruiting distribution partners. We have begun rolling out the alpha version of our zkEVM rollup network on the mainnet.
This milestone comes after a successful testnet phase, during which 5.5 million independent wallets submitted over 46 million transactions, making Linea one of the largest and fastest-growing projects on Goerli. This week, Linea will begin recruiting distribution partners and then open the network widely during ETHCC.
Linea combines the powerful functionality of zero-knowledge proofs with full equivalence to the Ethereum Virtual Machine (EVM), allowing builders to create scalable decentralized applications (dapps) without changing code or rewriting smart contracts for migration of existing applications.
To deliver the mainnet alpha, the Linea team has developed and tested key components of the zkEVM architecture, upgraded prototypes. These updates significantly improve network performance, user experience, and transaction costs, demonstrating our steadfast commitment to building the most scalable, efficient, secure, and user-friendly Ethereum Layer 2 (L2) rollup.
Linea is released with a growing ecosystem of over 100 partners, allowing users, builders, and developers to build the next generation of scalable Ethereum dapps. The alpha version offers faster throughput and 15 times lower transaction fees compared to Ethereum Layer 1 (L1). Additionally, the version supports deeper integration with MetaMask, which plans to offer its popular Bridge, Swap, and Buy functionality to Linea users in Portfolio.
As partners begin migrating to the alpha version this week, they will unlock a range of new scalable dapps, from gaming, identity verification to decentralized social networks and NFTs.
1 , What is Mainnet Alpha?
The alpha version is an important step towards our high-performance, fully decentralized, and scalable network. During the alpha testing phase, we will begin recruiting partners and users in a planned manner, monitoring the system while supporting those who are using it to build new features. The version is our first complete system released on the mainnet and will play the role of the "helper wheel," allowing users to learn in a real-time environment. We will take precautions to protect users and partners, and this is an exciting opportunity to use Linea in real-time applications.
2. What does the upgrade include?
The latest major upgrade (codenamed Linea Alpha v0.2.0) was executed on June 13th, 2023 UTC, which modified the main architecture components in preparation for mainnet release. The following are the key updates introduced in the Linea Alpha v0.2.0 upgrade:
· Batch merging to reduce the fixed (validation) cost of L2 blocks.
· New version of Canonical Message Service ("pull" execution transformed into "push" execution model, removal of message deadlines, reduction/removal of service fees).
· Minimal viable product release for Postman SDK and cross-chain message execution system.
· New version of Canonical Token Bridge (support for N-N ERC20 token bridging and reserved/well-known token registration).
· Upgrade rollup zkEVM contracts, use new outer protection system (switch from Groth16 to PLONK), and integrate with new security committee system.
· Upgrade the verifier and block generation + tracking generation components to support the new architecture (especially supporting batch merging).
3. What are the limitations of the mainnet alpha version (if any)?
When launching the mainnet alpha, we worked with partners to develop preliminary safeguards to protect users, dapp partners, and the network.
In the first week of mainnet release, RPC calls to the network will be available only to issuing partners, and the bridging UI will be password protected.
During ETHCC, we plan to open up the network with some withdrawal restrictions, and work with bridging partners to reduce and eliminate these restrictions within the first 90 days.
There will be an initial delay between L2 and L1, and the status submitted to L1 will change at least 8 hours later. This allows the team to monitor the network and take action if necessary to protect user assets in case of malicious actors.
The Linea mainnet alpha does not fully cover EVM opcodes and precompilers. The algorithm specification for full coverage has been published and will be deployed to Linea after feedback.
These limitations allow us to launch a bug bounty program, monitor the performance of the initial system, and create an integration and testing environment for partners before fully opening up to end users.
4. How do you balance initial security and decentralization goals? What is the roadmap?
Ensuring the security of mainnet alpha is a top priority and an ongoing effort. The team behind Linea has established an initial security committee to deal with emergencies, while actively seeking to gradually enhance the decentralization and trust minimization of the system.
A roadmap can be divided into five stages, and the team plans to cooperate with the broader Linea ecosystem and community to deliver it in an orderly manner. Each stage brings the Linea network closer to its target state, which is to become a mature rollup secured by Ethereum.
5. When can users access the upgraded network?
Once our partners complete their dapp and infrastructure deployments next Monday, we will open the network to users.
6. What are Linea's next plans?
Over the past two months, thousands of early community members and more than 50 partners have joined our Linea journey, a joint effort to build and strengthen Linea before it goes live on the mainnet. We have received a lot of support during the testnet period, and we are deeply grateful for it. Inspired by the contributions to the network made by supporters, we have created a set of digital NFT artworks.
This week, MetaMask and Consensys NFT will join our partners on the mainnet. When we open the network to users next week, we will take this opportunity to introduce these works of art as the first official NFT series of Linea. We will showcase these NFTs to Voyage participants in a live broadcast on July 18th.
7. Does Linea have a token?
Linea uses ETH directly bridged from the Ethereum mainnet as its native currency. Any advertising of existing or upcoming Linea token sales or airdrops is a scam, and users should be cautious and avoid falling for it.
8. Who are Linea's partners?
We have had over 100 partners join our testnet, and there will be dozens more joining this week.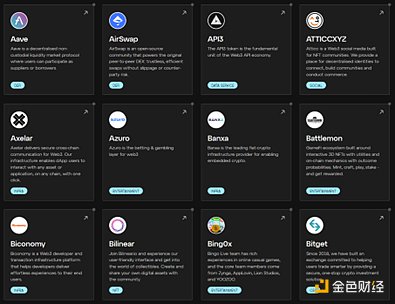 9. How can the community participate?
We still need the community's help to strengthen and shape Linea.
Developers can participate in our ongoing bug bounty program, join our Discord to learn how to integrate their projects, and apply for funding through our newly launched ecosystem investment alliance.
---