Social Media Sentiment Analysis How do different countries differ in their attitudes towards cryptocurrencies?
Country-specific attitudes towards cryptocurrencies in social media sentiment analysis.
Author: Maung Agus Sutikno
Translation: Huohuo, Plain Language Blockchain
Cryptocurrency sentiment analysis is considered an excellent way to understand how to make wise investment decisions. Using the NRC sentiment method (Saif Mohammad, 2011), the author studied the sentiment of keywords related to Bitcoin as a representative cryptocurrency in the Twitter social media.
Most observed countries have a positive attitude towards cryptocurrencies. Here, select some countries as samples for analysis: the United States, India, Indonesia, and Malaysia.
Cryptocurrencies as a specific financial instrument have different perspectives, both advantages and disadvantages.
The advantages include: (1) accelerating, reducing costs, and significantly simplifying settlement between entities, as the plan excludes "unnecessary" intermediaries; (2) preventing the process of inflation; (3) the issuance of Bitcoin grows at a predetermined rate, which is different from governments printing fiat currencies.
1. Sentiment of Americans towards cryptocurrencies
The United States, as a developed country where cryptocurrencies are commonly used in daily life, has a positive attitude towards cryptocurrencies. Companies such as Tesla, Microsoft, LianGuaiyLianGuail, Starbucks, Overstock, and AT&T have started accepting cryptocurrencies, highlighting their growing influence in different industries.
Views of Americans on Bitcoin
2. Attitude of Indonesia towards cryptocurrencies
Indonesians have a positive attitude towards Bitcoin, although Bappepti only recognizes it as a commodity, not a currency. As the country with the largest Muslim population in the world, Indonesia's view of cryptocurrencies, represented by the Muslim scholar institution MUI, considers that "cryptocurrencies as digital commodities or assets are illegal because they contain uncertainty factors and are harmful."
Although it brings tax benefits to the government, the Islamic view of cryptocurrencies makes it a controversial financial instrument. In addition, "given the significant risks and volatility involved in dealing with these currencies, the council recommends further research and review of the issues affecting governance."
Compared to some cryptocurrency investors, the government profits more. It turns out that the amount of cryptocurrency tax revenue collected by the Indonesian government has reached billions. Although the policy of taxing these taxes by the government has only been implemented for about a month.
How much is Indonesia's cryptocurrency tax? Bisnis stated that as of July 29, 2022, the government has obtained tax revenue of up to 48 billion Indonesian rupiahs from cryptocurrency asset transactions, including income tax (PPh) and value-added tax (PPN). At the national budget press conference, Finance Minister Sri Mulyani Indrawati directly announced the total government revenue from cryptocurrency assets. She explained that since May 1, 2022, the government has imposed taxes on cryptocurrency assets circulating in Indonesia. Sri Mulyani said, "We also collect cryptocurrency taxes, with PPh totaling 23.08 billion Indonesian rupiahs and domestic PPN totaling 25.11 billion Indonesian rupiahs."
The regulations related to cryptocurrency taxation are stipulated in the Minister of Finance Regulation (PMK) No. 68/PMK.03/2022 regarding value-added tax and income tax on cryptocurrency transactions. The government considers cryptocurrency to have expanded widely and become a tradable commodity, making it eligible for taxation. This policy specifies that value-added tax applies to sellers who deliver cryptocurrency assets, provide electronic facilities for cryptocurrency transactions, and provide verification services and/or services related to managing cryptocurrency mining communities (mining pools).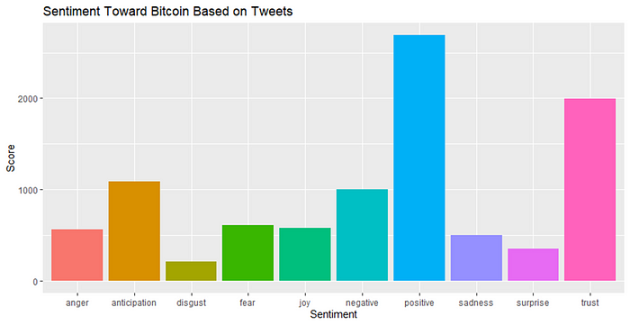 Views on Bitcoin in Indonesia
3. Views on Cryptocurrency in Malaysia
Comparing Malaysia's sentiment towards cryptocurrency with Indonesia's dual banking system (conventional banking and Islamic law), it is found that Malaysians also have a positive sentiment.
Malaysia and Indonesia, as Muslim countries, are representative of the Muslim world. Interestingly, the Muslim world now has divided opinions on cryptocurrencies.
Advantages: Amalin (2018) believes that cryptocurrencies meet the demand for currency exchange as they possess transparent and explicit transaction supervision. They do not involve usury prohibited in Islamic teachings. Cryptocurrencies and tokens are allowed as currency and also conform to the habits of exchange transactions.
Disadvantages: The development of the shadow economy leads to tax evasion, fundamentally undermining the concept of a complete nation, insecure cryptocurrencies, participants in financial transactions that cannot be traced (anonymity, money laundering proceeds, crime financing, fraudulent activities, etc.). There are significant exchange rate fluctuations and a lack of benefit redistribution mechanisms to address social challenges. Data loss in cryptocurrency wallets resulting in the inability to extract financial assets in any other way; regulatory uncertainty, including illegal activities in some countries; and increasing complexity in the cryptocurrency production process.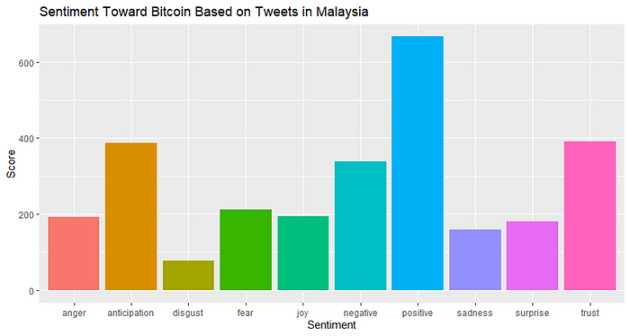 Views on Bitcoin in Malaysia
4. Views on Cryptocurrency in India
An interesting finding is that India has a negative sentiment towards cryptocurrencies. This contradicts the fact that a key indicator of increasing acceptance of cryptocurrencies is that nearly one-tenth of Indian adults are now actively participating in the cryptocurrency economy. Further research may be needed to identify the missing link between these two contradictory points.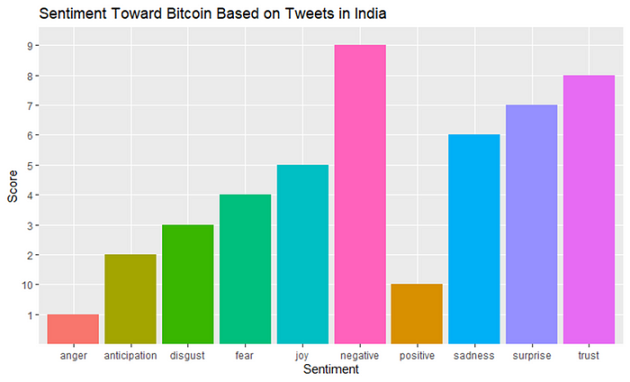 The Indian Perspective on Bitcoin
5. Market Efficiency
Compared to other financial markets, the volatility of cryptocurrencies and market fluctuations have sparked debates in the fields of economic theory and behavioral science regarding how markets process information. In other words, the Efficient Market Hypothesis (EMH) has been evaluated in the cryptocurrency market and its applicability to the price mechanism in relatively new financial markets.
Note: Methodology

The research methodology used NRC sentiment (Saif Mohammad, 2011) and the observation period was from January 1, 2022, to December 12, 2022. The research only analyzed the English language by examining the summaries of keywords "Bitcoin" on social media platforms such as Twitter. Therefore, considering longer observation periods, analysis of more languages, and research on additional keywords, these could be potential future research areas.

This study chose Twitter as the social media platform because the paper suggests using Twitter as a social media platform due to the high frequency of tweets related to cryptocurrencies. On the other hand, the frequency of news releases is relatively low, but it still affects cryptocurrency prices.
---