Digital Hong Kong Forum Explores the Development Trends of the Web3 Era, a Key Force in Hong Kong's Economic Growth.
Digital Hong Kong Forum explores Web3 era's development trends, a key force in HK's economic growth.
On August 25th, the "2023 Digital Entertainment Leaders Forum" hosted by Cyberport was held at Cyberport, and LianGuaiNews participated as a media partner. This forum is one of the "Happy Hong Kong" and Cyberport's 20th anniversary celebrations. In addition to inviting Hong Kong SAR Financial Secretary Paul Chan Mo-po, Hong Kong SAR Government's Innovation and Technology Bureau Director Professor Alfred Tan, Ministry of Liaison Youth Work Department Minister Zhang Zhihua, Cyberport Chairman Peter Yan and Cyberport CEO Lee George Lam as the guests of honor, representatives from local and overseas industries also participated to share how digital entertainment experiences bring new changes in art, education, sports, and life in the Web3 era. The forum also showcased the convenience and opportunities brought by innovative technologies. Therefore, LianGuaiNews has compiled some of the wonderful viewpoints expressed by the participants for the readers' enjoyment.
Paul Chan Mo-po: The next wave of breakthrough growth is likely to be driven by Web3 and blockchain technology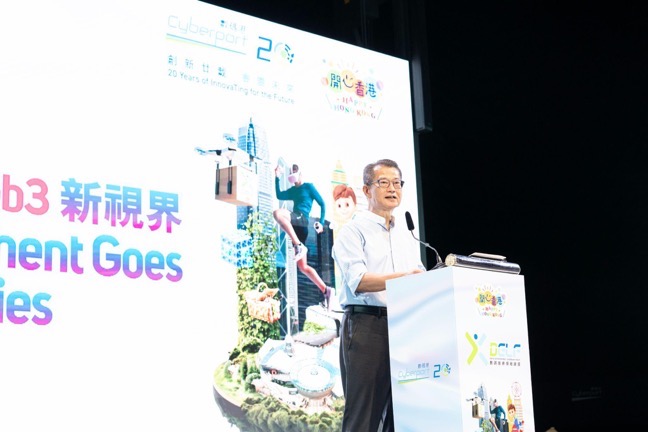 The next wave of breakthrough growth on the internet is likely to be driven by the third generation internet (Web3) and blockchain technology. NFTs, GameFi, Play to Earn, "immersive" entertainment, etc., are directions that many global entertainment giants are currently investing heavily in. The Hong Kong government is also actively applying Web3 technology. The core blockchain technology of Web3, with its characteristics of decentralization, security, transparency, immutability, and low cost, can be applied to fields such as finance, business, trade, supply chain management, and even daily life. Therefore, in terms of relevant policies and resources, we are committed to cultivating a vibrant Web3 ecosystem in Hong Kong to make it an important driving force for economic growth.
To accelerate the development of Web3, the Hong Kong government has allocated HKD 50 million in this year's Budget to Cyberport to accelerate the establishment of a thriving Web3 ecosystem, including actively attracting companies and talent to settle in Hong Kong, as well as organizing related education and promotion activities. So far, Cyberport has gathered more than 180 companies related to Web3 technologies, including unicorns and licensed virtual asset trading platforms, with over 20% of the companies coming from Mainland China and overseas.
As an international financial center and a metropolis that values innovation and technology, we must have a sense of urgency and seize the trend of innovation and technology development. Under the premise of prudent and appropriate regulation, we should actively lead and drive innovation exploration and development, so that Hong Kong can ride the wave in this fiercely competitive wave of technological innovation, develop the economy, and benefit the people.
Related reading: Hong Kong SAR Financial Secretary Paul Chan Mo-po: Entertainment Without Borders, New Vision of Web3
President of Hong Kong Cyberport, Allen Fung: Over a hundred Web3 companies have settled in Cyberport, hoping to launch Cyberport Dollar Wallet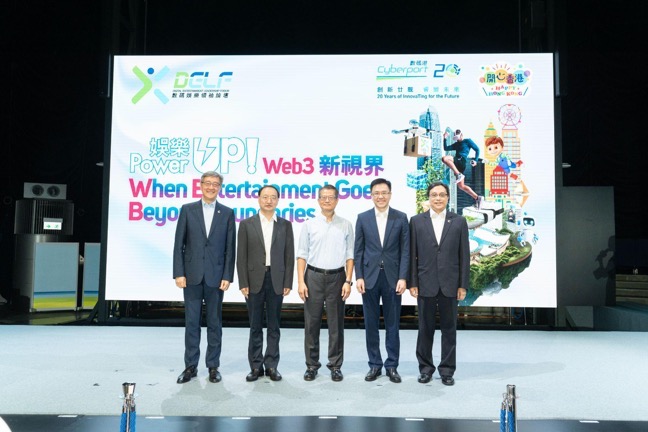 Since the government issued a virtual asset policy declaration at the end of October last year, over a hundred companies have settled in Cyberport, with a total of over 180 Web3 companies building the entire ecosystem. The number of companies is continuously growing at a healthy pace. Most of these companies focus on application areas such as financial services and entertainment, while more than 20 companies are engaged in Web3-related technologies such as data analysis, and there are also more than 10 blockchain infrastructure companies.
Allen Fung also mentioned that although most of the newly settled companies in Cyberport come from overseas, many of them are actually Chinese. He stated that although Hong Kong's digitalization process is not as advanced as other countries or regions, he hopes that Hong Kong can take a leap forward in its progress, such as launching the Cyberport Dollar Wallet. In terms of the metaverse, although it is not as hot as last year, many applications have integrated games and technology, and many users are participating. The ebb and flow are also closely related to the current fundraising environment.
As a Web3 base, Cyberport hopes to promote itself through various channels while focusing on three aspects of development: talent training, industry development, and promoting awareness. It is expected to take some time in the future to achieve mass adoption of Web3.
Founder of 852Web3, Victor Lee: Hong Kong's Web3 development has the advantage of being a latecomer, and the local market urgently needs government attention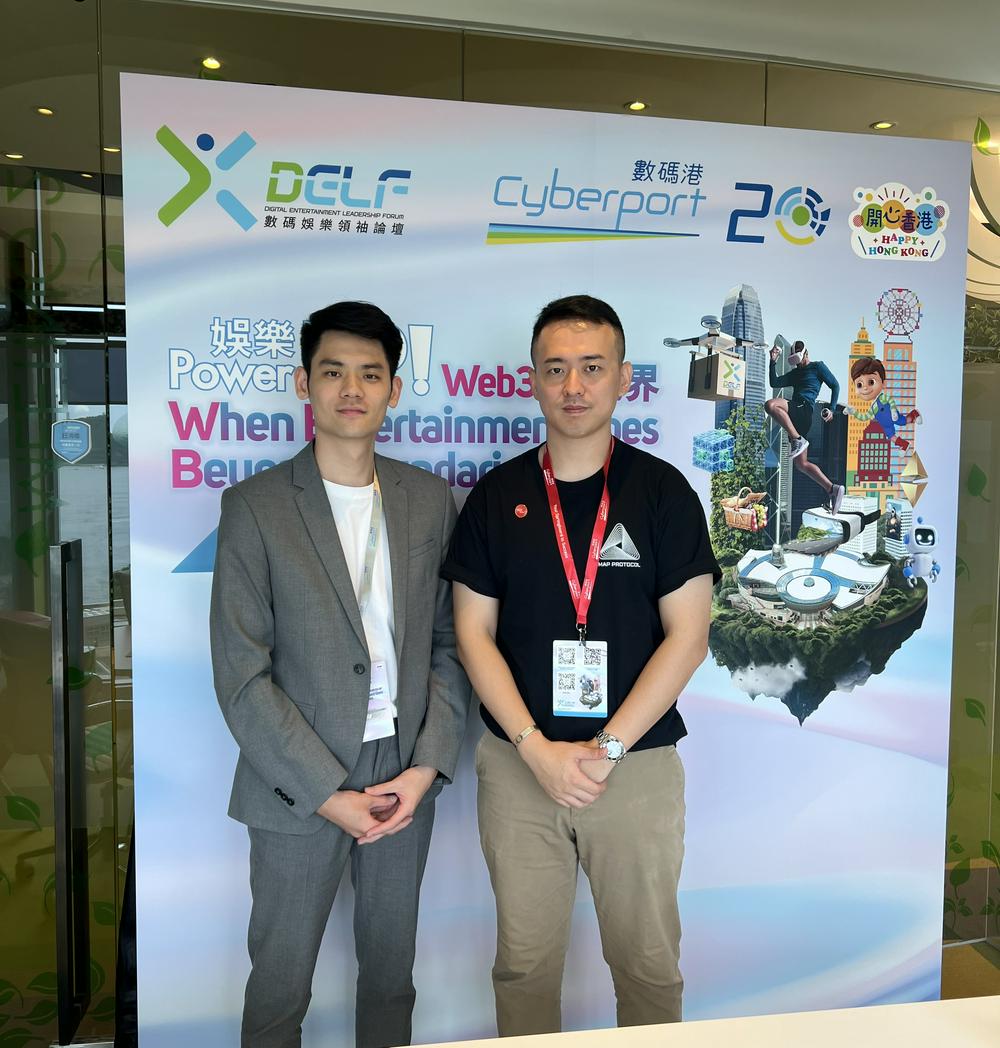 LianGuaiNews Kyle and Victor Lee taking a photo together
In an interview with LianGuaiNews, Victor Lee stated that Hong Kong's advantage compared to other regions is its latecomer advantage, which allows it to do better and be more international by learning from the shortcomings of other regions. However, there is also a problem in that the Hong Kong government may not have communicated well with the industry during the learning process, and I personally believe that Hong Kong still has room for improvement in this regard. But the biggest characteristic of Hong Kong's Web3 development is that it is easy to gather a group of people, thanks to Hong Kong's economic structure and financial experience, which allows Hong Kong to easily learn from different places.
Currently, although the Hong Kong government has done a lot and gained a lot of information in promoting Web3 development, these things are disconnected from the local market in Hong Kong. Some local Web3 practitioners in Hong Kong have not been given enough attention, such as certain accelerators or Cyberport. When promoting Web3 development, should the focus only be on overseas markets? Or would they also be willing to allocate resources to the local market in Hong Kong, such as office space, rent, and financial resources (difficulty in applying for bank accounts)? In the past, many so-called Web3 entrepreneurs in Hong Kong have become employees, and the reason behind it is that the cost of entrepreneurship in Hong Kong is too high. In such a high-cost situation, when these entrepreneurs do not see the government providing assistance, it is difficult for them to persist.
For Web3 practitioners, it is very necessary to have the support of the government, and we need the government to help us build a bridge of communication with policy makers and regulatory authorities. We hope that the government can provide more substantial interactions with Web3 practitioners, so that they can truly receive attention and recognition from the government, and create more opportunities for communication with traditional industries, instead of solely focusing on attracting talent from outside the local market.
Co-founder of Euterpe, Cheng Qian: US regulatory policies are not applicable to the new environment, Hong Kong needs to provide clearer guidance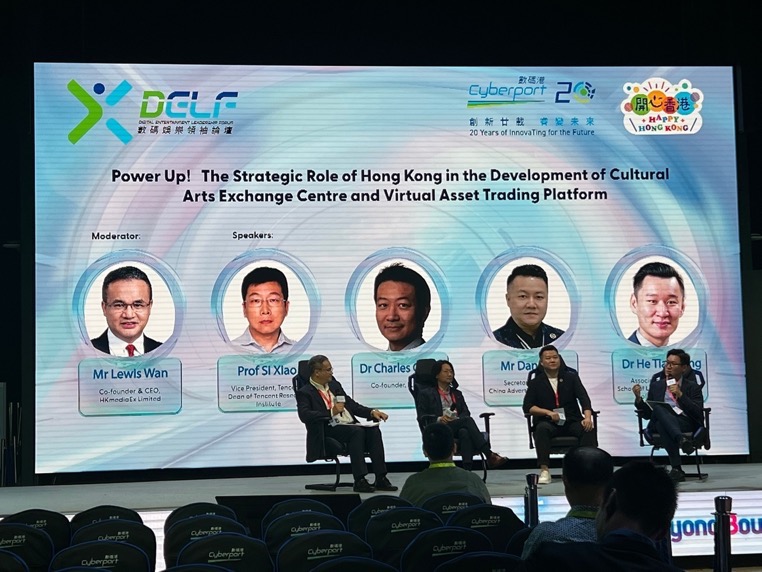 Currently, there is debate over the regulation of virtual assets by law enforcement agencies in the United States, but the main criterion used is the Howey Test to determine whether it is a security. The standards for determining securities in US history have been constantly changing, but regulatory authorities in the United States are competing for regulatory power, making it feel chaotic. However, the regulations are actually clear, and it only requires following the regulations set by the regulatory agencies. However, it is undeniable that regulation comes with high costs, and traditional regulations in the past are not very applicable to new environments, such as the blockchain field. If Hong Kong can have more policies and provide clearer guidance in this regard in the future, it will be very attractive to the market and the industry.
AI is helpful for the overall prosperity of the market, freeing people from repetitive work and turning to creative work, providing more development space for the cultural industry, especially in terms of intellectual property rights and copyrights. With the emergence of AI, it is also necessary to strike a balance between protecting copyrights, protecting artists, and AI. There will also be challenges, but overall, I am very optimistic about the future development of AI.
Chief Strategy Officer of Chiliz & Socios.com, Max Rabinovitch: Art and technology can integrate well with blockchain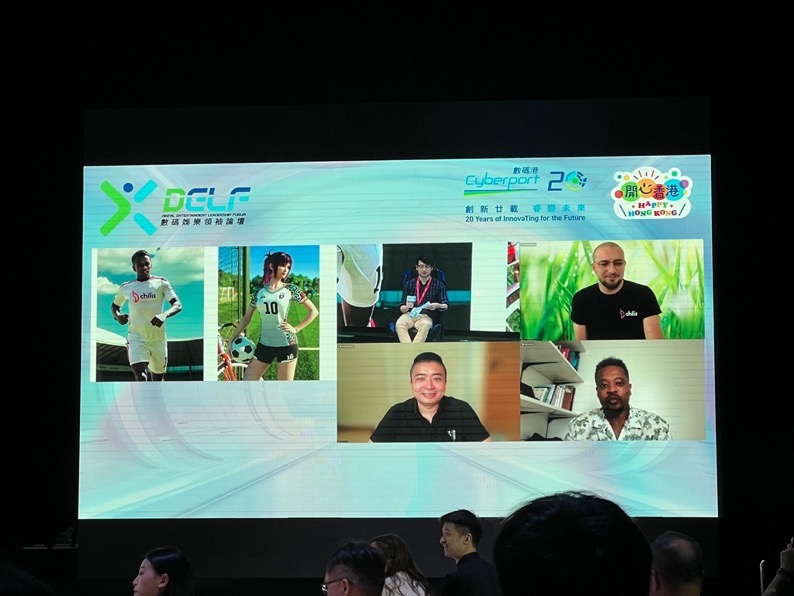 In the field of art and technology, integration with the blockchain is possible. Chiliz has been working in this area for the past five years, including brand building and IP creation. Chiliz puts these IPs on Web3 and explores the new world with them. We see that there is a fan base and some projects in the Web3 field, which can help us enter the world of Web3.
In addition, AI can provide more possibilities for Chiliz, especially in the world of Web3, because this technology has created many possibilities for us to experience firsthand.
Co-founder of Octagon Metatainment Limited and Hong Kong artist, Wang Zixuan: Embrace the integration of virtual and reality in the future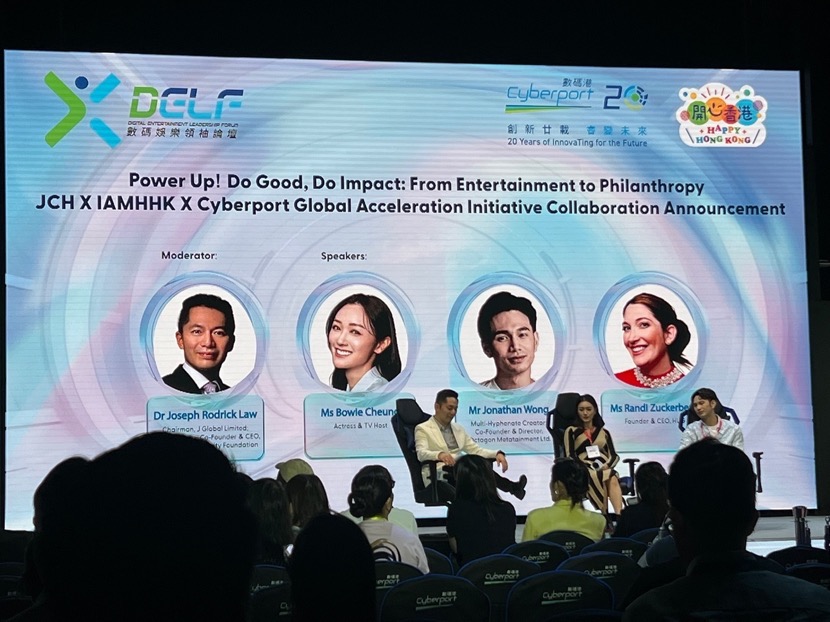 AI is a learning process, and we are all just getting acquainted with this new thing. For entertainment, the future of entertainment lies in the integration of virtual and reality. The two can be combined, and of course, there may be some unpredictable content as well. We are excited about this and need to embrace and cater to the integration of virtual and reality in the future. In the future, there may even be two types of people: those who understand AI and those who don't.
---