Grayscale starts recruiting and implies that spot BTC ETF is about to land in the United States?
Grayscale recruits, suggesting a potential spot BTC ETF in the US.
Compiled by: Blockchain Knight
Grayscale Investments revealed on Thursday that its ETF team is expanding as its lawsuit with the SEC nears its conclusion.
Grayscale emphasized that it is hiring for its ETF team. The new job postings send an optimistic signal that a spot BTC ETF may be available in the US market.
"Our ETF team is hiring," Grayscale stated on X (formerly Twitter), accompanied by an eye emoji.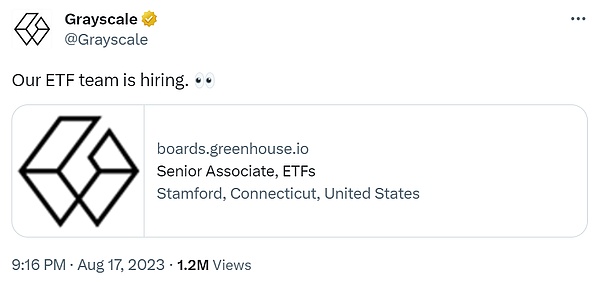 The two positions are Product Specialist and Senior Associate, and over 50 applications have been received since they were posted on LinkedIn.
According to the job postings, the Senior Associate at Grayscale will "provide creative development for investment products and collaborate with the ETF team," while the Product Specialist will "work with sales, operations, marketing, and product teams to optimize the investor experience," with a focus on ETFs.
Some members of the crypto community are pondering the significance of these job postings, as the highly anticipated Grayscale vs. SEC case is nearing a ruling.
Bloomberg ETF analyst Eric Balchunas speculated, "Is this bullish for spot approval? Don't know, but I do know it's a huge growth area now and in the future for job-seekers to consider."
Grayscale filed a lawsuit against the SEC in June last year for alleged violations of the Administrative Procedure Act after the regulatory body refused to convert Grayscale's flagship fund (GBTC) into a spot BTC ETF.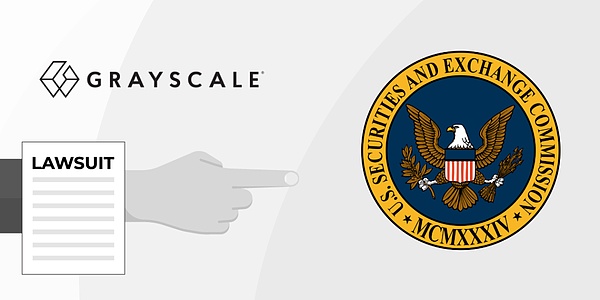 While some industry commentators, such as former SEC official John Reed Stark, believe that the likelihood of the US financial regulator giving the green light to a physically backed BTC ETF is very slim, the ruling on Grayscale's lawsuit may leave the commission with no choice.
It is worth noting that Balchunas from Bloomberg previously hinted at an increased likelihood of the SEC approving a spot BTC ETF. However, the regulatory body seems intent on deferring decisions related to these crypto investment tools to next year—but unexpected circumstances cannot be ruled out.
Grayscale recently urged the SEC to approve all applications for spot BTC ETFs simultaneously if one is approved, in order to prevent certain companies from having an unfair advantage over other applicants.
---