Unsealing of Hinman Document: Ethereum Does Not Need Securities Regulation, Overall Case Favors Ripple
Hinman Document Unsealed: Ethereum Doesn't Need Securities Regulation, Ripple Favored in Case
Author: BlockingBitpushNews Mary Liu
On June 13, 2023, documents related to former Securities and Exchange Commission (SEC) finance chief William Hinman's 2018 speech have been unsealed, including a large number of emails and annotated comments.
In the speech, Hinman argued that the native asset of the Ethereum network did not need to be regulated as a security, a point frequently cited by Ripple Labs in its defense against SEC charges. The newly released documents show that several senior SEC officials explicitly expressed concern that Hinman's speech could create confusion about how the United States categorizes digital assets.
Some industry insiders believe that the documents do not provide conclusive evidence, but do offer some new information that could help Ripple in its lawsuit against the SEC and may be beneficial to Ripple overall.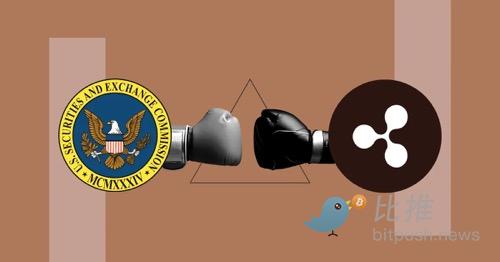 Several SEC officials express concern over "Ethereum is not a security" statement
In his speech on June 14, 2018, Hinman said, "Based on my understanding of the present state of Ether, the Ethereum network and its decentralized structure, current offers and sales of Ether are not securities transactions."
The released documents include email exchanges between Hinman and SEC staff in preparation for the upcoming speech, which show SEC officials grappling with how to phrase the speech's message about Ethereum not being a security.
On June 12, 2018, Director of the Division of Trading and Markets Brett Redfearn wrote, "As written, the language regarding whether ETH is a security remains murky. If you want to make a definitive statement that it is not a security, the language could be stronger (i.e., say it directly). If you do not want to take a definitive position, we suggest using language similar to that used in the Bitcoin disclosure regime to make it more consistent."
Redfearn also commented in the draft of the speech that "some of it seems like it could cause more confusion around the status of ETH."
SEC FinHub current head Valerie SzczeBlockingnik wrote in an email on May 25, 2018, that she believed "less is more" when it came to details, saying, "This is introducing a concept that could generate a lot of discussion, so I think it's good to leave room for discussion."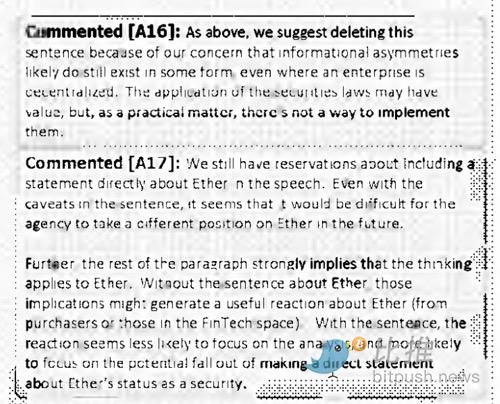 The early version of the speech did not mention Ethereum, although it did mention Bitcoin. SEC officials said, "We don't want to suggest that BTC is a security."
Laura Jarsulic, a lawyer in the SEC's Office of the General Counsel, responded in an email on June 12th, "We are reserved about directly including statements regarding Ether in the speech…because it would make it difficult for the agency to take a different position on ETH in the future."
Both Redfearn and the Office of the General Counsel believe that Hinman skipped the threshold question of whether the SEC has jurisdiction, warning that by creating this "other" category and focusing on information asymmetry, Hinman would expose regulatory loopholes that the SEC may not have the authority to fill.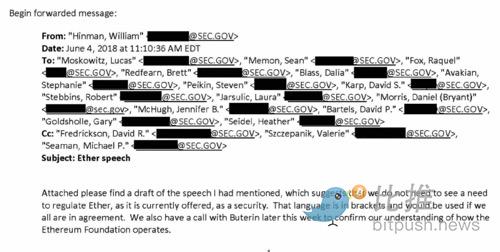 Other officials copied on the email include former SEC Enforcement Directors Stephanie Avakian and Steven Peikin, former Division of Investment Management Director Dalia Blass, former Chief Counsel and Acting Director of the Trading and Markets Division Heather Seidel, and others.
The emails also show that William Hinman planned to speak with Ethereum co-founder Vitalik Buterin in 2018 to discuss "confirming our understanding of how the Ethereum Foundation operates."
How will this affect the case?
As previously reported, in December 2020, the SEC filed a lawsuit against Ripple Labs, alleging that the company raised over $1.3 billion through the unregistered sale of digital asset securities and its cryptocurrency XRP. Ripple denies that XRP is a security, arguing that it does not satisfy the Howey test. And it says that Hinman's comments about ETH contradict the SEC's claim that XRP is a security.
William Hinman later became a key figure in the lawsuit, and Ripple has been seeking disclosure of these documents since late 2021. The new documents were released pursuant to an order from the United States District Court for the Southern District of New York.
Ripple CEO and primary defendant in the case Brad Garlinghouse said waiting was worth it before the documents were released. He responded in a tweet to a post by crypto YouTuber Jungle Inc., saying, "I hope we can dive in now, but we've waited so long (over 18 months), I don't want to overstep…I'll just say, Stuart Alderoty [Ripple's chief legal officer] and I believe these documents were worth waiting for."
Stuart Alderoty, Chief Legal Officer at Ripple, tweeted, "We can all see now that Hinman ignored multiple warnings, that his speech contained made-up analysis without legal basis, departing from Howey factors, exposing regulatory gaps, causing not only confusion but 'greater confusion' in the market."
Ripple Labs hopes to use Ethereum as a defense for its XRP technology and token sale. Borrowing Hinman's words, if Ethereum can become "sufficiently decentralized" over time, then XRP can also transform from a security into a commodity.
SEC and Ripple are waiting for a summary judgment, and Ripple's legal team has previously indicated that a ruling could be made before the end of this year. The judge may rule that there is not enough evidence for a summary judgment, the case can go to trial, or Ripple and the SEC may reach a settlement, although Ripple has said this is unlikely.
Adam Cochran, founder of venture capital firm CEHV, commented that these documents "don't have a big impact on the XRP case," but "the nuances put Gensler in a bind."
Gabriel Shapiro, General Counsel at Delphi Labs, called the emails a "nothingburger," revealing no new content that would help the Ripple case. In a tweet, Shapiro wrote, "I'd be happy if it helps Ripple's case, but it doesn't."
Potential impact on cryptocurrency classification
The public release of the Hinman document could spark a major debate about classifying cryptocurrencies as securities, particularly during a challenging period for the industry. Recently, the SEC sued cryptocurrency exchanges Coinbase and Binance for selling unregistered securities. In the legal case against Coinbase, the SEC stated that at least 13 cryptocurrencies offered by Coinbase to customers are securities, including solana (SOL) and cardano (ADA).
---