Is the Solana ecosystem entering a new era of 2.0? This article summarizes the potential projects in the Solana ecosystem.
Is Solana entering a new era of 2.0? This article summarizes potential projects in the Solana ecosystem.
In recent times, not only has Solana performed strongly, but Rollbit, which was first launched on the Solana network, also entered the top 100 in market value with a more than 30-fold increase in just one year.
In this article, we will refer to the absolute and relative values of current Solana ecosystem project data to highlight the older projects with impressive data in the SOL ecosystem, as well as the emerging Solana 2.0 projects, in an attempt to identify the next dark horse.
Established Projects
Marinade Finance
Marinade Finance is currently the project with the highest Total Value Locked (TVL) in the Solana ecosystem. It is a liquidity staking platform based on the Solana blockchain. Its main goal is to simplify the staking process on Solana. The main feature of Marinade Finance is that it offers "liquidity staking" mechanism, allowing users to convert their staked assets into liquidity at any time without waiting for the unlocking period. This greatly increases the flexibility for users and may attract more participants to stake their assets.

Although it may not seem novel now, Marinade, as a protocol launched in 2021, has had a glorious past and was once a leading DeFi protocol with over $1.5 billion TVL during its peak. Although it is far from the peak value, it is still the top project in terms of TVL in the Solana ecosystem. The token mSOL, obtained by staking SOL on the platform, has relatively good liquidity and has been listed on mainstream exchanges such as Coinbase and Kraken.

Solend
Solend is a decentralized lending protocol built on Solana, providing a fast and low-cost lending platform.
Solend, backed by numerous star capital, became the leading lending project in the Solana ecosystem as soon as it launched, with a peak TVL of $800 million. However, its development momentum declined after the incident of taking over the liquidation of a whale position by the Solend team.
However, with the launch of Solend V2, Solend's TVL has increased from $20 million to nearly $50 million, continuing to occupy the position of the top lending protocol in the Solana ecosystem.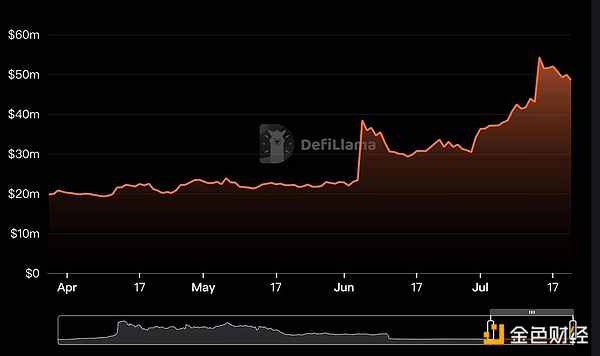 Data source: DefiLlama
Orca
Co-founder Grace Kwan brings a minimalist design to Orca, while co-founder Yutaro Mori, who previously worked at the Ethereum Foundation, has created a program that can withstand the test of time based on years of experience in protocol-level construction. Although it was not the top DEX in terms of data during the Solana Summer, Orca, based on AMM, has demonstrated its true strength and product flexibility as the DEX with the highest TVL and trading volume in the current Solana ecosystem after going through a major test.
Later this year, Orca will also launch a Pro version, providing advanced tools for traders and liquidity providers.
Interestingly, Orca is also an environmentally friendly organization. A portion of the transaction fees on the Orca platform goes into the Orca Climate Fund, which is then used to contribute to efforts to mitigate climate change and sustainable development. As of the time of writing, Orca's Climate Fund has accumulated over 1.6 million US dollars.
Raydium
Raydium, as the first automated market maker decentralized trading platform in the Solana ecosystem, can be said to be one of the pillar projects of Solana Summer. The token RAY is also listed on most well-known trading platforms. However, with FTX announcing bankruptcy, the Serum protocol, which shares liquidity with Raydium, is threatened, and Raydium's own liquidity pool is under attack, Raydium has suffered some setbacks and has a weaker recovery situation compared to Orca.
New Projects
Realms (SLP Governance)
Realms provides Solana builders with a platform to create DAOs, manage their members, vote on proposals, and allocate their funds. Whether it is running a multisig, NFT community DAO, or community token DAO, Realms provides tools and integrations to help communities thrive.
Simply put, Realms can be seen as a more comprehensive version of Snapshot. Realms is the main platform for Solana DAO governance, and most mainstream protocols are governed through Realms.
Marginfi
Marginfi is a decentralized lending protocol on Solana that prioritizes risk management and provides a secure and reliable solution for users seeking leverage and maximizing capital efficiency. The protocol is a set of fully permissionless smart contracts deployed on Solana, with real-time risk management and automatic liquidation. Marginfi can be combined with third-party protocols downstream and upstream, allowing users to unify their on-chain portfolios and access a wide range of decentralized financial (DeFi) services.
Marginfi also introduces an AI robot called Omni to answer questions for users. For example, the introduction of Marginfi in the previous text comes from Omni.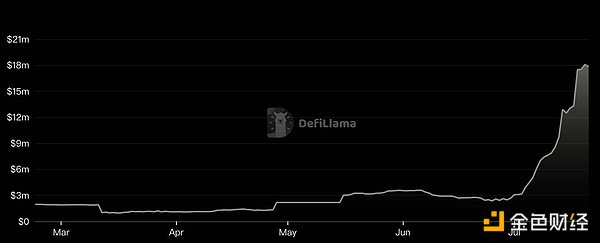 Data source: DefiLlama
Marginfi announced the completion of a $3 million financing round on February 23, 2022, led by Multicoin Capital and LianGuaintera Capital, with participation from Sino Global Capital, Solana Ventures, and others. Marginfi, which has not yet released its token, has recently launched a points system, which may also be an important reason for the continuous increase in its TVL.
Jito
As a liquidity staking protocol newly launched at the end of 2022, Jito's feature is that it allows users to obtain MEV (miner extractable value) profits. The working principle is roughly as follows:
1. Users stake SOL and receive JitoSOL.
2. The Jito staking pool delegates users' SOL to validator nodes that support MEV.
3. These validator nodes auction block space and receive MEV rewards.
4. These MEV rewards will be reallocated to the equity pool as additional APY.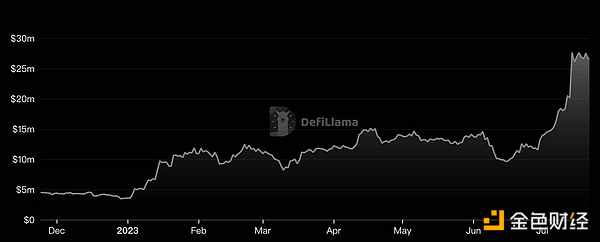 Data source: DefiLlama
Anatoly Yakovenko, CEO of Solana Labs, has also commented on Jito, saying, "JITO has a great way to maximize the benefits of MEV to the entire network while minimizing its negative externalities…"
BlazeStake
In addition to Jito, BlazeStake is a new liquidity staking protocol launched in 2023 with the main purpose of further promoting the decentralization of Solana nodes.
Stakers can choose to stake their SOL through the standard delegation pool (balancing equity among hundreds of validators to support decentralization) or any validator of their choice, while earning bSOL's liquidity staking rewards (instant unstaking liquidity, higher staking yield through DeFi, Solana ecosystem token airdrops, etc.).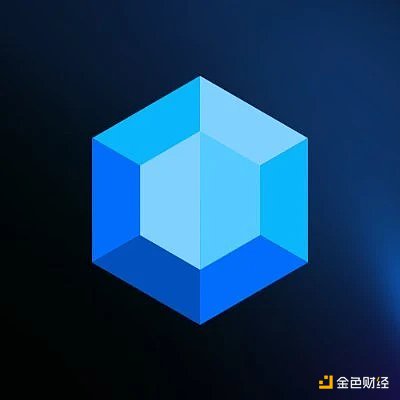 Data source: DefiLlama NFT Track
As two of the largest projects in terms of trading volume on Solana, DeGods and y 00 ts chose to migrate out of the Solana network at the end of 2022. Magic Eden also chose multi-chain deployment, gradually supporting Ethereum, Bitcoin, and other ecosystems. These choices have had an indelible impact on the Solana NFT track at that time. However, as Solana gradually recovers from its growing pains and the ecosystem continues to develop steadily, the NFT ecosystem of SOL is gradually revitalized with new vitality.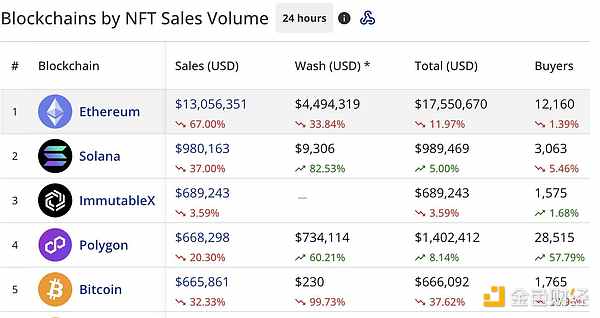 Data source: CryptoSlam
As of the time of writing, Solana NFT's 24-hour trading volume is second only to Ethereum.
Tensor
Tensor is a professional NFT trading platform based on Solana. Its direction is similar to Blur and provides the following features:
· Fast data: Tensor provides fast data processing capabilities, which is crucial for NFT trading, as the price of NFTs may fluctuate significantly in a short period of time.
· Batch operations: Tensor allows users to perform batch operations, which can greatly improve their trading efficiency.
· Advanced orders: Tensor provides a range of advanced order types to help users better manage their transactions.

Data source: The Block
With Blur leading the way, Tensor quickly gained traction with its scoring model. Looking at the data from the past month, Tensor has surpassed the long-standing Solana champion, Magic Eden, and has become the number one Solana NFT trading market.
Mad Lads (BackLianGuaick)
In addition to new NFT platforms, let's take a look at the NFT project with the highest trading volume and market capitalization on Solana in recent times – Mad Lads. This NFT project was launched in April this year by Solana wallet BackLianGuaick. With its exquisite American comic style and the good accumulation of the BackLianGuaick team in the Solana ecosystem, Mad Lads is now widely accepted by the Solana ecosystem. Zeta Markets, which won first place in the Solana hackathon, has collaborated with Mad Lads to organize a social trading competition called Mad Wars.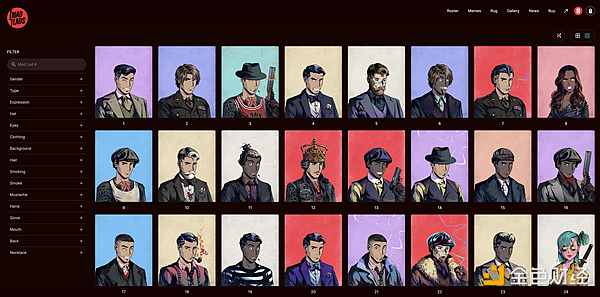 Mad Lads has a total supply of 10,000 tokens.
The parent company Coral of BackLianGuaick completed a $20 million financing in 2022 and launched the cryptocurrency wallet BackLianGuaick. Now, BackLianGuaick plans to create an App Hub similar to the iPhone. It is worth noting that current Mad Lads holders can also stake their NFTs in the BackLianGuaick wallet to earn points.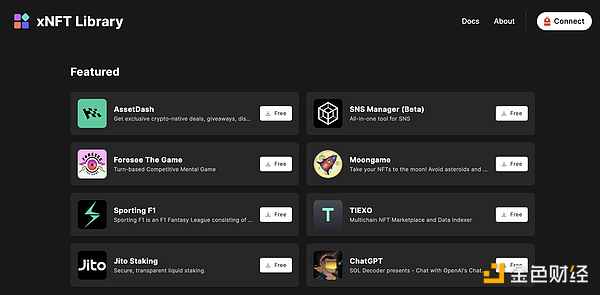 Solana Monkey Business (SMB)
The well-established project SMB is still developing. In 2023, it launched the third generation SMB Gen 3. By combining multiple series of SMB, its market value exceeds that of Mad Lads. SMB can be regarded as the first brand of Solana NFTs. SMB also launched Monke Dao, the first community-owned and operated NFT DAO on Solana, and has organized multiple events. It has also invested over $1,600,000 in the Monke Ventures portfolio.
If you take a closer look, you will find that the Solana ecosystem is far from stagnant. Aggregator Jupiter, stablecoin protocol UXD, decentralized domain name protocol Bonfid, as well as new projects such as Helium, a migration to the Solana chain, the game Star Atlas, which combines advanced blockchain technology, real-time graphics, multiplayer video games, and decentralized finance, and the game-like NFT project The Heist, all show progress. With further development of Solana, the ecosystem will demonstrate even more vitality.
---