80% of revenue comes from token trading taxes, the security is questionable, is the narrative of Telegram trading bots just a flash in the pan?
Is the narrative of Telegram trading bots just a flash in the pan with questionable security, as 80% of revenue comes from token trading taxes?
Author: Pomelo, ChainCatcher
Recently, information related to Unibot such as "Daily capture fee reaches $665,000, UNIBOT token has increased by about 50 times in two months" has been circulating in major cryptocurrency communities.
According to DeFiLlama data, Unibot captured profits of up to $665,000 within 24 hours on July 24th, while during the same period, Uniswap's profits were $983,000.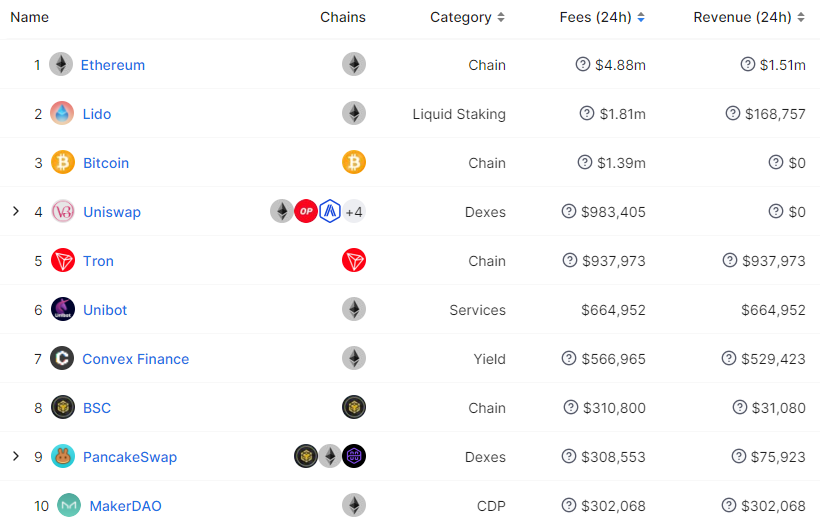 Coingecko shows that the UNIBOT token has risen from $3 on May 22nd to a high of $148, an increase of about 50 times, and is currently priced at $138.
The outstanding performance of Unibot has sparked a frenzy of speculation in the bot trading project sector of the cryptocurrency industry. Within a short period of time, there have been a large number of Telegram Bot, Discord Bot, and other trading bot projects. The tokens of these projects have experienced multiple-fold increases in a short period of time. For example, the token LOOT of the Loot Bot, a bot that helps users claim airdrops, once saw a daily increase of up to 4 times.
Regarding the sudden explosion of the bot project sector in a short period of time, some people are enthusiastic and optimistic, while others are calmly observing.
Enthusiastic users believe that Unibot allows users to complete on-chain token transactions on social software such as Telegram, greatly simplifying the threshold for users to participate in on-chain activities. Currently, more optimism is based on the fact that the income captured by Unibot has exceeded that of most leading DeFi protocols. On the other hand, users who maintain neutrality believe that Unibot-like projects are easy to replicate technologically, and there will be a mix of good and bad bot projects in a short period of time, without guarantee of security.
How long will this wave of Unibot's narrative last? Will Unibot be like memecoins, coming and going quickly, leaving behind nothing but a mess?
In addition, data shows that over 80% of Unibot's captured fees actually come from transaction taxes on the native token UNIBOT (users need to pay a 5% transaction tax for each UNIBOT token transaction), and less than 20% of the revenue comes from the claimed transaction fees. The currencies traded by the Unibot trading bot are mostly memecoins. In the Unibot trading competition held in July, more than 65% of the over 1,000 participating on-chain addresses were in a loss-making state.
UNIBOT token's skyrocketing price and soaring income triggers speculation in the Telegram Bot sector
According to data from Dune@whale_hunter, Unibot has captured a total income of 3,280 ETH since its launch in May, worth $6.08 million, and has completed a total trading volume of $85.76 million. Meanwhile, its token UNIBOT has risen from $3 in May to a peak of $148 on July 24th, an increase of about 50 times.
The total supply of UNIBOT tokens is 1 million, and it is currently priced at $109, with a market capitalization of $130 million.
As a new application, Unibot has generated over $6 million in revenue in just two months since its launch, with the UNIBOT token increasing by about 10 times. The short-term explosive rise in income and token price has successfully attracted attention to the Telegram Bot sector and triggered speculative frenzy.
Last week, exchanges such as Huobi and Bitget launched UNIBOT tokens, and encryption data platforms such as CoinGecko and CoinMarketCap also launched Telegram Bot tokens.
Among them, Bobby Ong, co-founder of CoinGecko, has repeatedly posted content related to Telegram Bots on Twitter. He said that the biggest pain point for new users entering the encryption industry is that using wallets and DeFi protocols is too difficult. After experiencing Unibot, he has a rough idea of how the next wave of billions of new users will interact with cryptocurrencies. The idea of Unibot is simple – to build a fast and simple wallet on Telegram and integrate it closely with DEX. It is indeed much easier to conduct DeFi transactions on mobile phones now.
In another tweet, he wrote that Telegram Bot tokens represented by Unibot will become the next hot spot in the next 1-2 months and asked users if they agree.
So what exactly is Unibot? What are its features?
Unibot is a trading tool bot built into Telegram. Users can complete on-chain token trading activities on Uniswap by interacting with the bot through conversations on Telegram, such as token exchange, copy trading, limit orders, and private transactions. In addition, Unibot also provides real-time alerts for new Ethereum tokens, allowing users to easily add tokens and conduct sniper trading. Unibot charges a commission ranging from 0.5% to 1.5% for each transaction.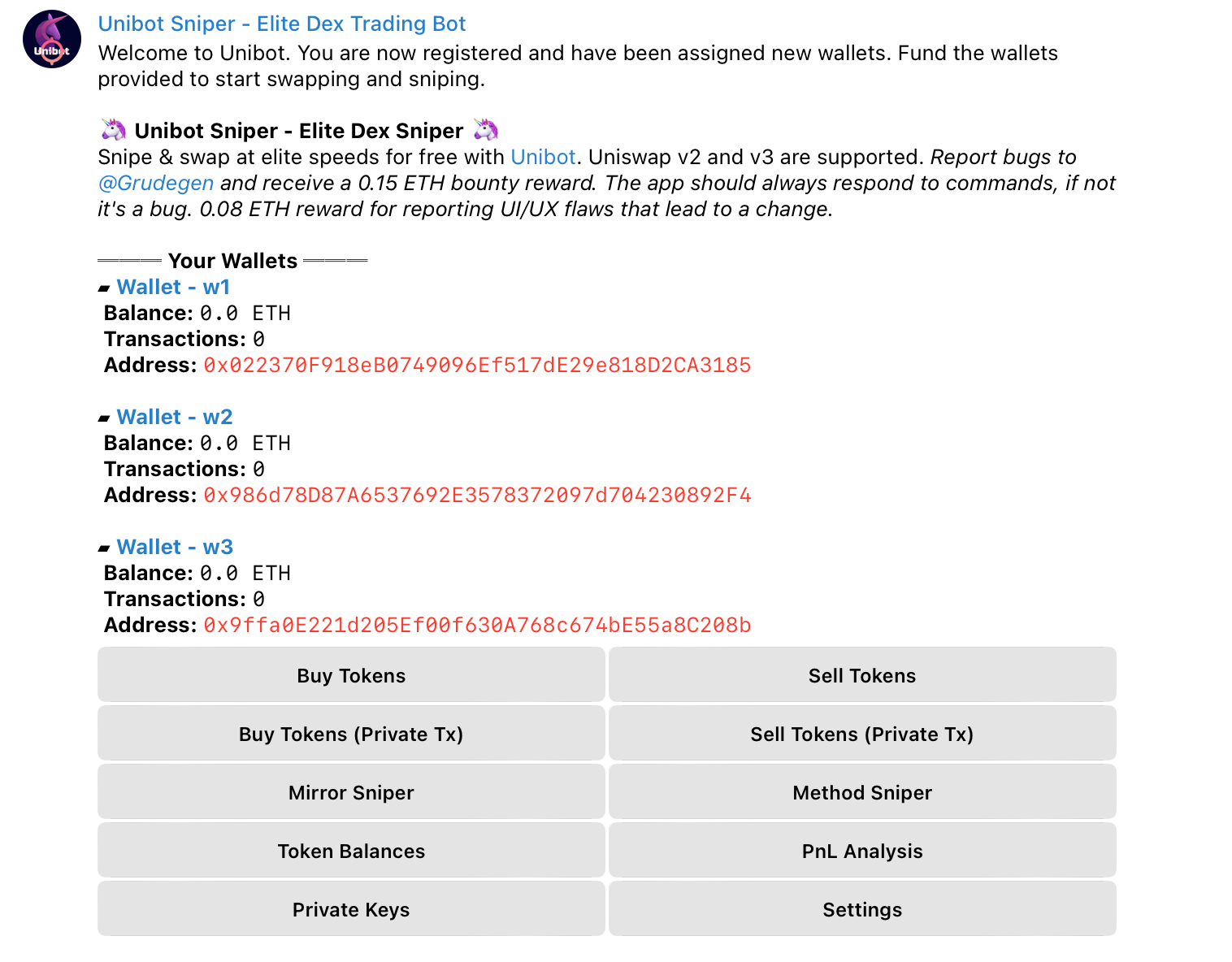 From this perspective, Unibot provides convenience for user on-chain transactions, allowing token exchanges to be completed without leaving the Telegram social software, eliminating the need to switch between social applications and DeFi applications, and reducing user barriers. In addition, Telegram, as a well-known social application, is expected to have 300 million new users worldwide by the end of this year, which will allow more users to enter the world of encryption.
The emergence of Unibot has made the Telegram Bot a separate encryption sector. So what are the representative projects in the Telegram Bot sector?
According to CoinGecko, as of July 26th, the total market value of the Telegram Bot sector is 161 million, with a 24-hour trading volume of 22.65 million US dollars.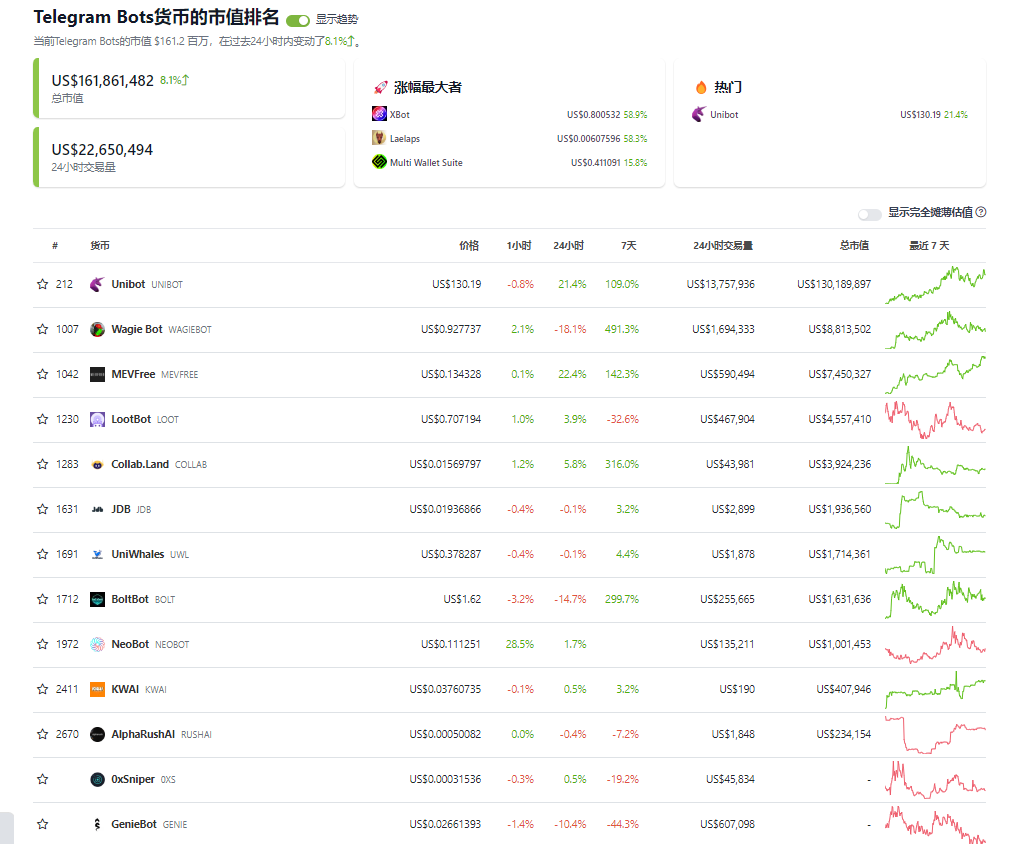 Representative Projects:
LootBot – a robot on Telegram that helps users complete automated airdrop interactions, aiming to automate airdrop harvesting. It can automate airdrop interactions on multiple EVM-compatible chains, track airdrop collection progress, prevent witch attacks, etc.
Bolt Bot – Telegram trading bot that divides users into subscription levels based on the number of BOLT tokens they hold. Different levels support different functions (higher levels support whale observation, pre-sale purchases, etc.), and the transaction fees are also different.
SwipeBot – a Telegram trading bot for ETH, ARB, and BSC chains. Users need to hold 500 SWIPE tokens to access SwipeBot. If the amount held is less than 500 SWIPE, a 0.5% transaction fee will be charged. It is opened to non-holders once every two weeks.
MEVFree—a Telegram trading bot that prevents MEV attacks and helps users avoid being sandwiched during the trading process.
0xSniper—a DeFi trading bot that aims to be more than just a regular trading tool. It aims to meet the needs of both experienced and novice traders and provides a navigation platform.
Unibot generates 80% of its revenue from token trading taxes, security remains questionable
Telegram Bots provide users with a simple and user-friendly way to trade cryptocurrencies. Currently, both in terms of user experience, token trends, and captured revenue, Unibot appears to be a successful product. However, 80% of the revenue captured by Unibot comes from the trading tax of its native token UNIBOT, and the majority of the platform's completed trades are memecoins, both of which are unsustainable in terms of token trading taxes and memecoin popularity. So will Unibot's narrative be as short-lived as memecoins?
According to Dune data, out of the 3280 ETH revenue captured by Unibot, 2843 ETH comes from UNIBOT token trading taxes, and the revenue generated from the bot trading business is only 437.2 ETH (approximately $810,000). In other words, more than 80% of Unibot's revenue comes from UNIBOT token trading taxes, and less than 20% comes from the core bot trading business.

Currently, Unibot generates revenue through two main ways: bot trading fees and UNIBOT token trading taxes. For the former, Unibot charges a 1% fee for each transaction, with 40% of it being distributed to token holders. As for the latter, all UNIBOT token trades are subject to a 5% tax, with 1% of the trading volume being distributed to token holders. However, token holders need to have a balance of more than 50 UNIBOT tokens to be eligible for the revenue sharing rewards.
In simple terms, if a user holds more than 50 UNIBOT tokens, they can receive 40% of the trading fees and 1% of the UNIBOT trading volume tax revenue.
Token tax mechanisms are commonly seen in meme tokens, such as the AIDOGE token on Arbitrum, which has a 15% transaction burn tax mechanism, similar to the royalty mechanism of NFTs. This mechanism is often considered to be designed to reward long-term holders and reduce token dumping. However, it also means that users incur losses when buying in. Taking the example of the 5% UNIBOT trading tax, users incur a loss of 10% when buying in because they need to pay 5% when buying and another 5% when selling. Therefore, the sustainability of tokens relying on revenue sharing through trading taxes is unknown, and currently, mainstream cryptocurrency projects do not have any that include trading taxes, not even the competition for NFT royalties is trending towards zero.
In addition, the majority of trades completed by Unibot are mainly based on its native token UNIBOT-WETH. The most traded tokens are memecoins, such as the third-ranked HAMS token from the on-chain hamster racing game, followed by the primate-themed token JIM. If memecoin popularity wanes, how will Unibot maintain its trading volume?

In the trading competition held by Unibot in July, about 1402 users participated, but more than 65.2% of the trading addresses were actually in a loss-making state.

In fact, Unibot's trading volume has declined significantly, with a trading volume of only $1.1 million on July 26, capturing fees of $22,000.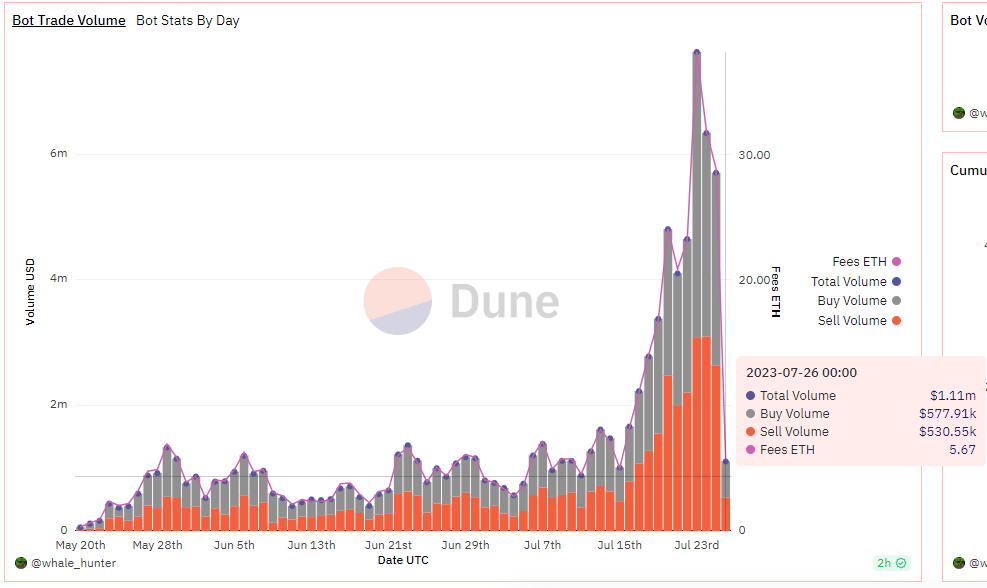 In addition to the sustainability issues of its business, Unibot's security has also been questioned by users. Because during the use of Unibot, the robot will automatically generate new wallet addresses, and users need to deposit corresponding assets to execute the purchase. However, the private keys of these three wallets can be queried on the Telegram page. If the Telegram account is stolen, the assets in the addresses will also be at risk of being stolen. In addition, users who import their own wallet private keys into Telegram also face the risk of leakage. When purchasing tokens, users need to enter the token address themselves, which may lead to errors and other issues.
About security, Bobby Ong, co-founder of CoinGecko, once said, "I wouldn't be surprised if a robot stores its users' private keys and deceives users by transferring assets to its own wallet."
Therefore, users need to be aware of the risks when using robots like Unibot, and it is best to deposit a small amount of funds and use a new wallet.
---