LianGuaiWeb3.0 Daily | Starknet is about to launch Starknet application chain
LianGuaiWeb3.0 Daily | Starknet launching Starknet app chain
DeFi Data
1. Total Market Cap of DeFi Tokens: $49.98 billion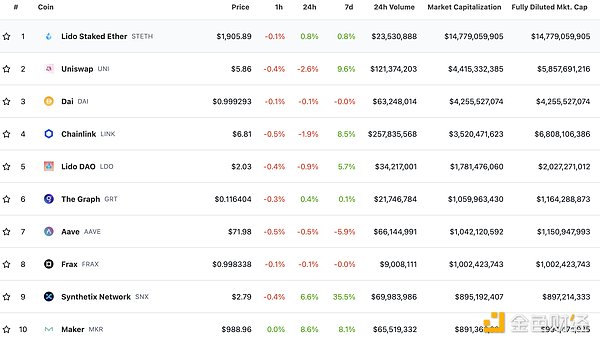 Data Source: Coingecko
2. 24-hour Trading Volume on Decentralized Exchanges: $3.826 billion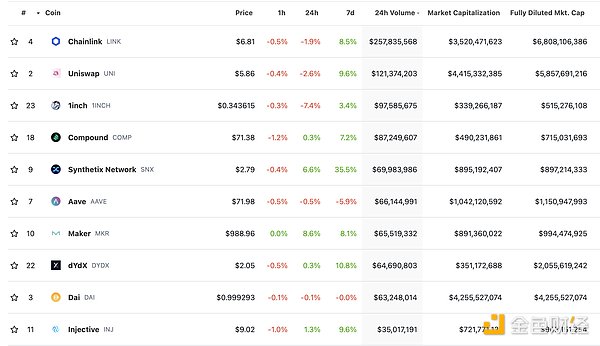 Data Source: Coingecko
3. Locked Assets in DeFi: $44.265 billion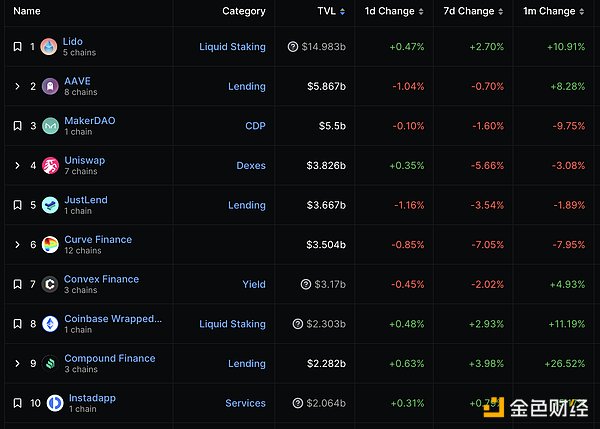 Data Source: Defillama
NFT Data
1. Total Market Cap of NFTs: $17.01 billion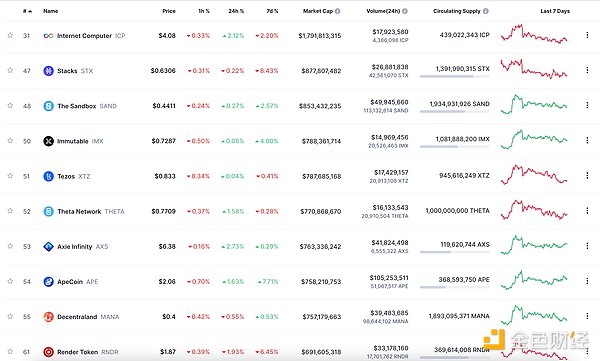 Data Source: Coinmarketcap
2. 24-hour NFT Trading Volume: $1.021 billion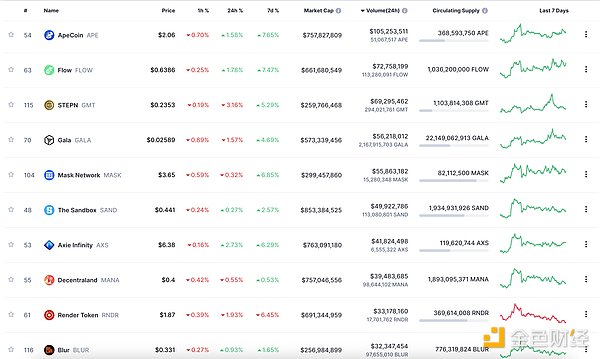 Data Source: Coinmarketcap
3. Top 10 NFT Sales in the Last 24 Hours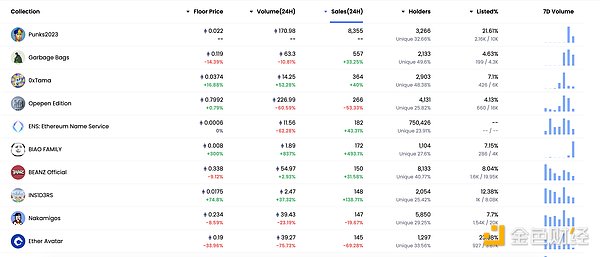 Data Source: NFTGO
Headlines
Starknet to Launch Starknet Appchains
On July 19th, Eli Ben-Sasson, Co-founder of StarkWare, announced at the EthCC (Ethereum Community Conference) in Paris that Starknet will soon launch Starknet Appchains. The Starknet stack includes Starknet Appchains (Full Appchain as A Service) and StarkWare support. Starknet Appchains offer customizability and decentralization. By creating Starknet Appchains, applications can provide users with better throughput and enhanced user experience.
NFT/Digital Collectibles Highlights
1. Azuki NFT Floor Price Drops to Near One-Month Low, Currently at 5.23 ETH
On July 19th, according to Blur market data, the floor price of Azuki NFT is currently at 5.23 ETH, which is a near one-month low. The trading volume in the past 24 hours is 1991.7 ETH.
2. Linea's Linea Voyage NFT Series Airdropped to User Addresses
On July 19th, Linea Voyage NFT series, launched by ConsenSys' Ethereum Layer 2 solution Linea, has been airdropped to eligible user addresses. The series includes 5 categories, with the user's points earned during the Linea Voyage event determining their level.
3. Yuga Labs seeks to obtain $1.589 million in profits and $200,000 in compensation in the BAYC copycat RR/BAYC infringement case
On July 19th, according to on-chain analyst OKHotshot, court documents show that Yuga Labs is requesting the court to award them $1,589,455 in profits obtained by the defendant; $200,000 in statutory damages; their costs and fees, as well as interest, in the BAYC copycat RR/BAYC NFT infringement case.
4. Vitalik Buterin's 2014 historical portrait is auctioned as an NFT
LianGuai reported that Canadian photographer Andrew Miller announced the exclusive auction of Ethereum founder Vitalik Buterin's first professional and unreleased portrait, which has been cast as an NFT. The auction coincides with the 10th anniversary of the birth of Ethereum. The auction will start on July 1st on Manifold.xyz and will continue until July 30th, providing collectors with a rare opportunity to own a part of Ethereum's early history. The starting price is 333 ETH.
DeFi Highlights
1. Orbiter Finance announces support for Linea network, with the first 5 ETH cross-chain transfers free of charge
On July 19th, Orbiter Finance announced support for the Linea network, allowing users to transfer tokens across networks such as ETH mainnet, zkSync-Era, and Starknet to Linea. The first 5 ETH cross-chain transfers will be free of charge, with a cross-chain time of only 30 seconds.
2. Solana ecosystem protocol Marinade launches SOL liquidity staking product
LianGuai reported that Solana ecosystem protocol Marinade Finance has launched the liquidity staking product Marinade Native, allowing users to directly stake SOL to nodes and receive liquidity tokens mSOL. The developers stated that through Marinade Native, users can retain custody of SOL while earning approximately 7% staking rewards. The staking will be distributed among multiple validator nodes, ranked and staked based on factors such as decentralization.
3. Polygon announces new governance model composed of an "Ecosystem Committee"
LianGuai reported that the Polygon team has revealed plans to create a new governance framework aimed at achieving more decentralized control over the ecosystem. This development is in response to the team's new roadmap called Polygon 2.0, which aims to develop a zero-knowledge-driven Layer 2 chain network.
The team stated that Polygon's new governance model will consist of "three governance pillars," focusing on the governance of its core protocol, smart contracts, and community funds. Other key features include the expansion of the Polygon Improvement Proposal (PIP) framework, the introduction of an "Ecosystem Committee" for system smart contract upgrades, and a two-stage community treasury governance to provide funding for promising ecosystem projects.
4. Cosmos ecosystem liquidity staking protocol Stride to transition to an ATOM-driven security model
On July 19th, based on Cosmos, liquidity staking protocol Stride plans to transition from its existing STRD token model to the Inter-Blockchain Communication Protocol (IBC) system driven by ATOM tokens. Stride contributor Ian Unsworth stated, "The transition may occur between Wednesday 17:00 and 21:30 (UTC time) at block height 4616678." Unsworth added, "Although Stride TVL is over $35 million, it only has $19 million in economic security by bonding network tokens. After the IBC transition, block production/security will be passed to the ATOM validator set, increasing the network's economic security by approximately 11,935.2%."
According to the official blog, the transition to IBC will increase Stride's economic security from approximately $25 million to $2.3 billion, making the protocol more resistant to hacking attacks.
5. Celer cBridge supports ConsenSys L2 network Linea
On July 19th, Celer announced support for ConsenSys L2 network Linea through cBridge. Users can perform cross-chain transactions of BNB, BUSD, AVAX, and MATIC tokens between Linea, BNB Chain, Avalanche, and Polygon. According to yesterday's report, Linea announced that it has opened access to the Alpha version of its mainnet to the community. Developers and RPC endpoints can access the Rollup and ETH bridge UI. The cross-chain bridge supporting ERC20 tokens will be launched in the coming weeks.
Hot Topics in Gaming
1. MagmaByte to launch PvP game Galaxy Commanders on Immutable zkEVM
According to LianGuai, game startup MagmaByte will launch the PvP space shooting game Galaxy Commanders on Immutable zkEVM. MagmaByte's team includes former developers from EA, NCSoft, and Nexon. Galaxy Commanders will require players to use various strategies to lead fast-paced space battles and cooperate to conquer the stars. Immutable zkEVM is a Layer 2 scaling solution built specifically for gaming, enabling cheaper and faster transactions. The release date for Galaxy Commanders has not been announced, but according to the press release, MagmaByte is currently raising funds in a round led by Shima Capital.
2. Blockchain Gaming Survey: Over 60% of respondents believe blockchain games will become mainstream in the future
On July 19th, YGG's Japanese business partner ForN released a survey and whitepaper on blockchain gaming. The survey conducted among a total of 1018 gamers and gaming enthusiasts focused on blockchain (Web3, NFT, GameFi) games. The results showed that about 20% of respondents had heard of blockchain games, but only 3.7% had played them. Over 70% of respondents who hadn't played blockchain games expressed interest in them, with the main reasons for not playing being lack of understanding and awareness. Among respondents who had tried blockchain games, over 80% expressed satisfaction. Over 60% of respondents believe that blockchain (Web3, NFT, GameFi) games will become mainstream if they are free to play.
Disclaimer: As a blockchain information platform, LianGuai's published articles are for informational purposes only and should not be considered as investment advice. Please establish the correct investment concept and be sure to increase risk awareness.
---