LianGuaiWeb3.0 Daily | Zuckerberg Meta remains fully committed to the metaverse vision
LianGuaiWeb3.0 Daily Zuckerberg Meta fully committed to metaverse vision
DeFi Data
1. Total Market Cap of DeFi Tokens: $49.8 billion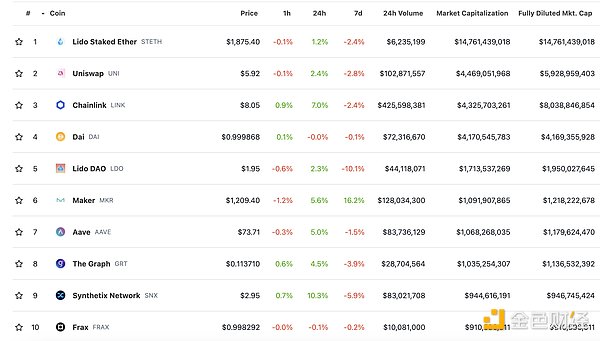 DeFi Total Market Cap and Top 10 Tokens Data Source: coingecko
2. 24-hour Trading Volume on Decentralized Exchanges: $3.826 billion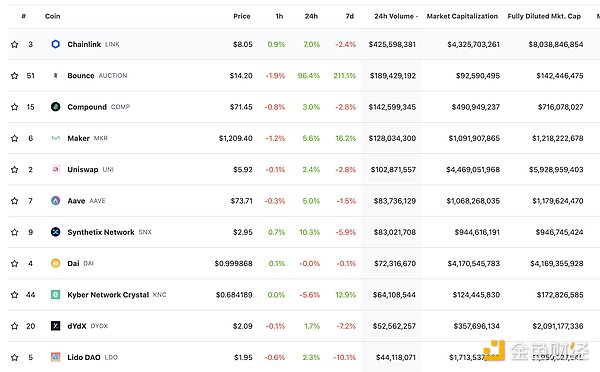 24-hour Trading Volume on Decentralized Exchanges Data Source: coingecko
3. Locked Assets in DeFi: $43.488 billion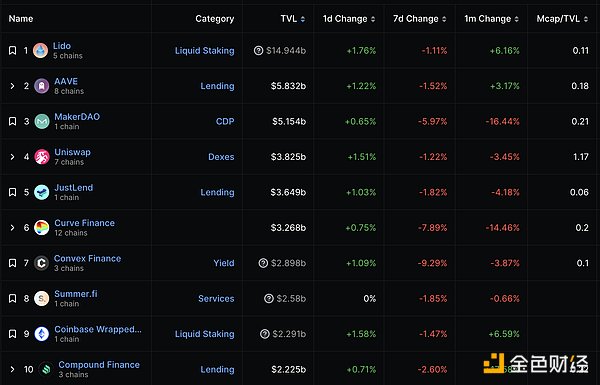 Data Source: defillama
NFT Data
1. Total Market Cap of NFTs: $16.759 billion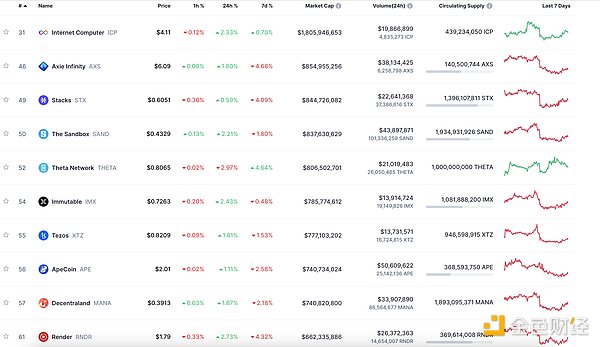 Total Market Cap of NFTs and Top 10 Projects Data Source: Coinmarketcap
2. 24-hour NFT Trading Volume: $1.103 billion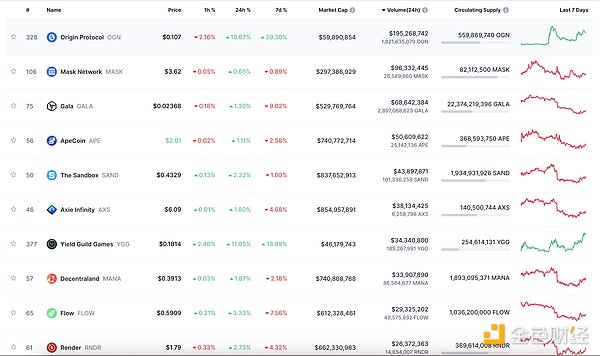 24-hour NFT Trading Volume and Top 10 Projects Data Source: Coinmarketcap
3. Top 10 NFTs Sold in the Last 24 Hours

Top 10 NFTs Sold in the Last 24 Hours Data Source: NFTGO
NFT/Digital Collectibles Highlights
1. Gucci to Gift Physical Items to Gucci Vault Material NFT Holders
LianGuai reported that luxury giant Gucci is preparing to gift physical items such as wallets or handbags to Gucci Vault Material NFT holders. Gucci Vault Material NFT was first introduced in March last year as part of Gucci's collaboration with NFT project 10KTF.
2. Sui 8192 Introduces New Feature Allowing Players to Burn Old Sui 8192 NFTs for SUI Rebate
On July 27th, Sui ecosystem game Sui 8192 launched a new feature called SUI storage rebate, which allows players to burn old Sui 8192 NFTs to receive SUI rebate without affecting their ranking in Bullshark Quest. Players can perform this operation in the Burn Games option of the latest version of the Sui 8192 smart contract.
3. NFT Marketplace ZORA Includes Airdrop-related Terms in its Rewards Program
On July 27th, according to the service terms document released by NFT marketplace ZORA, section 5.6 of the rewards program states that Zora has the right to decide whether to provide certain incentives and rewards to users of its services, which may include airdropping encrypted assets to the wallets used by users in the service.
4. Sui Ecosystem Domain Name Service SuiNS: Day 1 NFT Sui Name Minting is Now Live
LianGuai reports that Sui Ecosystem Domain Name Service (SuiNS) announced on social media that Day 1 NFT Sui Name minting is now live. If you hold a .sui name registered before July 21, 2023, and a Day 1 NFT, you can now apply for a free .sui name of the same length. A total of approximately 97,000 Day 1 NFTs have been distributed to the community. However, these NFTs need to be activated, and users must apply for an additional name of the same length to activate your Day 1 NFT and use its functionality in the future.
DeFi Highlights
1. Fireblocks Integrates with Astar Network to Provide Institutional Access to Astar Assets and Ecosystem
On July 27th, cryptocurrency custody technology provider Fireblocks integrated with Astar Network, a Polkadot parachain, to provide institutional access to digital assets on Astar and its DeFi ecosystem.
2. EthHub Co-founder: Ethereum's Cancun Upgrade Could Arrive in November This Year
LianGuai reports that Anthony Sassano, the co-founder of EthHub and The Daily Gwei, stated on social media, "Ethereum's next upgrade, Dencun, is coming soon, and it will include the highly anticipated EIP-4844 (a major scalability upgrade for Layer 2)." When asked about the exact timing of the upgrade, he replied, "My personal estimation (not from core developers) is November."
Last month, Ethereum developers confirmed the final content of the "Dencun Upgrade" and expected it to be launched by the end of this year.
3. Decentralized Social Protocol Farcaster Now Supports ENS Usernames
On July 27th, it was announced that the decentralized social protocol Farcaster now supports ENS usernames. Users can choose between free Fnames or decentralized ENS names to add and switch usernames in their profiles.
4. Ethereum Scaling Project AltLayer Deploys Over 100,000 Flash Layers
On July 27th, the Ethereum scaling project AltLayer announced the deployment of over 100,000 Flash Layers as part of Altitude Phase 3. AltLayer previously partnered with the Ethereum staking protocol EigenLayer to enable stakers to launch Flash Layers.
5. Zeko Labs Collaborates with O(1) Labs and dcSLianGuairk to Launch L2 ZK Rollup Ecosystem Zeko
On July 27th, Zeko Labs collaborated with the Mina development team from O(1) Labs and dcSLianGuairk to launch Zeko, an L2 ZK Rollup ecosystem specifically designed for zero-knowledge applications (zkApps). Settlements in Zeko will be conducted using the Mina Protocol, allowing developers to build decentralized applications with programmable privacy at scale.
Metaverse Highlights
1. Zuckerberg: Meta Still Fully Committed to the Metaverse Vision
On July 27th, Mark Zuckerberg, the founder and CEO of Meta, stated that they are still fully committed to the vision of the metaverse and will continue to invest in the field of artificial intelligence. Over the years, we have been simultaneously dedicated to these two major priorities, and in many ways, these two domains overlap and complement each other.
LianGuai previously reported that Meta's metaverse division, Reality Labs, generated revenue of over $276 million in the second quarter of this year, with a loss of $3.74 billion. The development of products in the virtual reality field and further investment in the metaverse were cited as the reasons for the increased losses.
Disclaimer: LianGuai, as a blockchain information platform, publishes articles for informational reference only and does not constitute actual investment advice. Please establish a correct investment concept and be sure to increase risk awareness.
---