The True Story Behind Musk's Acquisition of Twitter
Musk's True Story of Acquiring Twitter
Author: Walter Isaacson
Translation: czgsws, BlockBeats
The biography of the world's richest person, founder of OpenAI and SLianGuaiceX, owner of X (formerly Twitter), and CEO of Tesla, Elon Musk, titled "Elon Musk Biography", will be officially published and released on September 12th. The book is written by Walter Isaacson, the author of "Steve Jobs Biography", a well-known contemporary American biographer. The Wall Street Journal has excerpted and released a part of the "Twitter Wars" in advance, which is organized and translated by BlockBeats as follows:
Gamer
In April 2022, everything seemed to be going extraordinarily well for Elon Musk. The stock price of Tesla had increased 15 times in 5 years, exceeding the total of the next 9 car companies combined. The number of rockets launched into orbit by SLianGuaiceX in the first quarter of 2022 was twice the total of all other companies and countries. And Starlink has just successfully created a private internet, providing network services to 500,000 users in 40 countries, including Ukraine.
If Musk can smoothly pass through 2022, it will be a brilliant year, but that is clearly not his nature.
Shivon Zilis is a manager at Neuralink (Musk's company dedicated to implantable brain-machine interfaces) and the mother of Musk's two children. In early April, she noticed that Musk was like a video game addict, unable to unplug even though he had already won, and feeling restless.
Shivon Zilis once tried to persuade Musk: "You don't have to be in a constant state of war, or when you are in a state of war, do you find greater psychological comfort?"
"This is part of my default setting. I always want to push the chips back onto the table, or challenge the next level of the game," Musk replied.
As fate would have it, this unsettling period of success coincided with him exercising some expiring stock options, leaving him with about $10 billion in cash.
"I don't want to leave it in the bank," he said, "so I asked myself what product I like, and the answer was simple: Twitter." In January of that year, Musk secretly told his private business manager, Jared Birchall, to start buying Twitter stocks.
Musk aggressively acquired Twitter and renamed it X, signaling his current way of operation: impulsive and irreverent. It became an addictive playground for him. It has many features of a campus, including mockery and bullying. But for Twitter, smart kids win followers. They won't be pushed down the stairs and beaten like Musk was when he was a child. Having it would make him the king of the campus.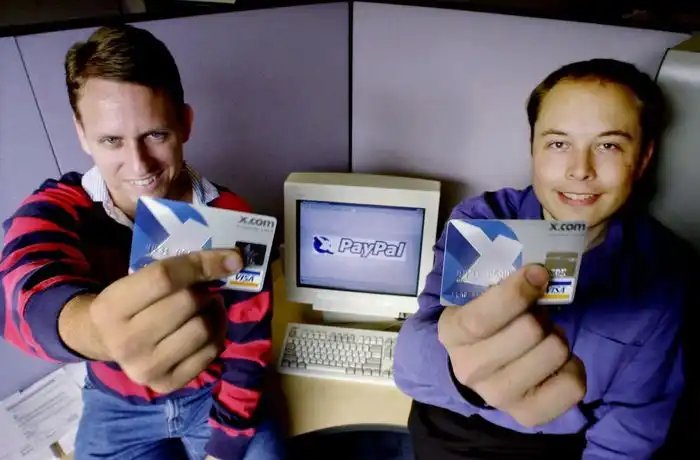 Elon Musk (right) and Peter Thiel's company merged in October 2000 to form LianGuaiyLianGuail. Photo source: LianGuaiUL SAKUMA/Associated Press
Opening up the landscape
Over 20 years ago, Musk founded a company called X.com with the hope of creating a "universal application" that could handle all personal financial transactions and social relationships. After it merged with the payment services company LianGuaiyLianGuail co-founded by Peter Thiel, Musk fought hard to keep X.com as the name of the merged company, but his new colleagues resisted. At that time, LianGuaiyLianGuail had already become a trusted brand name, like Twitter today, with recognition and brand effect, while the name X.com evoked thoughts of a "dirty website". Musk was ousted, but he remains steadfast to this day.
Musk said, "If you only want to be a niche player, then LianGuaiyLianGuail is indeed a good name, but if you want to take over the world financial system, then X is a better choice."
When he started buying Twitter stocks, Musk saw Twitter as a way to realize his original idea, and he also felt that the name Twitter had a limited scope.
Musk said, "Twitter could be what X.com should have been, and we can help save free speech in the process."
At that time, a new concern gradually emerged, and Musk became increasingly worried about the danger of what he called the "awakening culture", which he believed was infecting America.
Musk said solemnly, "Unless the virus of the 'awakening culture' is stopped, civilization will never develop into a multi-planetary mode."
Musk's anti-awakening sentiment was partly triggered by his oldest child Xavier (then 16) deciding to transition.
"Hey, I'm transgender, my name is Jenna now." The child sent a message to Musk's brother's wife. "Don't tell Dad."
Later, Jenna cut off all ties with Musk. He believed that anyone wealthy was evil, and despite Musk's repeated attempts to reconcile, Jenna refused to spend time with him. He partly attributed this to the ideology Jenna absorbed while attending the progressive Crossroads School in Los Angeles. He believed that Twitter had been influenced by left-wing voices.
"Twitter needs a dragon with fire-breathing"
On the evening after the news of his purchase of Twitter shares was made public, Musk called then-Twitter CEO Parag Agrawal and they decided to have a secret dinner with Twitter Chairman Bret Taylor on March 31st.
Musk found Agrawal likable. "He's a very nice person," he said. But that's the problem. If you ask Musk what qualities a CEO needs, being a genuinely nice person wouldn't be on the list. One of his maxims is that managers shouldn't aim to be likable. "What Twitter needs is a fire-breathing dragon, and Agrawal isn't that," he said after the meeting.
At the time, Musk hadn't thought about taking over Twitter personally. During their meeting, Agrawal invited him to join the Twitter board, and he agreed, but the calm was short-lived.
Musk's X.com vision
On the afternoon of April 6th, the day after Musk announced his joining the Twitter board, Musk's close friends Luke Nosek and Ken Howery expressed concerns at a gathering, "This could cause trouble." Musk happily admitted at the meeting, "It's obvious the asylum is run by the inmates," referring to Twitter's staff.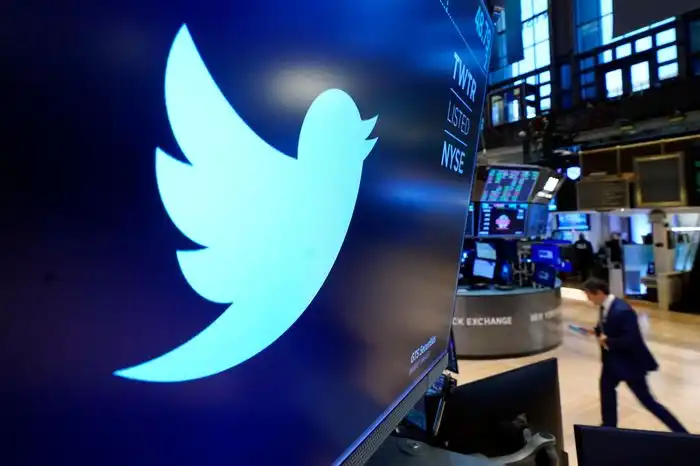 The Twitter logo on the floor of the New York Stock Exchange, November 2021. Photo Credit: RICHARD DREW/AP
Musk reiterated his simple view that it would benefit democracy if Twitter stopped trying to restrict users' speech. While Howery agreed with Musk's liberal view of free speech, he gently countered, "Should it be like a telephone system, where what goes in one end comes out the other end exactly the same? Or do you think it's more like a system that governs the world's discourse, where maybe some intelligence should be added to the algorithms to differentiate the priority or lower the priority of things?"
"Yeah, it's a tricky question," Musk replied. "And then there's the question of to what extent should free speech be elevated or amplified, maybe the way tweets are promoted should be more open, maybe it's an open-source algorithm on GitHub where people can filter it."
Then Musk threw out some other ideas. "What if we charged people a small fee, like $2 a month, for verification?" he asked. Musk believed that obtaining users' credit card information would eliminate "bots" and provide a new revenue stream, furthering his goal of turning Twitter into a payment platform, much like his vision for X.com, where people can send money, tip, and pay for stories, music, and video content. Howery and Nosek liked the idea because they had worked with Musk at LianGuaiyLianGuail.
"It can realize my initial vision for X.com and LianGuaiyLianGuail," Musk said with a smile.
The next day, Musk's brother Kimbal told him during lunch that it would be best to launch a blockchain-based social media platform. Musk was very interested in this idea and entered a dazzling state. Half-jokingly, he said that maybe it could have a payment system using Dogecoin (DOGE), a semi-serious cryptocurrency that Musk has been quietly supporting its development. After lunch, he sent Kimbal several text messages, detailing his idea for "a blockchain-based social media system that can both make payments and communicate like Twitter."
Then he flew to Lanai Island in Hawaii for a quiet date with Natasha Bassett, an Australian actress he occasionally dated. But Musk didn't treat it as a casual mini-vacation, instead spending four days thinking about how to handle Twitter.
For most of the first night, Musk had trouble falling asleep, feeling troubled by the problems facing Twitter. When he looked at the list of users with the most followers, he found that they were no longer very active. So at 3:32 a.m. Hawaii time, he tweeted, "Most 'top' accounts tweet very rarely, and their content is also scarce. Is Twitter dying?"
About 90 minutes later, Twitter CEO Agrawal sent Musk a text message: "You are free to tweet 'Is Twitter dying?' or any other content related to Twitter, but I have a responsibility to tell you that it doesn't help me make Twitter better in the current environment." It was a restrained message, worded cautiously.
When Musk received the message, it was just past 5 a.m. in Hawaii, but he was still full of energy. He responded harshly, "What have you done this week? I'm not joining the board, it's a waste of time, and I will propose the privatization of Twitter."
Agrawal was shocked. "Can we talk?" he asked plaintively.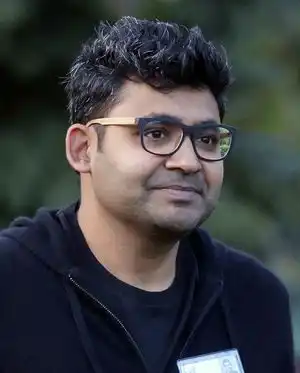 Parag Agrawal, photographed in July 2022, was the CEO of Twitter when Musk acquired the company. Photo credit: KEVIN DIETSCH/GETTY IMAGES
Within three minutes, Twitter Chairman Taylor texted Musk, requesting a similar conversation. "Can you give me five minutes to understand what's going on?" he asked Musk.
"It's not feasible to fix Twitter by talking to Agrawal," Musk replied. "Strong action needs to be taken."
Musk's "One Proposal"
Musk said that when he arrived in Hawaii, he realized clearly that he would not be able to fix Twitter or transform it into X.com by joining the board: "I decided that I didn't want to be co-opted and become a board member, nor did I want to be a pleaser on the board." There was another factor. Musk was moody and impulsive at the time.
As usual, his thoughts fluctuated dramatically with his emotions. While he was aggressively pursuing the acquisition of Twitter, he was also discussing with Kimbal the idea of starting a new social media company through text messages. "I think we need a new social media company based on blockchain and with payment functionality." he wrote.
But later in the afternoon (Saturday, April 9th), he still chose the idea of acquiring Twitter. "It already has a certain user base and needs this booster to launch X.com." he texted his private business manager, Birchall.
Later, Musk flew to Vancouver to meet his on-and-off girlfriend, Claire Boucher, an artist known as "Grimes". She had been urging Musk to come see her so she could introduce their son X (yes, X) to her parents and elderly grandparents. But when she was about to drive to see her parents, she decided to leave Musk at the hotel. "I could tell he was under stress," she said.
Indeed. Later that afternoon, Musk texted Twitter Chairman Taylor to express his formal decision. "After several days of careful consideration – this is clearly a serious issue – I have decided to continue with the privatization of Twitter." he said.
That night, when girlfriend Grimes returned to the hotel, she found Musk engrossed in a new video game called "Elden Ring" to relax. He had downloaded the game onto his laptop. The game had intricately rendered mysterious clues and a strange twisted plot, requiring players to be highly focused, especially in calculating when to attack. Musk spent a lot of time in the most dangerous area of the game. "He didn't sleep," Grimes said, "he played until 5:30 a.m."
Shortly after finishing the game, Musk tweeted, "I made an offer."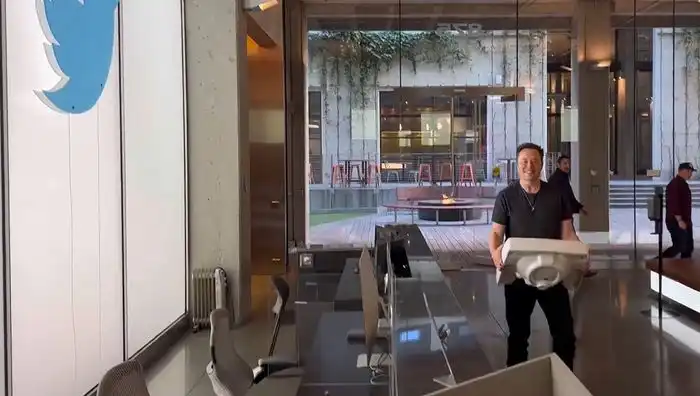 On October 26, 2022, just before the completion of his acquisition of the company, Musk jokingly walked into Twitter headquarters holding a sink. Photo source: Musk's personal Twitter account
Subsequently, Musk began searching for external investors to help him fund the acquisition. He asked his brother Kimbal, but Kimbal declined. The fundraising plan had greater success under the leadership of Oracle founder Larry Ellison. "Yes, of course," Ellison replied when Musk asked if he was interested in investing in the deal.
"How much can you contribute?" Musk asked. "I don't expect you to do anything, but this deal is oversubscribed, so I have to reduce or kick out some participants."
"One billion," Ellison said, "or you name a figure."
Ellison hasn't tweeted for ten years. In fact, he doesn't remember his Twitter password, so Musk had to personally reset it for him. But Ellison believes Twitter is important. "It's a real-time news service, and nothing is better than it. If you agree that it is important for democracy, then I think it is worth investing in."
"My bullshit detector sounds like a red alert"
Sam Bankman-Fried (SBF) was someone eager to participate in the deal. He is the founder of the cryptocurrency trading platform FTX, but later he quickly fell into disrepute. Morgan Stanley urged Musk to call SBF, saying that he "will be responsible for the social media blockchain integration project" and will invest $5 billion in the acquisition deal.
Although he had discussed the idea of ​​building a social network on the blockchain with Kimbal, Musk believed that this approach was too slow to support the fast-paced Twitter posts. So he didn't want to meet with SBF. When his banker insisted on reiterating that SBF "can pay $5 billion," Musk directly responded with a "dislike" expression to that information. "Blockchain Twitter is impossible because a peer-to-peer network cannot support such high bandwidth and latency requirements," Musk said. He may meet with SBF at some point, as long as he doesn't have to engage in a difficult blockchain debate.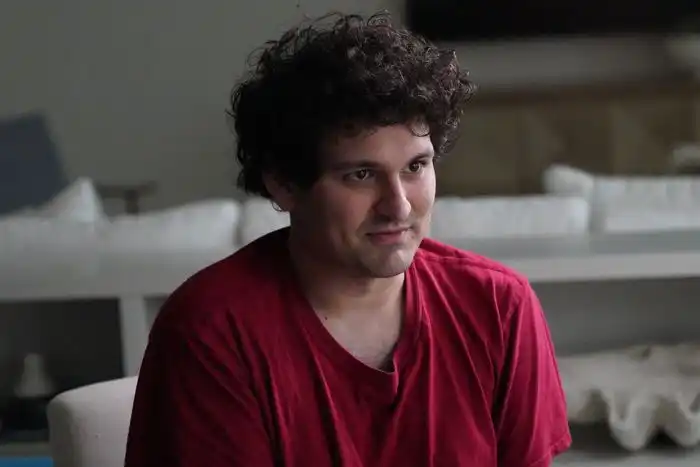 In December 2022, Musk rejected a proposal from FTX founder Sam Bankman-Fried, who texted Musk saying that he was "very excited about what will be done with TWTR." Photo source: KENNY WASSUS/The Wall Street Journal
SBF then directly texted Musk saying that he was "very excited about what will be done with TWTR." SBF said that he owns $100 million worth of Twitter stock, which means that once Musk privatizes it, his Twitter stock will be converted into shares of the new company.
"Sorry, who sent this message?" Musk replied to the text. When SBF apologized and introduced himself, Musk replied briefly, "You're welcome, welcome aboard."
Musk's attitude led to SBF calling again in May. "My bullshit detector went off like a red alert on a Geiger counter," Musk said. SBF started speaking quickly, all about himself. "He spoke like he was sprinting, a mile a minute," Musk said. "I thought he would ask me questions about the deal, but he kept telling me what he was doing. I thought, 'Dude, chill.' But the feeling was mutual, SBF also thought Musk seemed crazy. The call lasted for half an hour, and SBF ultimately did not invest.
Completion of Acquisition
Musk successfully raised funds, and Twitter's board of directors accepted his plan at the end of April. That night, Musk didn't celebrate; instead, he flew to the Starbase rocket launch site in southern Texas. There, he attended a routine night meeting about redesigning the Raptors engine and spent over an hour contemplating how to address the unidentified methane leak they encountered. The news about Twitter was the hottest topic in the world, but SLianGuaiceX's engineers knew he liked to focus on the task at hand, so no one mentioned it. Then he met Kimbal at a roadside cafe in Brownsville, where local musicians were playing. They stayed until two in the morning, sitting at a table in front of the stage, just listening to the music.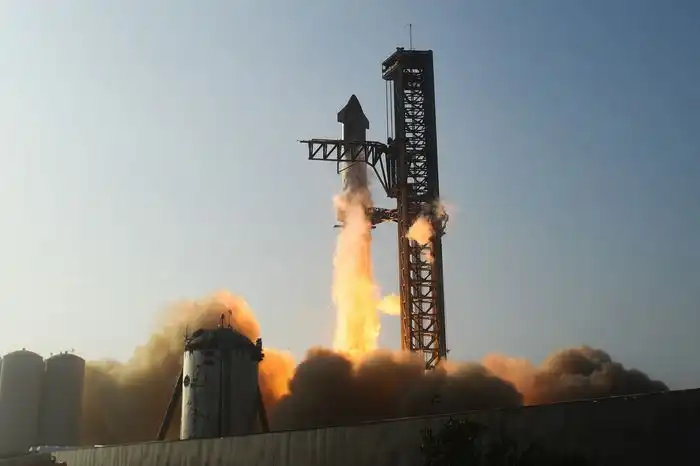 In April 2023, the SLianGuaiceX Starship rocket launched for testing in Boca Chica, Texas. Photo credit: LianGuaiTRICK T. FALLON/AFP/GETTY IMAGES
During the months between reaching a deal and officially closing the transaction, Musk's emotions fluctuated greatly. "I'm very excited about finally achieving X.com, just as it should, using Twitter as a catalyst!"
A few days later, his mood darkened. "I need to live at Twitter headquarters. The situation here is too difficult to handle, it really frustrates me, I can't even sleep there." Musk doubted his ability to handle such a chaotic challenge. "I have a bad habit of being overly greedy," Musk admitted in a long conversation. "I think I just need to think about Twitter less."
An informant and other leaks convinced him even more that Twitter had lied about its actual number of users, and that his initial offer of $44 billion was too high. He wanted a more suitable deal price. Throughout September, he would have three or four phone calls with lawyers every day. Sometimes he would get emotional and insist that they could defeat the lawsuit filed by Twitter in Delaware. "They're throwing bricks while their trash can is on fire," he said when talking about the Twitter board of directors. "I can't believe the judge would approve this deal. It won't pass public scrutiny."
Musk's lawyer ultimately convinced him that if they took the case to court, he would definitely lose, so it would be best to just complete the transaction according to the original terms. By then, Musk had even regained some enthusiasm for taking over the company. "You could say that I should have paid a premium because these people running Twitter are fools and idiots. Twitter has such huge potential, and there are so many things I can fix." In the end, Musk agreed to officially complete the transaction in October.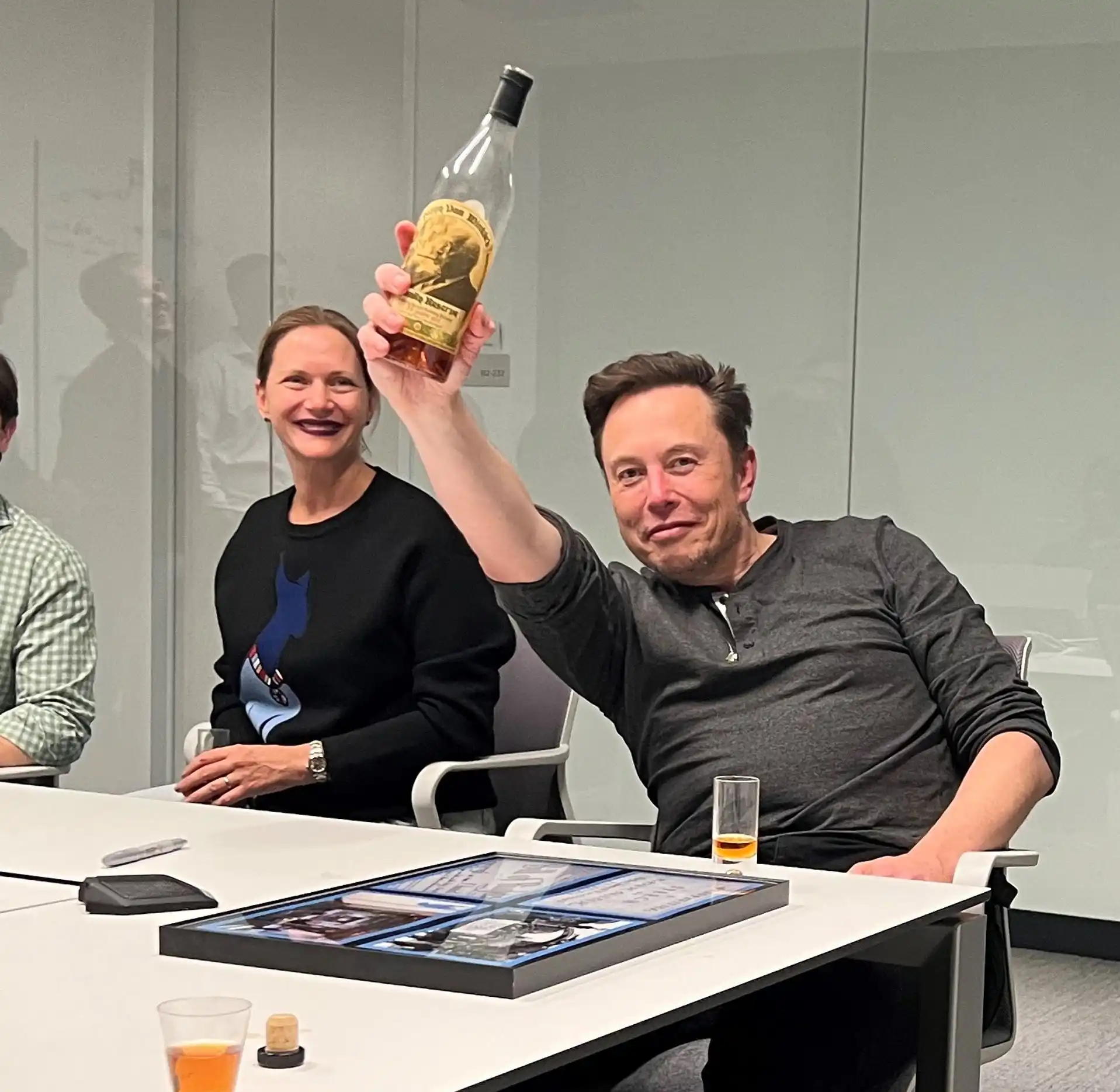 On October 27, 2022, Musk celebrated the completion of the Twitter transaction with a bottle of LianGuaippy van Winkle bourbon whiskey. Photo source: WALTER ISAACSON
"All these damn birds have to go"
Musk planned to visit Twitter in San Francisco on Wednesday, October 26, to explore and prepare for the completion of the transaction scheduled for Friday. As he wandered around headquarters, he seemed surprised. The headquarters is located in a 10-story Art Deco-style building built in 1937, formerly a commodities market, and has undergone renovation with a tech-savvy design, complete with a coffee bar, yoga studio, gym, and game room. The spacious cafe on the ninth floor offers free meals, ranging from handmade burgers to vegan salads. The slogan in the restroom reads "Gender diversity is welcome here," and as Musk perused the cabinets filled with Twitter-branded merchandise, he found a T-shirt with the words "Stay woke" printed on it. He waved the T-shirt as an example, believing that this mindset had infected the company.
There are fundamental differences between Twitter and Musk's vision for the metaverse. Twitter prides itself on being a friendly platform, where indulgence is considered a virtue. "We absolutely have a high level of empathy, care greatly about inclusivity and diversity; everyone needs to feel safe here," said Leslie Berland, who served as chief marketing and HR officer before being fired by Musk. The company has implemented permanent work-from-home options and allows for a monthly "mental health day." One of the company's common catchphrases is "psychological safety." Be careful not to cause discomfort.
When he heard the term "psychological safety," Musk chuckled, unable to agree. He believed it was the enemy of urgency and progress. His favorite buzzword is "hardcore." He believed that discomfort is a good thing, a weapon against complacency. Holidays, work-life balance, and "mental rest" days were irrelevant to him.
He first found it funny, and then he felt disgusted by the iconic blue bird logo that was visible everywhere within the Twitter company. Musk is not a cheerful person; he prefers darkness and storm-like drama rather than casual and easy-going conversations. "All these damn birds have to go," he told a middle manager.
The Twitter transaction was originally scheduled to be completed on Friday. By the time the stock market opened that morning, a smooth transition had been planned. Funds would be transferred, stocks would be delisted, and Musk would gain control. This would allow Agrawal and his senior Twitter colleagues to receive severance pay and stock options.
But Musk didn't want it that way. On the afternoon before the scheduled closing, he meticulously planned a jiu-jitsu exercise: he would force an early closure that evening. If his lawyers and bankers timed everything correctly, he could "justifiably" dismiss Agrawal and the other Twitter executives before their stock options vested.
July 29, 2023, the newly built X logo on the roof of the San Francisco Twitter headquarters. Photo source: JOSH EDELSON/AFP/GETTY IMAGES
This was bold, even cruel. But Musk believed it was justified because he believed that Twitter's management had misled him. On Thursday afternoon, as the plan unfolded, Musk told everyone, "Choosing to close tonight and then close tomorrow morning will result in a $200 million difference in the cookie jar."
At 4:12 pm Pacific Time, once they confirmed the funds had been transferred, Musk pulled the trigger to complete the transaction. At that moment, his assistant delivered dismissal letters to Agrawal and his three senior executives. Six minutes later, Musk's senior security officer entered the second-floor conference room, announcing that everyone had "evacuated" the building and their access to email had been cut off.
Immediately cutting off email was part of the plan. Agrawal had prepared a resignation letter citing the change in control. But it took him several minutes to send the document to his Gmail after his Twitter email was cut off. By then, he had already been fired by Musk.
"He tried to resign," Musk said.
"But we beat him," replied his gun-slinging lawyer, Alex Spiro.