Reviewing the NFT cycle rotation Who is rising against the trend?
NFT cycle rotation review Who defies the trend?
Like the crypto market, NFTs also have their own cyclical patterns. In November 2022, the trading volume in the NFT market experienced a downturn, with a daily trading volume of about 5k ETH. During these two bear market cycles, how did the top NFTs perform after experiencing significant changes for over half a year? Which NFTs experienced a decline? And which NFTs showed a counter-trend rise?

By comparing the average holding rate and listing rate of top NFTs, it can be observed that Degod has the highest average holding quantity, approximately 3.45, followed by Meebits, with an average holding quantity of around 3. CryptoPunks has the highest listing rate, about 10.81%, followed by CloneX. Veefriends and Meebits have the lowest listing rates.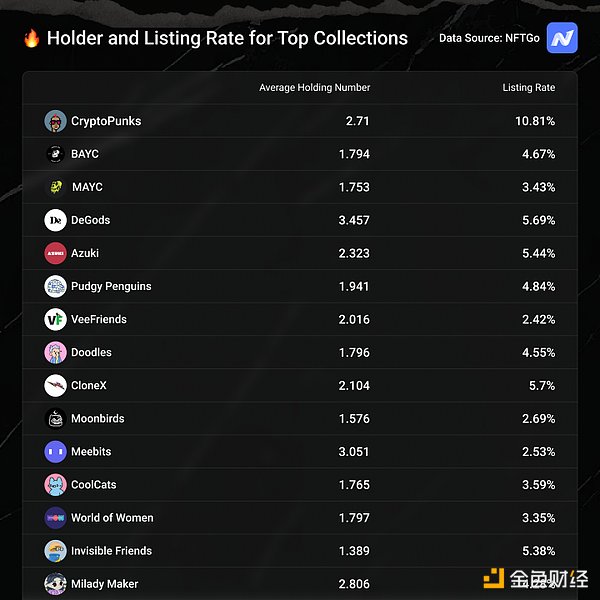 Next, we selected blue-chip collections with similar floor prices around November 2022 and compared their performance over the past half year. It can be observed that CryptoPunks still has a floor price above 30 ETH. Bored Ape Yacht Club has surpassed 20 ETH. The price range of 6-20 ETH remains blank. Projects with a floor price around 4+ ETH include MAYC, DeGods, Azuki, Captainz, Memeland, Milady, and Pudgy Penguins.
Among these projects, Pudgy Penguins is the only project with a significant increase in the floor price, approximately 47.39%. On the other hand, "Invisible friends" and "Moonbirds" experienced the largest decrease in floor price.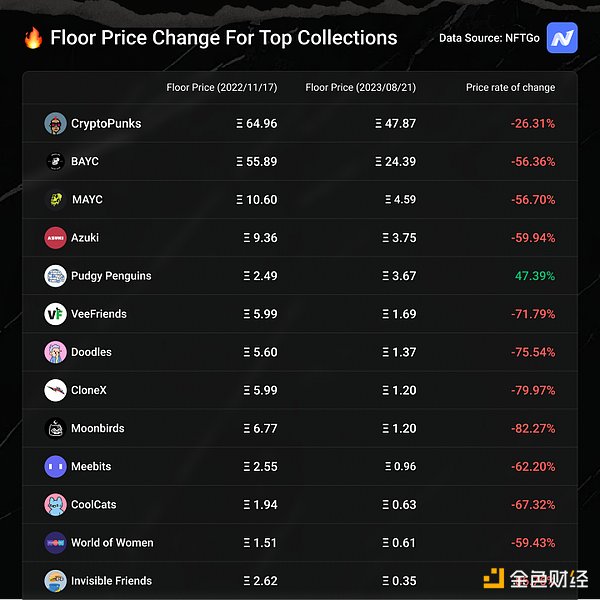 CryptoPunks & Board Ape Yacht Club
CryptoPunks and BAYC were both top projects in the 50E+ range last year. As the market entered a bear market, they experienced a decline. Over the past half year, CryptoPunks fell from 64.96 ETH by 26.31% to 47.87 ETH, while BAYC dropped by 56.36% from 55.89 ETH to 24.39 ETH.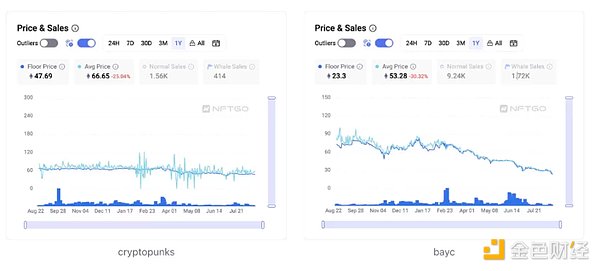 From the floor price, it can be seen that CryptoPunks has a more stable trend compared to BAYC. The floor price of CryptoPunks gradually declined along with the overall market sentiment, while BAYC showed larger fluctuations and periodic increases during the decline.
BAYC has larger price fluctuations, partly due to the continuous development and news releases in the BAYC ecosystem, where each new piece of information can affect the market trend. Another factor is that some BAYC NFTs are used for lending. These factors contribute to a much higher trading volume for BAYC, which is six times that of CryptoPunks, and whale trading volume is five times that of CryptoPunks.
These two projects undoubtedly represent the overall market trend. Whether it is the stable and gradual decline of CryptoPunks or the volatile decline of BAYC, both can affect the overall market sentiment.
Mutant Ape Yacht Club & Azuki
MAYC and Azuki, as blue-chip NFT projects with a price range of 10 ETH half a year ago, have now both dropped to below 5 ETH. MAYC has dropped 56.70% from 10.60 ETH to 4.59 ETH, while Azuki has dropped 59.94% from 9.36 ETH to 3.75 ETH.

Overall, MAYC has shown a downward trend in its constant ups and downs. The rise and fall of MAYC's floor price is closely related to the price fluctuations of BAYC. In most cases, when BAYC rises or falls, MAYC also experiences a relatively small increase or decrease in price range.
Before June 23, Azuki's floor price showed a slow upward trend. From November 17, 2022 to June 23, 2023, Azuki rose from 9.36 ETH to 16.95 ETH, an increase of 81.09%. This is thanks to its tight-knit community culture and the continuous actions and hotspots from Azuki's official team in the past half year. At the same time, Azuki has collaborated with many brands, including Beanz, and announced the "Follow The Azuki Rabbit" event held in LA on June 23, where new NFTs will be launched.
However, the positive momentum came to a halt on the 23rd. The newly launched Elementals was criticized for its lack of innovation in design, leading to some whales and Azuki holders selling off and exiting one after another.
VeeFriends & Doodles & CloneX & Moonbirds
VeeFriends, Doodles, CloneX, and Moonbirds, these four blue-chip NFTs in the 5 ETH price range half a year ago, have now all dropped to around 1 ETH. VeeFriends has dropped 71.79% from 5.99 ETH to 1.69 ETH, Doodles has dropped 75.54% from 5.6 ETH to 1.37 ETH, CloneX has dropped 79.97% from 5.99 ETH to 1.20 ETH, and Moonbirds has dropped 82.27% from 6.77 ETH to 1.20 ETH.
These four NFT projects have also experienced a decline in the NFT market's continuous downturn in the past half year. In terms of the decline ratio, VeeFriends has the smallest fluctuation, while Moonbirds has the largest.
Meebits & Pudgy Penguins & CoolCats & World of Women & Invisible Friends
Meebits, Pudgy Penguins, CoolCats, World of Women, and Invisible Friends, these several blue-chip NFTs in the 1-4 ETH price range half a year ago, except for Pudgy Penguins, have all dropped below 1 ETH. Meebits has dropped 62.20% from 2.55 ETH to 0.96 ETH, CoolCats has dropped 67.32% from 1.94 ETH to 0.63 ETH, World of Women has dropped 59.43% from 1.51 ETH to 0.61 ETH, and Invisible Friends has dropped 86.76% from 2.62 ETH to 0.35 ETH. Pudgy Penguins, on the other hand, has risen against the trend by 47%, from 2.49 ETH to 3.67 ETH. In terms of the decline ratio, World of Women has the smallest fluctuation, while Invisible Friends has the largest.
It is worth noting that Pudgy Penguins is the only collection that has risen against the market trend. After some fluctuations in December 2022, it has stabilized and experienced a small rise and fall in June. After the NFT market entered a bear market at the end of 2022, Pudgy Penguins also went through a period of decline. Internal team issues and operational problems caused the project to face difficulties, and the floor price dropped to its lowest point. The addition of serial entrepreneur Luca Netz has opened a new chapter for Pudgy Penguins, establishing an all-star board of directors and injecting more experience and resources into the project. At the same time, they have launched physical toy products by combining physical and digital experiences through the "Phygital" series. Stay tuned for the research report on Pudgy Penguins from NFTGo Research!
---