Operation Guide: How Institutions and Individuals Can Open an Account on EDX?
Opening an EDX account: A guide for institutions and individuals.
Author: BlockBeats
On June 20th, EDX Markets, a new cryptocurrency trading platform supported by Citadel Securities, Fidelity Investments, and Charles Schwab, began executing trades in recent weeks and is expected to announce its launch later on Tuesday. As a new generation of "crypto darlings" endorsed by Wall Street giants, EDX has become the focus of many cryptocurrency institutions.
Unlike "popular" cryptocurrency trading platforms such as Binance and Coinbase, EDX Markets does not directly provide services to individual investors and does not have a terminal trading app. All activities are completed through APIs. Instead, EDX will be provided with order routing services by retail brokers, which will send buy and sell orders from individual investors to the trading platform. So, what are the specific steps for cryptocurrency institutions, especially individuals, to "open an account" on EDX? BlockBeats has compiled the information provided on the EDX website.
1. Fill out the application form
To become a member of EDX Markets LLC ("EDX Markets" or "Exchange"), the applicant ("Applicant") must complete and submit all materials listed on the application checklist and send them to the EDX official Onboarding email ([email protected]) via email. All signed original forms must be sent to the location of the Chief Compliance Officer of EDX (101 Hudson Street, 21st Floor, Jersey City, New Jersey, 07302). If the applicant is seeking membership in a retail member organization, additional forms need to be filled out.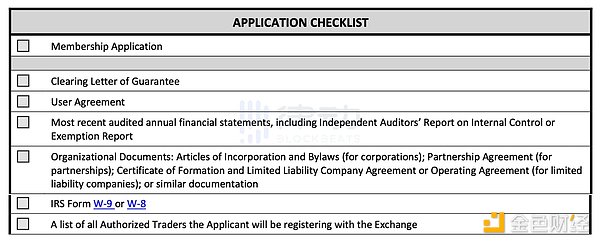 EDX Application Checklist
To become a member of the EDX Retail Member Organization and trade, this application must be completed. "Retail Member Organization (RMO) order" means an order that originates from individual demand and is submitted to EDX Markets by an RMO, provided that the terms of the order have not changed in price or market and the order does not originate from a trading algorithm or any other computerized method, except that the RMO may use algorithms to facilitate the routing of orders to the exchange ("smart order router"). For the purposes of this application, the term "individual" means an order that is generated based on a request by a human being, and not an order generated by a computer algorithm.
Individual orders may include orders representing accounts held in corporate legal form, such as individual retirement accounts, corporations, or limited liability companies established for the benefit of individuals or related family groups, provided that the order originates from an individual.
If RMO uses an algorithm or smart order router to determine if an existing retail order should be sent to a trading platform, the order is acceptable and will not be considered a transaction algorithm originating from the company's algorithm, provided that RMO ensures that the retail order meets basic rule requirements, including the algorithm not changing the terms of the order relative to price or market side. In addition, provisions that prevent changes to order terms (such as price or aspect) do not undermine RMO's better execution experience for retail investors.
The basic information that a retail organization needs to fill out for an application includes:
In the first step, the applicant needs to fill out and review the following materials:
1. "EDX Membership Application Form"
2. "Retail Member Application Form"
3. "EDX User Rules Agreement"
4. "EDXM User Due Diligence Summary"
5. "EDX Markets Participant Due Diligence Questionnaire"
6. "UBO and CP Requirements"
7. "EDX Rules Manual"
8. "Go to Fee Schedule"
2. Conduct the initial Onboard meeting
The EDX membership team will contact the applicant to arrange an introductory meeting with the EDX business development team to discuss the applicant company's goals, answer questions, and arrange preliminary technical Onboard meetings.
3. Technical Onboard
During the technical onboarding meeting, the applicant company will be introduced to the EDX technical onboarding team, which will guide the applicant through the connection and authentication process. EDX will provide dedicated discussions on network connectivity, application programming interfaces, functionality, and operational issues.
The EDX website has detailed documentation on the platform's trading technology and market data. For more information, please visit the official website. At the same time, similar to traditional financial trading platforms, EDX has relatively fixed trading and settlement times, as well as relatively fixed trading types. See the figure below for details.
EDX Daily Trading Schedule
4. Prepare for trading
After completing the above three steps, the EDX technical team will coordinate the consistency test of the applicant's trading application and guide the applicant to set up a session in the member portal. The EDX team will continue to work with the applicant to access all member reports.
By completing the above process, you can place orders on EDX Markets according to your needs!
---