Opside incentive test network goes live for a week: nearly 30,000 independent users participated, achieving 912,000 transactions.
Opside incentive test network live for a week: 30,000 users participated, with 912,000 transactions.
On May 24th, Opside officially launched the Pre-alpha incentive test network, which is currently running smoothly. Opside has received extensive attention and enthusiastic participation from ordinary users, PoS nodes, PoW miners, project parties, and developers.
In terms of data, in just one week, the number of independent wallet addresses that ordinary users participated in the Opside Pre-alpha incentive test network exceeded 28,777, the number of transfers exceeded 912,000, the number of node whitelist applications exceeded 30,000, and the number of successfully deployed and operated nodes reached 1,342! Opside PoW CPU mining will be launched on the testnet this week. Prior to this, more than 2,300 PoW whitelist applications have been confirmed to participate, and Ingonyama and Bitmain have also confirmed their participation. In addition, Opside will also launch the Public ZKEVM chain this week, which is open to all developers and project parties and supports the deployment of EVM-compatible projects. At the same time, the 25+ high-quality projects that have been confirmed to join will also be deployed to the Opside ecosystem network in the near future.
Opside launches loyalty points program on Galxe platform, nearly 30K users participate
Like many star projects such as Arbitrum, the Opside Pre-alpha incentive test network also chose to be launched on the Galxe platform. At present, the Galxe official website homepage has displayed the Opside Pre-alpha incentive test network activity, and all users can participate and experience cross-chain transactions, transfers, DAPP interactions and other functions. As of now, the testnet has attracted nearly 30K users to participate successfully. In the future, Opside will also launch more fun and interesting task activities with many star project parties.

PoS Validator second whitelist application is now open, it is expected that more than 10,000 nodes will jointly maintain the network
On May 2nd, Opside officially launched the Validator pre-application activity, receiving more than 30,000 whitelist applications from more than 60 countries during the period. As of now, 1,342 PoS nodes have been successfully deployed and are running stably, and it is expected that more than 10,000+ nodes will participate in jointly maintaining the network in this testnet. In addition, considering the great enthusiasm of the community for PoS node applications, on May 26th, Opside officially opened the second round of PoS Validator whitelist applications. The list will be reviewed and screened once a week, and applicants who meet the conditions can go to Opside's official Discord to try to receive the testnet IDE and deploy and run nodes.

PoS video tutorial: https://www.youtube.com/watch?v=S2tULBPMj0A
PoW mining is about to go online, with Ingonyama and Bitmain confirmed to participate
Opside adopts a mixed consensus mechanism of PoS and PoW, so in addition to Validator participation, it will also target all miner communities. Miners can join the Opside network at any time to provide computing power for transactions on ZK-Rollup and generate ZKP (zero-knowledge proof). On May 9th, Opside launched the PoW miner pre-application activity. So far, it has received more than 2,300 whitelist applications. Large miners such as Ingonyama and Bitmain have confirmed their participation in this Pre-alpha test network. It is worth noting that Opside will first activate CPU ZKP Mining and is expected to update GPU ZKP Mining by the end of July. Stay tuned for more information.
Public ZKEVM will be launched within a week, and more than 25 high-quality ecological projects will be successively migrated and deployed
One-click generation of ZKRollup is one of the important technical innovations of Opside. Project parties can generate their own ZKRollup chain through the ZKRollup launchBlockingd on the Opside official website, including one-click deployment of smart contracts, bridge generation, and browsers, etc. During the Pre-alpha test network, developers or project parties can generate a series of supporting facilities such as ZKRollup chains, bridges, and browsers in about 10 minutes. Opside will continue to optimize in the future and is expected to complete the entire process within five minutes. As of now, Opside has cooperated with more than 25 high-quality ecological projects, most of whom are in intense deployment, and users will soon be able to interact with more DAPPs within the ecology.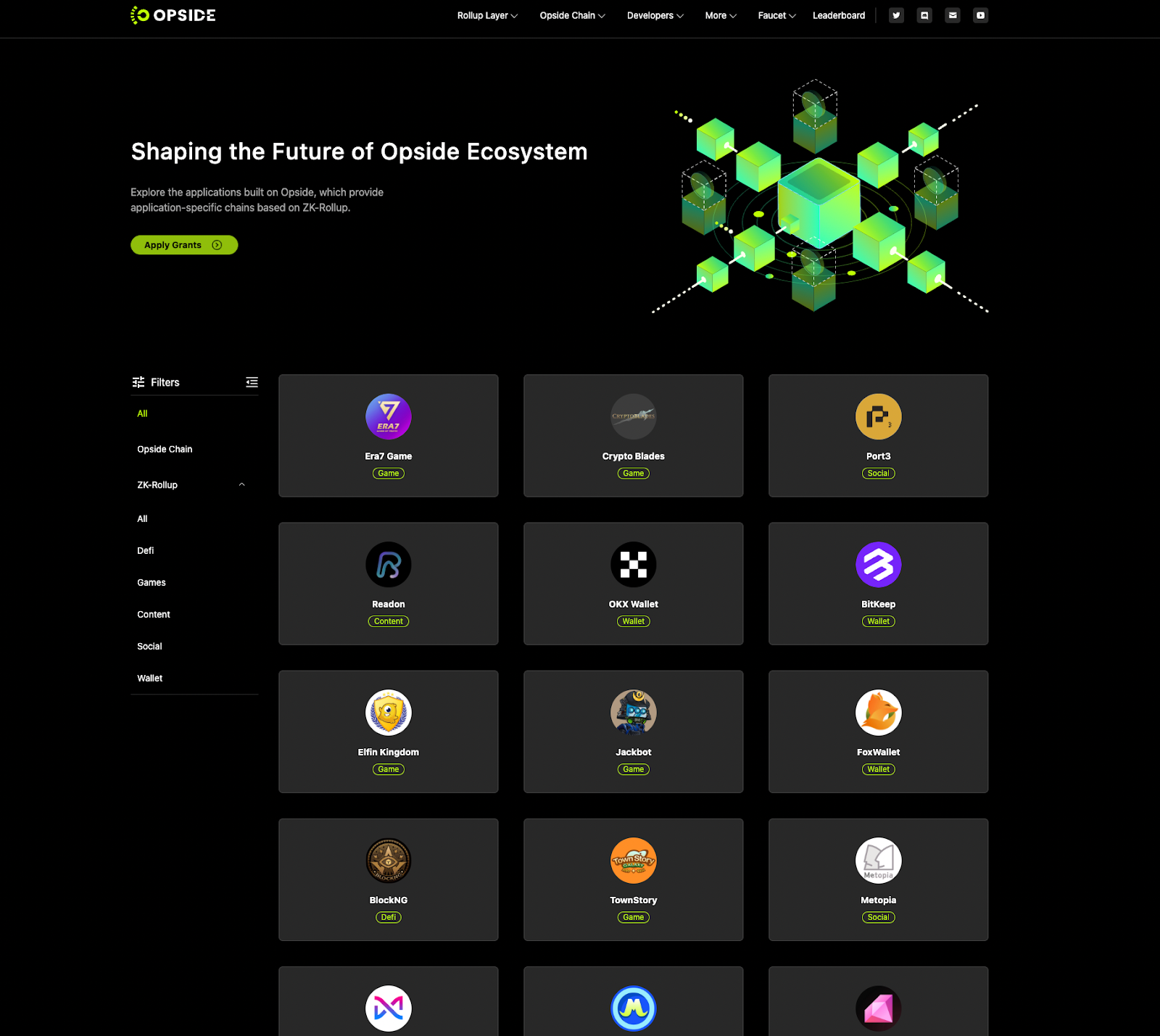 Opside Pre-alpha test network has been online for a week and has received positive feedback from global users. The ecology of Opside is also continuously expanding. As an EVM compatible network, all projects developed in Solidity language can be quickly deployed and migrated at zero cost on the Opside network. Currently, more project parties are actively approaching and expressing their willingness to join the ecology. Opside welcomes all kinds of high-quality project parties to join and deploy, and has launched the Grants program for this purpose. All projects can participate. Once approved and successfully deployed, they will receive point rewards. At the same time, Opside will also conduct regular evaluations of ecological projects and provide more support in terms of funds and markets for project parties who actively participate in the Opside ecology.
---