After SEC's lawsuit against Binance/Coinbase, BTC may be the only safe cryptocurrency.
SEC's lawsuit against Binance and Coinbase may leave BTC as the only safe cryptocurrency.
Authors: BlockingBitpushNews Lincoln Murr, Mary Liu
The sudden lawsuit by the US Securities and Exchange Commission (SEC) against Coinbase and Binance has caused a sensation and may set a precedent for the cryptocurrency industry for the next decade and beyond, ultimately providing regulatory guidance. This article will analyze the lawsuit and its basis, possible outcomes, and the impact on different cryptocurrencies.
Since Gary Gensler took office as SEC Chairman in 2021, the industry has been predicting stricter cryptocurrency regulations. When Gensler was a blockchain professor at MIT, he mentioned that many cryptocurrencies are likely securities, which means they should be regulated by the SEC and subject to US government oversight. The SEC has already taken enforcement action against some industry companies and projects, such as Ripple Labs, LBRY, Kraken, etc. Now, before taking action against the two largest and most famous exchanges, the SEC seems likely to "practice" with small companies first.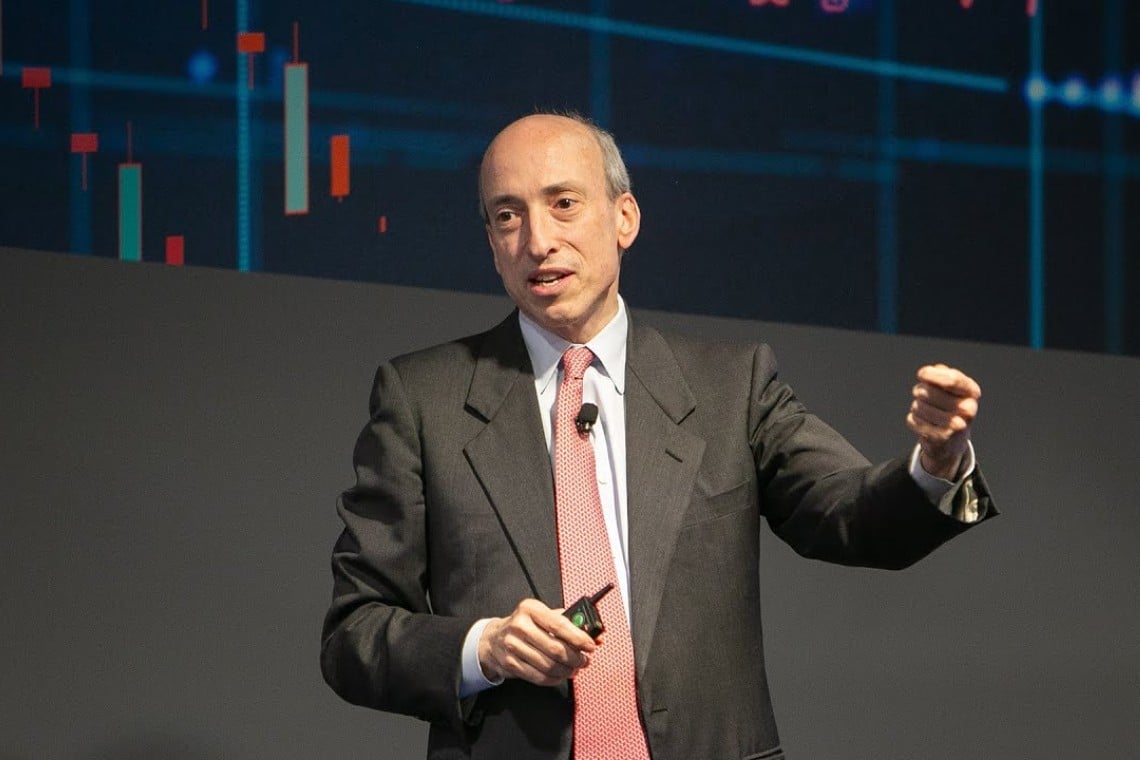 In the lawsuit, the SEC alleged that Coinbase acted as an unregistered exchange, broker, and note exchange, meaning it not only provided a trading platform, but also liquidity and intermediary services, causing potential conflicts of interest.
On the other hand, Binance faces more charges due to its independent Binance US exchange. The SEC said that Binance founder Zhao Changpeng has significant control over Binance US and used it to list BNB, knowing that BNB is likely a security, and trying to deceive VIP users into entering the regular Binance exchange.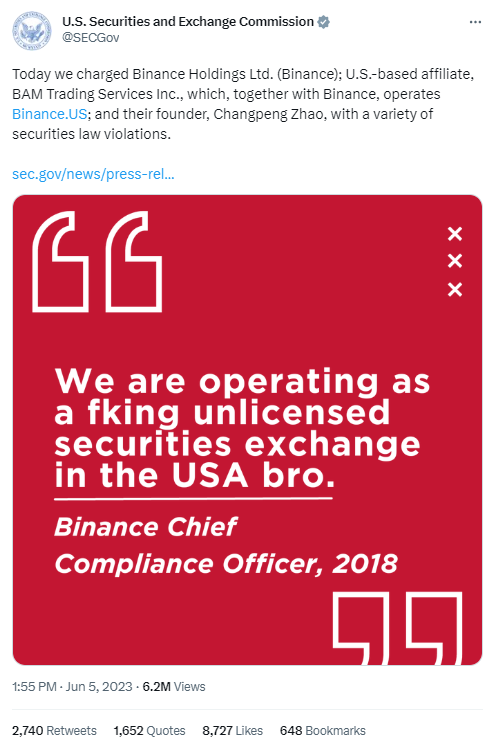 Both companies face charges related to unregistered securities offerings. The SEC has classified 19 tokens as securities, including high-value coins such as BNB, Cosmos' ATOM, Solana, Algorand, Cardano, Polygon, and Filecoin. Even Binance's stablecoin BUSD has been labeled as a security, but strangely, Coinbase-supported stablecoin USDC has remained unscathed.
As shown in the figure below, the SEC may have only taken a screenshot of Coinbase's "tradable" page and selected the top assets, which can explain why ATOM was named in Binance's lawsuit but not in Coinbase's, even though both traded ATOM. This suggests that the SEC lacks understanding and may be a good sign for Coinbase's fate.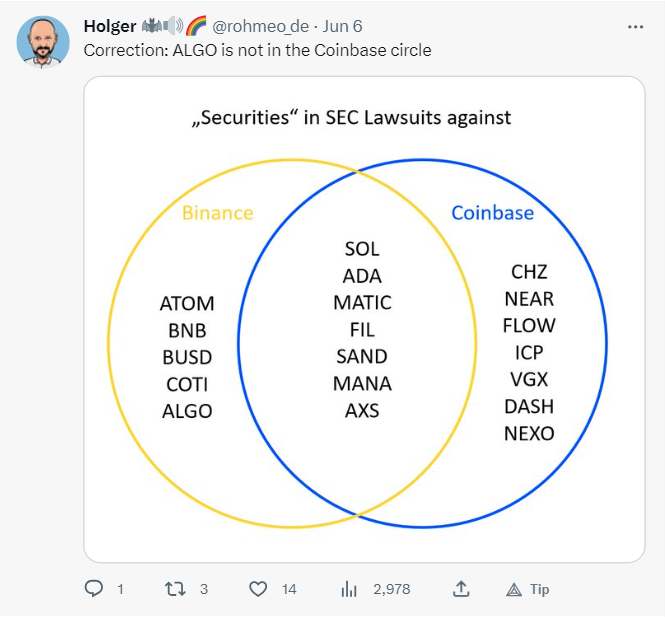 The outcome of the lawsuit will forever change the cryptocurrency industry. If the SEC wins, it will have greater control over exchanges and cryptocurrencies that may be deemed securities. Of the two, Binance is more likely to lose the lawsuit due to the listing of the coin BNB on their platform and Zhao Changpeng's involvement, as well as the ample evidence. Additionally, the SEC has applied for the freezing of Binance US's assets, a move they have not taken against Coinbase.
If the SEC wins the lawsuit on the basis that the listed cryptocurrency is a security, it will fundamentally change the way the cryptocurrency industry operates. Labeling smart contract protocols such as Polygon and Solana as securities will create many issues such as how users are to record transaction fees, the legal status of validators, and whether any DeFi applications are legally authorized to exist. These labels can be said to be more destructive than Binance's closure to the long-term health of the industry, and a new classification needs to be made for these types of assets.
If the SEC loses the lawsuit (which is unlikely given the number of charges and evidence), the cryptocurrency industry will be in a more favorable position than ever before. Loose regulation will provide companies with more opportunities for risk-taking and unique services, and cryptocurrencies will continue to exist safely.
Given all of the above information, the only cryptocurrency that is guaranteed to be safe is Bitcoin, as it has been declared non-securities. Gensler has been trying to classify Ethereum as a security, but ETH is not listed on either lawsuit, meaning that the SEC is either waiting to form stronger legal arguments against it after the cases or they cannot find grounds to do so. Either way, ETH is now safe, but that does not mean it will be safe forever.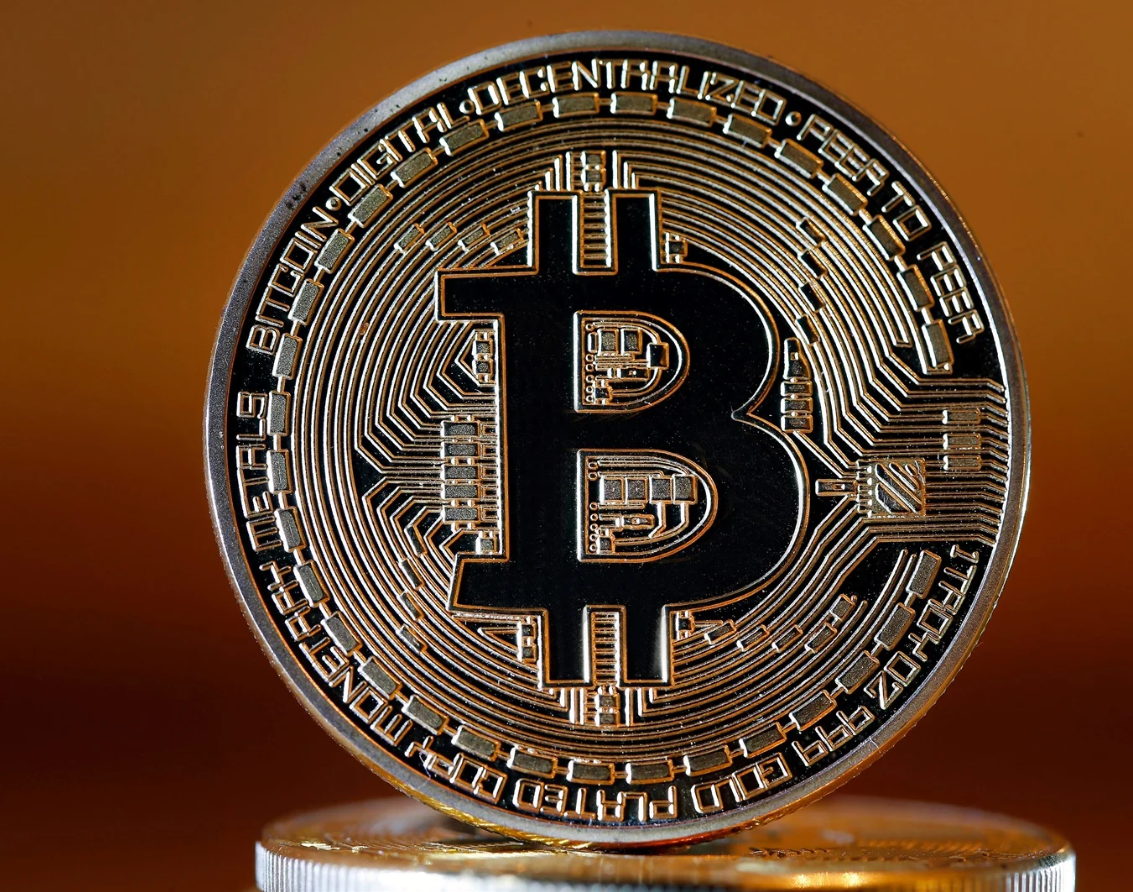 The two lawsuits may take years to resolve, and many issues cannot be concluded at this time. While some form of cryptocurrency regulation was expected during Gensler's tenure, unfortunately, it has come in the form of charges and lawsuits rather than cooperative and innovation-friendly solutions. Only time will tell how this event will change Web3, but one thing is certain: the outcome of this case will not affect the promise of blockchain to create a more decentralized, transparent, and censorship-resistant internet.
---