Sei Airdrop is now open. Details on how to claim.
Sei Airdrop now open. Claim instructions.
Source: Sei
Sei's airdrop is a unique event that covers every corner of the Web3 universe.
This is a true "cross-chain" airdrop that recognizes pioneering users from many ecosystems.
In 2023, most mainstream blockchain users may be whitelisted and eligible to participate.
Check here to see if you are eligible and participate in the cross-chain airdrop:https://app.sei.io/
The airdrop is now available for claiming.
Background
Sei is an open-source, permissionless Layer 1 blockchain designed specifically for the fundamental use cases of blockchain, namely the exchange of digital assets. With the continuous growth of digital assets (from NFTs and gaming to DeFi), the demand for high-performance blockchains is also increasing. In response to this demand, Sei focuses on being the ideal infrastructure for high-performance, top-notch user experience DApps in the Web3 space.
Based on this, Sei has been optimized for speed, performance, and technological innovation. It has the fastest final block confirmation time of any blockchain, potential throughput that may even exceed the theoretical maximum of any Rollup on Ethereum, and employs cutting-edge technologies for low latency. This includes novel mechanisms such as parallel processing, instant block finality, and efficient block propagation handling.
Furthermore, Sei provides the infrastructure for anyone with internet access to interact with Web3 applications at lightning-fast speed, completing interactions almost instantaneously. Therefore, Sei not only contributes to efficiency but also unlocks a whole new category of Web3 applications.
Read Sei's token economic model and whitepaper here.
How the airdrop works
To participate, whitelisted users must bridge qualifying assets to Sei.
The Sei Foundation works closely with ecosystem partners to identify active users on the following blockchains:
– Solana
– Ethereum
– Arbitrum
– Polygon
– Binance Smart Chain
– Osmosis
Users active on these chains may be eligible to participate in the airdrop. The first step is to create a Sei wallet. At launch, you can use Fin Wallet or ComLianGuaiss Wallet. If you are installing these wallets for the first time, follow the instructions and remember to securely store your mnemonic phrase. If you already have these wallets installed on the Atlantic-2 testnet, make sure you install and connect to the latest version that supports the LianGuaicific-1 mainnet.
Simply follow the instructions on the "Airdrop" tab to link your existing off-chain wallet to a Sei wallet address and bridge any listed tokens on the Sei cross-chain bridge page.
The Sei Foundation provides a simple frontend theme to maintain continuity of the experience, but the underlying bridging protocols are completely independent of the Sei Foundation. The Sei Foundation has no impact on the Wormhole and Axelar protocols. You can learn more about their technologies and how to bridge with Sei here:
The tokens that meet the criteria include:
– Wormhole: Ethereum: USDC, ETH, WBTC
– Arbitrum: USDC.e (arbUSDC)
– Polygon: USDC (maticUSDC)
– Optimism: USDC (opUSDC)
– Solana: USDC (solUSDC)
– BNB: USDT (bnbUSDT)
IBC (Osmosis only):
– ATOM
– OSMO
Axelar:
– Ethereum: axlUSDC
– Arbitrum: axlUSDC
– Polygon: axlUSDC
– BNB Chain: axlUSDC
Frequently Asked Questions
1. My cross-chain transaction is pending, how do I know if there is a problem?
– Cross-chain transactions are handled entirely by Wormhole or Axelar, depending on the specific asset. You can visit the Wormhole Discord or access Axelar Support for more information. Note: When bridging from Ethereum, transactions may take up to 30 minutes to reach Sei. This delay is caused by the operation of the Wormhole and Axelar bridging protocols and does not reflect the finality time or performance of Sei.
– For example, when assets are transferred from the original chain (in this case, Ethereum), they are being processed through the bridging protocol (in this case, Wormhole).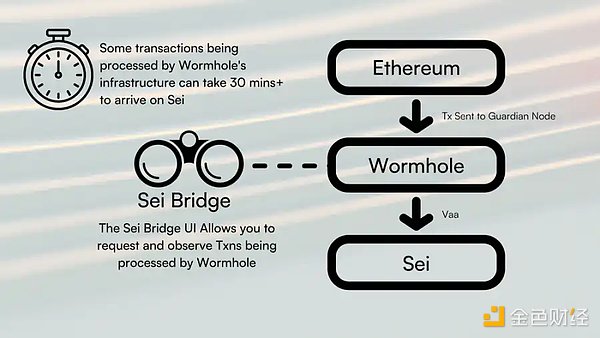 2. Are there any restrictions on transferring assets into or out of Sei?
– Any restrictions are derived from the parameters set by Wormhole and Axelar. The Sei Foundation has no control or say in this process.
– Wormhole's standard procedure is to launch with default daily and large transaction limits on the new blockchain, which will apply to bridging in and out of Sei – please take note of this, and be aware that these limits may increase over time.
– Axelar also has limitations on bridging axlUSDC to Sei or transferring out from Sei, with a limit of $3 million every 6 hours.
3. How many times can I claim the airdrop?
Each external whitelisted address associated with the Sei wallet can claim the airdrop once at most.
4. Once I have claimed the airdrop once, can I try again using the same Sei wallet / external wallet?
No, you cannot.
5. Does linking my wallet require sharing my private key?
No, it does not. Your private key will never be shared or revealed during this process.
6. I participated in Sei's Atlantic Testnet and/or Ambassador Program, where can I find my rewards?
Please refer to "Sei Atlantic Rewards" for more information.
---