LianGuai Daily | Tesla has not bought or sold any Bitcoin for four consecutive quarters; Kuwait bans cryptocurrency and virtual asset trading.
Tesla has not traded Bitcoin for four consecutive quarters; Kuwait bans cryptocurrency and virtual asset trading.
Today's News Highlights:
1. New bill in the U.S. Senate: Institutions investing over $25 million will have obligations
2. Chairman of the U.S. SEC requests an additional budget of $72 million to "protect investors from the impact of the crypto market"
3. Kuwait bans cryptocurrency and virtual asset trading
4. Tesla did not buy or sell any bitcoin for four consecutive quarters
5. Gitcoin to open a new round of donation activities from August 15th to August 29th
6. Bloomberg: Apple is building a large language model, developing a chatbot called Apple GPT
7. Binance Labs invests $10 million in cross-chain lending protocol Radiant Capital
8. Trait Sniper to conduct large-scale influence-based airdrop to Twitter users on August 1st
Regulatory News
Kuwait bans cryptocurrency and virtual asset trading
According to Cointelegraph, Kuwait is the latest jurisdiction to ban almost all operations involving cryptocurrencies such as Bitcoin. The Capital Markets Authority (CMA), the primary financial regulatory agency in Kuwait, issued a notice regarding the regulation and issuance of virtual assets in the country. In the notice, the CMA confirms a "complete prohibition" on major use cases and operations involving cryptocurrencies, including payments, investments, and mining.
The notice also prohibits local regulatory authorities from issuing any licenses allowing companies to provide virtual asset services as a business. Meanwhile, securities and other financial instruments regulated by the Central Bank of Kuwait and the CMA are not included in the latest ban. In addition to the ban, the CMA also urges customers to exercise caution and understand the risks associated with dealing with virtual assets. The regulatory agency specifically points out that cryptocurrencies "do not have legal status and are not issued or supported".
New U.S. Senate bill: Regulatory control of DeFi similar to banks, institutions investing over $25 million will have obligations
According to CoinDesk, a bill has been introduced in the U.S. Senate by Senator Jack Reed, a member of the Senate Banking Committee, in collaboration with Senators Mike Rounds (R-S.D.), Mitt Romney (R-UT), and Mark Warner (D-VA). The bill proposes strict anti-money laundering (AML) requirements for decentralized finance (DeFi) protocols. Additionally, this bipartisan bill, the "Cryptocurrency National Security Adoption Act of 2023," will require DeFi protocols to implement bank-like controls on their user base. These controlled entities will need to conduct due diligence and collect information about their customers, maintain anti-money laundering programs, report suspicious activities to the government, and prevent sanctioned individuals from using their protocols. The bill also proposes identity verification requirements for cryptocurrency transactions. It will also expand the power of the Treasury Department to regulate suspected money launderers in non-traditional financial environments, including cryptocurrencies. The briefing document states, "If no one controls a DeFi protocol, then, as a backstop, anyone developing the protocol with investments exceeding $25 million will bear these obligations".
Related Reading: US Bipartisan Submit DeFi New Bill, Strongly Opposed by Crypto Community.
CEO of UK FCA: Size of Crypto Companies Will Not Affect Registration Assessment Decision
Nikhil Rathi, CEO of the UK Financial Conduct Authority (FCA), stated on Wednesday at a special committee hearing of the Treasury Department that the size of crypto companies will not affect FCA's approval of registration applications. FCA is responsible for registering and supervising crypto companies that wish to operate in the country under existing anti-money laundering requirements. Since opening registration two years ago, FCA has received over 300 applications from crypto companies, but so far only 42 companies have successfully completed registration.
Rathi said at the hearing, "In the past 18 months or two years, we have rejected applications from some of the world's largest crypto companies. In 2021, FCA rejected the application of Binance, the largest crypto exchange by trading volume. We do this not because we oppose innovation, but because they cannot prove that they meet the anti-money laundering standards." He also warned that regulatory authorities should not consider the size and market share of companies when evaluating registration applications.
Chairman of the US SEC Requests Additional Budget of $72 Million to "Protect Investors from the Impact of the Crypto Market"
Gary Gensler, Chairman of the US Securities and Exchange Commission (SEC), requested an additional budget of $72 million for the agency at a Senate appropriations committee hearing on Wednesday, stating that the SEC needs to expand in order to protect investors from the "rampant misconduct" in the crypto market. Gensler said in his speech, "We have seen the wild west of the crypto market, filled with misconduct, where investors put hard-earned assets into highly speculative asset classes. With enough funding to fulfill our mission, we can more effectively advocate for American investors and issuers." Data shared by Gensler in his speech showed that the SEC has hired 4,685 people by 2023, with about half of them focused on enforcement and examination duties. The additional budget will help the agency add 170 positions.
Hong Kong Monetary Authority: Digital Hong Kong Dollar Pilot Program Includes Web3 Settlement, Tokenized Assets, and Tokenized Deposits, etc.
The Hong Kong Monetary Authority tweeted that the ongoing digital Hong Kong dollar (e-HKD) pilot program explores six use case categories, including Web3 settlement, tokenized assets, and tokenized deposits. Mastercard is exploring the potential of e-HKD in facilitating cross-chain Web3 platform transactions settlement. In terms of tokenized asset settlement, pilot projects by Ripple and Fubon Bank demonstrate the potential of e-HKD to unlock the value of illiquid assets through the tokenization of real estate assets. At the same time, Boston Consulting Group, HKT LianGuaiyment, and Za Bank are exploring tokenized asset-supported financing transactions settled in e-HKD. In terms of security for tokenized deposits, Hang Seng Bank, HSBC, and VISA are taking the lead in conducting pilots to facilitate real-time 24/7 interbank transfers through tokenized deposits and e-HKD.
NFT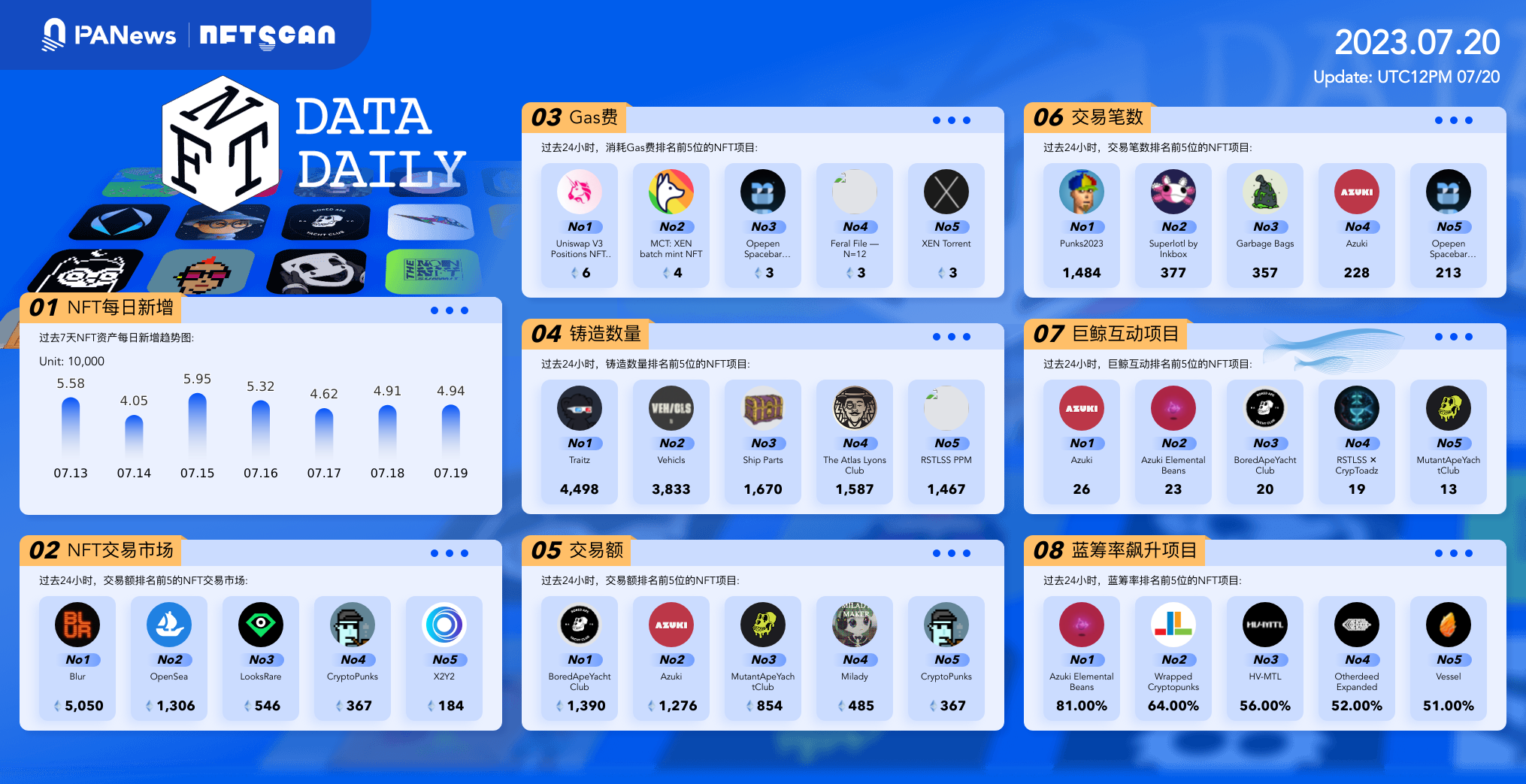 Project Updates
Sequoia Capital undergoes top-level restructuring with several partners leaving
According to The Information, Sequoia Capital has undergone a top-level restructuring. The company spokesperson confirmed that long-term partner Michael Moritz will be leaving the company to focus on the company's independent wealth management business, Sequoia Heritage. At the same time, according to an insider, Mike Vernal, a partner who has been working at the company since 2016 and focusing on early-stage startups, will also be leaving. Another partner, Daniel Chen, has also left the company in recent months.
LayerZero launches Base Mainnet
According to official sources, the full-chain interoperability protocol LayerZero has announced the launch of the Base Mainnet. Projects such as LianGuairallel have already used LayerZero to move their tokens between Base and Ethereum. Developers building on Base can seamlessly extend their applications across the entire LayerZero network.
Sui Mainnet upgrades to version V1.5.0 with added support for writing linters
According to an official announcement, Sui Mainnet has upgraded to version V1.5.0. The updates in this version include: the minimum budget for gas fees has been changed to match the minimum charges, added support for writing linters, the compiler will provide additional warnings for unused private functions and unused (uninstantiated) struct types, as well as some performance improvements and bug fixes.
Tesla has not bought or sold any Bitcoin for four consecutive quarters
Tesla's quarterly report released on Wednesday showed that the company did not buy or sell any Bitcoin in the second quarter of 2023, marking the fourth consecutive quarter without any trading activity. As of the end of this quarter, the net value of the company's digital assets was $184 million, the same as the past three quarters. At the end of the second quarter, the price of Bitcoin was around $30,400, higher than the approximately $28,500 at the end of the first quarter. However, current accounting standards do not allow for an increase in the valuation of digital assets when prices rise unless the assets are sold, but assets can still be devalued even if they are not sold when prices fall.
Tesla has not bought or sold Bitcoin since the second quarter of last year. In the second quarter of last year, Tesla sold over 30,000 Bitcoins for a price of $936 million, accounting for about 75% of its holdings. The company initially purchased $1.5 billion worth of Bitcoin in early 2021. Data from FactSet shows that Tesla's adjusted earnings per share in the second quarter were $0.91, higher than analysts' average expectations of $0.80. Revenue was $24.9 billion, exceeding analysts' expectations of $24.2 billion. In after-hours trading, Tesla's stock rose 1% to $288.96. The company's stock has risen more than 136% year-to-date.
Gitcoin to open a new round of donation campaign from August 15 to August 29
Gitcoin announced that it will open a new round of donation campaign, Gitcoin Grants 18, from August 15 to August 29. Applications will open on August 1.
Bloomberg: Apple is building a large language model and developing a chatbot called Apple GPT
According to sources cited by Bloomberg, Apple has built its own framework to create large language models using an infrastructure called Ajax. With this infrastructure, Apple has also created a chatbot service, which some engineers refer to as "Apple GPT". Insiders say that in recent months, the promotion of artificial intelligence has become a major focus for Apple, with multiple teams collaborating on the project and attempting to address potential privacy issues associated with the technology. However, executives have not yet decided how to release the tool to consumers.
NFT project Memeland will airdrop a total of 17.25 billion MEME tokens to ecosystem project holders
According to official Twitter, NFT project Memeland will airdrop a total of 17.25 billion MEME tokens to ecosystem project holders, including MVP, Captainz, and Potatoz, accounting for 25% of the total supply. Memecoin has not disclosed the specific allocation of tokens for immediate unlocking and delayed unlocking.
Earlier, NFT project Memeland announced the sales details of MEME tokens, allocating whitelist quotas for Captainz holders, with rare Captainz receiving more quotas. The maximum purchase price for a single whitelist quota is 0.69 ETH worth of tokens. In addition, Memeland stated that all NFTs in Memeland (including MVP, Captainz, and Potatoz) are eligible for the airdrop.
Blur founder: Plans to distribute more BLUR to users in Season 2 than initially set at 300 million tokens
Blur founder LianGuaicman stated in a community AMA that there are indeed plans to distribute more BLUR to users in Season 2 than initially set at 300 million tokens. LianGuaicman said, "If you carefully read our previous tweets about Season 2, you will find that our wording is not 300 million tokens, but 300 million+ tokens." However, LianGuaicman did not mention anything about dates or times, only mentioning that it will be released as soon as possible without providing many specific details.
Previously, the Blur founder stated that points are not related to transaction volume, and Season 2 can end at any time.
FTX seeks to recover $71 million from its charity and life sciences division
According to court documents filed on Wednesday, FTX and its sister company Alameda hope to recover over $71 million from FTX's charity division and other life science entities. Attorneys stated that the FTX Foundation previously partnered with Latona, which received approximately $71.5 million from FTX and Alameda Research, "for investments and donations to life science companies to achieve Bankman-Fried's personal expansion."
Last month, Alameda's lawyers sought to recover $700 million that FTX founder Sam Bankman-Fried apparently paid to establish connections with celebrities and politicians. This month, FTX also requested the court to recover $323 million from the leadership team of its European branch.
Worldcoin announces completion of migration to the OP mainnet, user migration has also begun
Worldcoin, a cryptocurrency project under the leadership of OpenAI CEO Sam Altman, announced that the key parts of the World ID and TFH's World App technology stack have been completed and the mainnet migration has begun. The migration for World ID and World App users means that the Worldcoin protocol has been migrated to Ethereum to support World ID and bridges have been built for Optimism and Polygon PoS. Most Safe wallets have been deployed on the mainnet, and the rest will be deployed through user-initiated migrations. The World App now supports Uniswap on the mainnet. The World App has been updated to prompt users to start the migration process, which takes an average of 90 seconds.
Ark Invest released its Q2 ETF report, with GBTC performing the best and Coinbase being the largest allocated asset.
According to ARK's latest ETF report for the second quarter, GBTC was one of the top contributors to the success of ARK's Next Generation Internet Exchange-Traded Fund (ARKW). Other top-performing companies include Tesla, Shopify, Unity Software, and Draftkings. ARKW is one of the leading ETFs operated by ARK, with a gain of approximately 50% as of June 30. ARKW aims to capture internet-based products and services, cloud computing, artificial intelligence, and e-commerce. In the second quarter, nearly 20% of its assets were related to cloud computing, and about 19% were related to blockchain.
Although GBTC was the best-performing asset for ARKW in the second quarter of 2023, it lags behind Coinbase in terms of asset allocation. Grayscale's proportion is almost as much as Tesla held by ARKW, slightly higher than 7.5%, while Coinbase is the largest allocated asset, accounting for nearly 9%. Other top-ranked assets by allocation include Jack Dorsey's crypto-related platform Block, ranking fourth and accounting for 7% of ARKW's total assets in the second quarter. Unlike GBTC, Block is one of the worst-performing assets in the top five, dragging down its performance in the second quarter by 30 basis points.
Trait Sniper will conduct a large-scale airdrop based on influence to Twitter users on August 1.
Trait Sniper, an NFT rarity ranking tool, announced that the airdrop originally scheduled for today will be postponed to August 1 for Twitter users. Twitter users (no blue subscription required) can claim corresponding TS tokens on the Trait Sniper website based on their Twitter influence. The airdrop is based on the BNB Chain and has no presale. In addition, Trait Sniper provides additional airdrop rewards for early adopters and strategic partners.
According to the official whitepaper, the total supply of TS is 1 trillion tokens, part of which will be used for the large-scale airdrop, and the other part will be used to create initial liquidity for DEX.
Bitcoin has appeared in the payment code on Tesla's official website, but the release time of the related code cannot be confirmed.
Tesla has added Bitcoin back to the payment code on its official website. According to LianGuaiNews, the code (bitcoin and Dogecoin) does exist in the JS file introduced in the HTML, but the release time of the related code cannot be confirmed.
Tesla announced in March 2021 that it would accept Bitcoin as payment for its vehicles, but in May, Musk canceled Bitcoin payments due to environmental concerns about its energy consumption. Musk also stated that Tesla will support Bitcoin payments for vehicle purchases again when the proportion of renewable energy in Bitcoin mining exceeds 50%.
Investment and Financing
Binance Labs invests $10 million in cross-chain lending protocol Radiant Capital
According to The Block, Binance Labs, the venture capital arm of cryptocurrency exchange Binance, has invested $10 million in cross-chain lending protocol Radiant Capital. This funding round will drive further product development, including expanding oracle support, increasing collateral options, deploying on the Ethereum mainnet, and full LayerZero message delivery support.
Radiant is built on LayerZero, an interoperability protocol that enables multiple blockchains to communicate with each other. LayerZero developer LayerZero Labs is also part of Binance Labs' portfolio.
Web3 company Cosmic Wire completes $30 million seed funding round led by Solana Foundation and Polygon
Web3 and blockchain solutions technology company Cosmic Wire has completed a $30 million seed funding round led by Solana Foundation and Polygon. This funding round will be used to drive the development of decentralized applications and expand the cross-chain technology of the Web3 ecosystem.
Important Data
Bankless report: Ethereum network Q2 revenue down 33.3%, daily active addresses decrease by 6%
According to the Ethereum Q2 2023 report published by Bankless, Ethereum network revenue has decreased by 33.3%, from $1.27 billion to $847 million. The dollar value of ETH burned has decreased by 35% from $1.09 billion to $713 million. The average daily active addresses decreased by 6%, from 471,447 to 444,419. The average ETH inflation rate has decreased by 213%, from 0.71% to -0.8%.
Central bank governor: China's digital yuan transaction volume approaches 1.8 trillion yuan
At a conference held in Singapore, Yi Gang, the governor of the People's Bank of China, stated that since the launch of the digital yuan in January 2022, the transaction volume of the central bank's digital currency has reached approximately 1.8 trillion yuan by the end of June. Around 120 million wallets have conducted approximately 950 million transactions, with an average transaction amount of around $260. Although the adoption and use cases of the digital yuan are expanding, it still only accounts for 0.16% of China's money supply.
LianGuaiNews APP Points – PT (Grape) Officially Launched, Join Read to Earn!
PT (short for "Grape" in Chinese) is the points reward that users of LianGuaiNews earn by participating in interactive activities such as reading news, sharing content, and liking and bookmarking on the LianGuaiNews website and app. PT (Grape) cannot be traded or transferred and can only be used for redeeming various prizes in the "Points Mall" of LianGuaiNews and participating in various daily activities.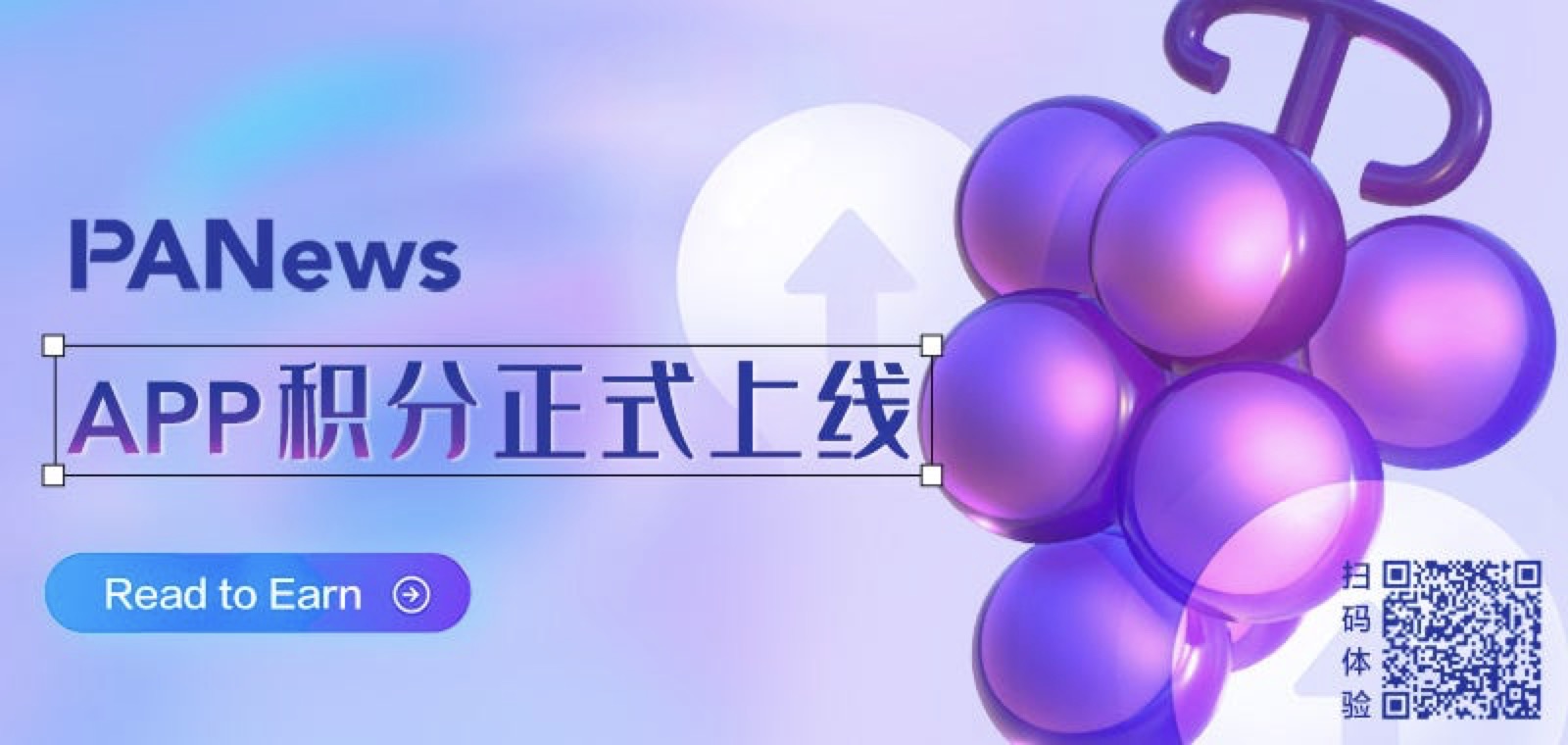 ---