Understanding the opportunities and risks of TUSD
TUSD: Opportunities and Risks
Author: jk
After BUSD encountered regulation, its market value has dropped by nearly 74% from the beginning of the year and is gradually exiting the historical stage. The stablecoin market structure has also undergone significant changes, and TUSD, a name that was not familiar to the market before, has entered the mainstream under the support of Binance, with its share rapidly increasing and news constantly emerging.
TrueUSD, abbreviated as TUSD, is currently the largest Bitcoin trading pair on Binance and an important component of stablecoins in the financial system of the crypto world. Recently, TrueUSD has frequently appeared in the headlines of crypto media due to events such as automatic proof suspension and large-scale casting by Binance.
What is TrueUSD?
TrueUSD is a stablecoin issued on the Ethereum and Binance Smart Chain, with a current market value of about $3.1 billion. It is an asset-backed stablecoin, that is, it realizes a 1:1 exchange with the US dollar through sufficient asset reserves. Holders can mint the same amount of TUSD by depositing US dollars, or exchange TUSD for US dollars at any time. The deposited US dollars will be stored in different bank accounts and supervised and audited by third-party organizations.
Stablecoins are the bridge between the financial systems of the crypto world and traditional finance, allowing investors to use dollars to exchange on-chain assets for crypto-related transactions. Stablecoins themselves are divided into algorithmic stablecoins and asset-backed stablecoins. The former maintains a 1:1 peg with the US dollar through algorithms and arbitrage trading, but the collapse of the Terra ecosystem and its native stablecoin UST in May 2022 caused algorithmic stablecoins to lose the trust of crypto users. Currently, most stablecoins on the market are asset-backed stablecoins, and TUSD is one of them.
TrueUSD was created by Rafael Cosman and Danny An in March 2018. The two co-founded the San Francisco-based startup TrustToken, later renamed Archblock. The company received funding from Founders Fund, Stanford University's StartX, Andreessen Horowitz, and Jump Trading, but currently, TrueUSD is owned by the Asian investment group Techeryx. The TrueUSD official website shows that the group is located in Singapore. Archblock is still the operator of TrueUSD, responsible for managing TrueUSD's reserves, collaborating with banking partners, and supervising the compliance of TrueUSD.
Current Status and Development History of TrueUSD
According to Coinmarketcap, TUSD's current market value is stable at fifth place in the stablecoin rankings, about $3.1 billion, three times that of the sixth-ranked Blockingx Dollar, and about a billion dollars behind Binance USD, but with comparable trading volume in the past 24 hours.
Previously, after Binance's native stablecoin, BUSD, was ordered to stop issuance by the New York State Department of Financial Services in February, BUSD's market value began to decline. Subsequently, in March, Binance canceled TrueUSD's and Bitcoin's spot trading fees, after which TUSD's market value began to soar. After BUSD stopped issuing, Binance claimed to need "more diverse stablecoin products", and TUSD is obviously an outstanding player among the latecomers.
However, this connection with Binance has also brought related risks to TUSD. After CFTC and SEC successively sued Binance this year, Alex de Lorraine, chief operating officer of Archblock, said "If there are changes in regulation, and we suddenly cannot cooperate with a party for compliance reasons, then the other party cannot have any trading dealings with us."
Events for TUSD this year are as follows:
February 2023: TUSD (TrueUSD) implements Chainlink's Proof of Reserves mechanism to ensure the security of coinage, and further ensure transparency and reliability.

March 2023: TUSD hired The Network Firm LLP, an independent US accounting firm specializing in the blockchain industry, to provide real-time confirmation of its US dollar reserve coverage.

April 2023: TUSD is launched natively on the BNB chain. TUSD has successfully circulated on 5 local public chains and 7 other public chains, achieving cross-chain functionality through cross-chain solutions.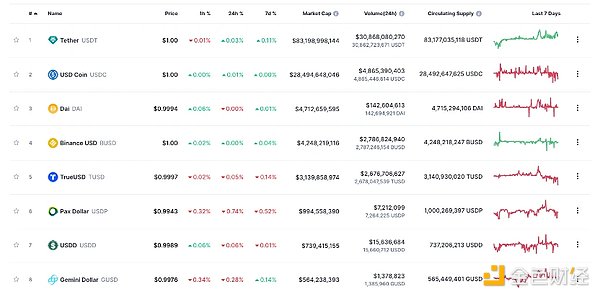 Comparison of market values of mainstream stablecoins. Source: Coinmarketcap
Recent Developments: Proof of Reserve, Automatic Proof, and Prime Trust
TrueUSD uses LedgerLens' real-time proof mechanism to verify the quantity of reserve assets. This proof mechanism generates a record of TUSD's bank asset mortgage every day, which is confirmed by The Network Firm mentioned above and can be downloaded on the official website. This real-time proof needs to meet the ripcord mechanism, that is, there can be no factors that affect the generation of the proof, such as temporary imbalances or liabilities greater than assets. On June 21, this mechanism was triggered and caused the automatic proof to not be generated that day, but on June 23, it can be found on the TUSD official website that the real-time proof has been restored to normal.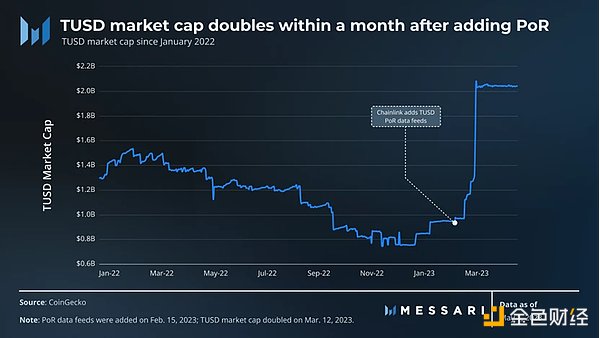 TUSD's market value growth after adopting Chainlink PoR. Source: Messari
TrueUSD also uses Chainlink's Proof of Reserve (PoR) service to verify the reliability of offline assets. According to Chainlink's official description, "Chainlink's Proof of Reserve provides smart contracts with the data they need to calculate cross-chain or off-chain reserve mortgage rates for any on-chain asset. Chainlink's Proof of Reserve is operated by a decentralized oracle network that can automatically audit collateral in DeFi applications in real time, ensuring the security of user funds and eliminating phenomena such as inadequate reserve ratios or fraudulent off-chain custodians." DeFi applications can monitor the reserve coverage rate of TUSD through this service. Within a month of adding PoR to TUSD, its market value increased by more than 120%.
Earlier, on June 10, TUSD experienced FUD due to its minting partner Prime Trust suspending minting. But in recent days, amidst a series of fluctuations in which Prime Trust has stopped being acquired by BitGo, is under review by Nevada regulators, and has suspended deposits and withdrawals, TUSD does not seem to have been affected. TrueUSD stated that its stablecoin TUSD funds are still safe, TrueUSD has no risk exposure to Prime Trust, and users' funds are safe.
---