Is it as difficult as reaching the sky? Gitcoin LianGuaissport's ultimate guide to gaining points, conquer all 25 certifications with one article.
Ultimate guide to gaining points conquer all 25 certifications with Gitcoin LianGuaissport.
Author: Biteye Core Contributor Crush
Editor: Biteye Core Contributor Crush
Gitcoin is an open-source donation project based on Ethereum. As a donation platform, Gitcoin has raised early funds for many excellent projects and distributed airdrops to donating users, such as GTC, ENS, BrightID, and so on.
Gitcoin LianGuaissport is a Web3 identity verification aggregator launched by Gitcoin, which can collect verifiable credentials to prove user identity and trustworthiness while protecting user privacy.
In addition to the upcoming 18th round of donations on Gitcoin, we have also found that other projects are slowly adopting the score of Gitcoin LianGuaissport as a verification threshold. For example, recently popular projects such as Cyberconnect, Linea, and Taiko have raised the importance of improving the score.
Due to different situations of each individual, the projects that can be verified are also different. In addition, some projects' verification rules have also changed. Therefore, we have released this ultimate guide to improve the score of Gitcoin LianGuaissport.
In all verification tasks, there are relatively simple off-chain identity verifications, such as Twitter accounts and Facebook accounts, which we will briefly go through.
In addition, we will introduce and demonstrate slightly more complicated tasks, hoping to be helpful to you.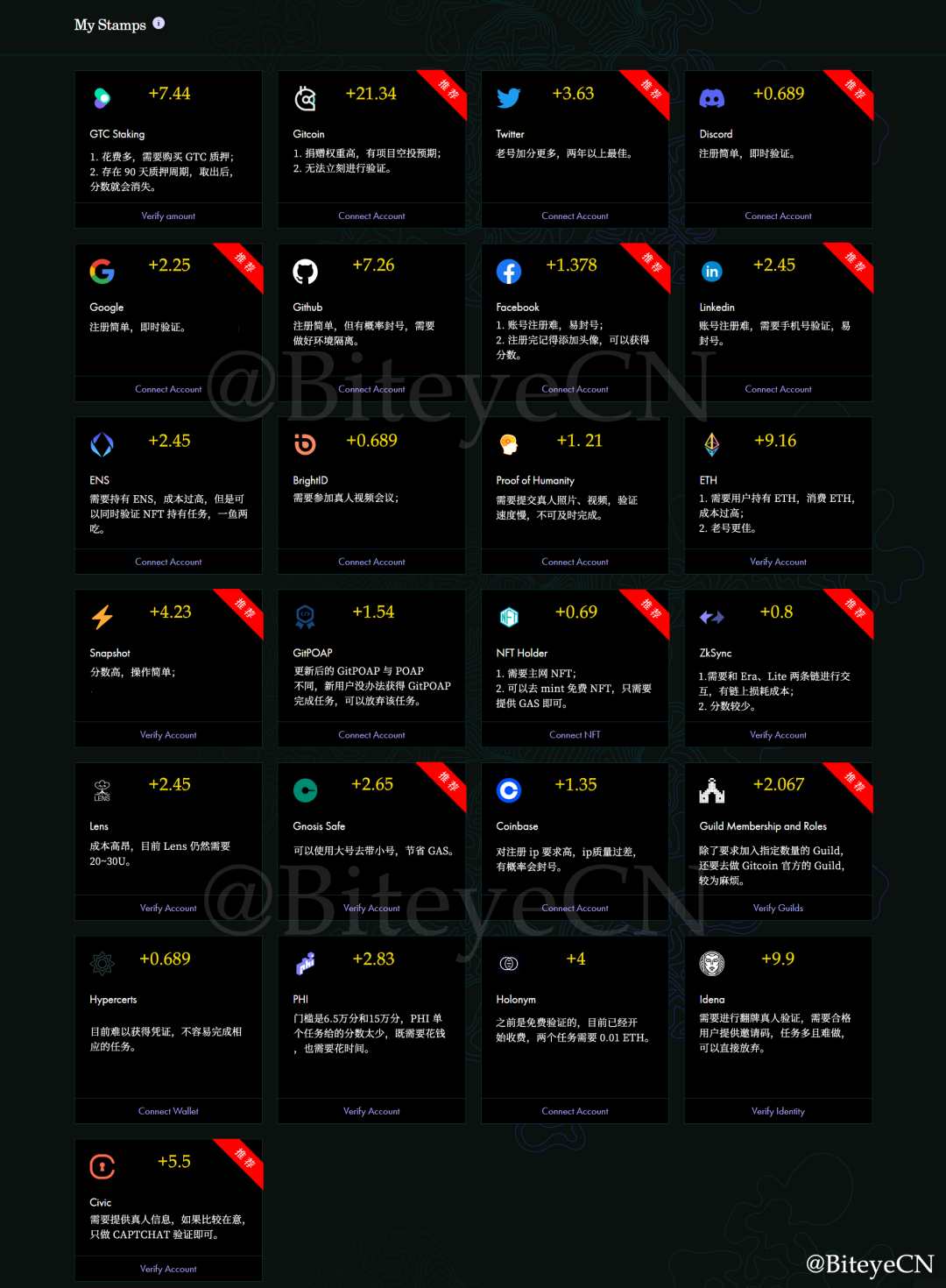 Gitcoin LianGuaissport:
https://passport.gitcoin.co/#/dashboard
01. Simple Account Verification (17.657 points)
Account verification includes Twitter, Google, Discord, Github, Facebook, LinkedIn. These verifications are relatively simple, and users only need to prepare these accounts in advance.
Twitter (3.63 points)
Account over 180 days: 1.21 points

Account over 1 year: 1.21 points

Account over 2 years: 1.21 points
Google (2.25 points)
Discord (0.689 points)
Github (7.26 points)
Account over 3 months: 1.21 points

Account over 6 months: 1.21 points

Account over 1 year: 1.21 points

Contribution for more than 1 month: 1.21 points

Contribution for more than 2 months: 1.21 points

Contribution for more than 4 months: 1.21 points
Facebook (1.378 points)
Account: 0.689 points

Set profile picture: 0.689 points
LinkedIn (2.45 points)
Both Github and LinkedIn accounts are relatively difficult to register and are prone to being banned. Please be careful when verifying.
02. GTC Staking (7.44 points)
$GTC is Gitcoin's own token. This task requires users to purchase GTC for staking. Different types of staking will have corresponding score rewards.
Self GTC Staking is staking GTC to oneself to earn scores;
Community GTC Staking is when others stake GTC to you, and you earn scores, but they do not earn scores.
The latter gives more scores, but it is more difficult because others will not stake their tokens to you for no reason, especially when they do not earn scores from the staking.
Note that after staking the tokens, there will be a 90-day staking period. After this period ends, you can retrieve the staked tokens or stake them again. This staking period is from June to September.
However, when you retrieve the tokens, the scores generated from GTC staking will disappear.
If your GTC tokens are specifically used to earn scores, it is recommended to choose to stake them again after the staking period ends.
Staking Address:
Self GTC Staking (3.63 points)
5 GTC (Bronze): 1.21 points

20 GTC (Silver): 1.21 points

125 GTC (Gold): 1.21 points
Community GTC Staking (3.81 points)
5 GTC (Bronze): 1.27 points

20 GTC (Silver): 1.27 points

125 GTC (Gold): 1.27 points
03, Gitcoin (21.34 points)
This task is for users who have participated in Gitcoin donations before. Users will be given different levels of scores based on their level of participation in the donations.
For users who have participated in Gitcoin donations, the scores given here are relatively high, exceeding 20 points directly. However, many of them are historical tasks that can no longer be completed.
Also, each address should correspond to a Github account. If multiple addresses correspond to the same Github account, they will be deduplicated.
In addition, if users want to earn scores through Gitcoin donations, they need to do so during the 18th donation round, which is from August 15th to August 29th. Donations made outside of this period may be invalid.
Number of Donated Projects (5.87 points)
1 project: 1.57 points

10 projects: 2.3 points

25 projects: 1.48 points

100 projects: 0.52 points
Donation Amount (4.08 points)
$10: 1.53 points

$100: 1.37 points

$1000: 1.18 points
Participation Rounds (2.98 points)
Participated in G14 round donation: 1.41 points

Participated in at least 1 round: 1.57 points
Created at least 1 Grant (1.1 points)
Owns a project with a number of donors (2.05 points)
10 donors: 0.71 points

25 donors: 0.61 points

100 donors: 0.73 points
Donation amount received for created projects (4.08 points)
$100: 1.53 points

$1000: 1.37 points

$10000: 1.18 points
Created at least one project in Eco/Cause round donation (1.18 points)
04, ENS (2.45 points)
ENS is a domain name project on Ethereum, and the score is relatively easy to obtain. As long as the user registers ENS and holds it, they can directly obtain it.
In addition, after registering ENS, you can also verify the tasks of another NFT holder, which can achieve dual benefits.
Currently, the price of an ENS for one year is about 0.0082 (annual fee + GAS fee).
https://app.ens.domains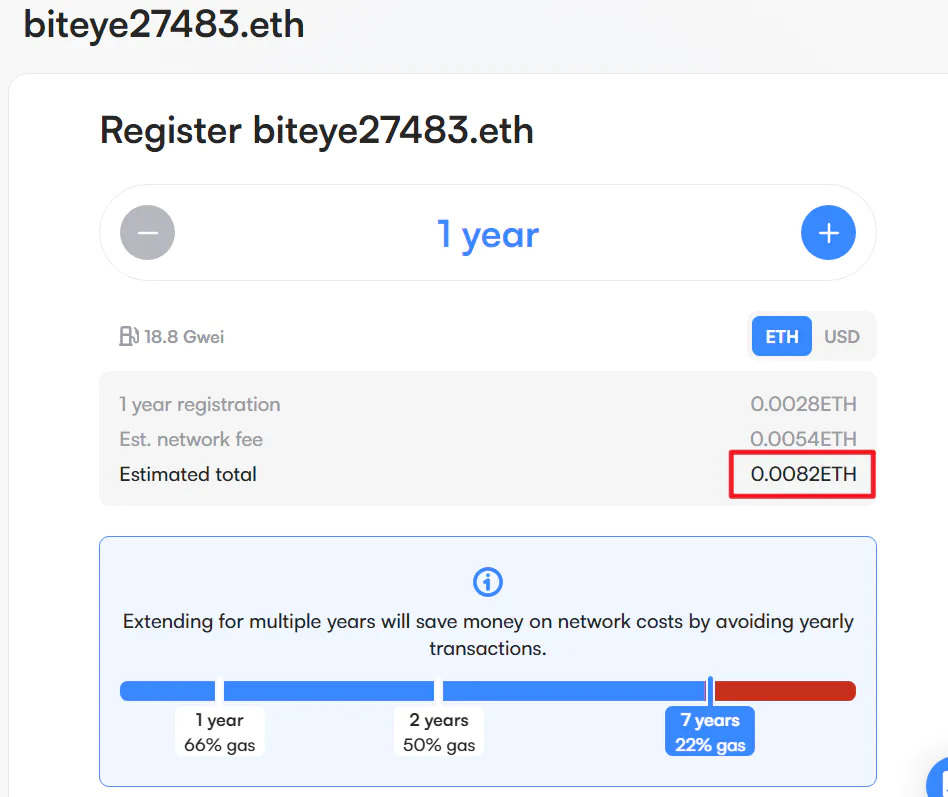 05, BrightID (0.689 points)
BrightID is a decentralized identity network that helps project parties confirm that users have only one account, which is manually created and unique.
hsttps://www.brightid.org
To be certified through BrightID, we need to download their app, register successfully, and then participate in BrightID's remote meeting.
https://meet.brightid.org/#/
The software used for the meeting is Zoom. There are many time slots available every day for verification. Usually, there are fewer Chinese meetings, and the host's Chinese is not very good.
After the host starts the meeting, they will provide a QR code to all participants and ask individual questions to each participant.
The video conference is to prevent users from participating repeatedly. If you have participated and been certified by BrightID before, repeating the certification may be discovered.
06, Proof of Humanity (1.21 points)
A real-world verification system that requires users to submit personal photos and videos and associate them with their wallet address.
These photos and videos used for verification will be publicly displayed on the official website. If you care about this, you can choose to skip this verification.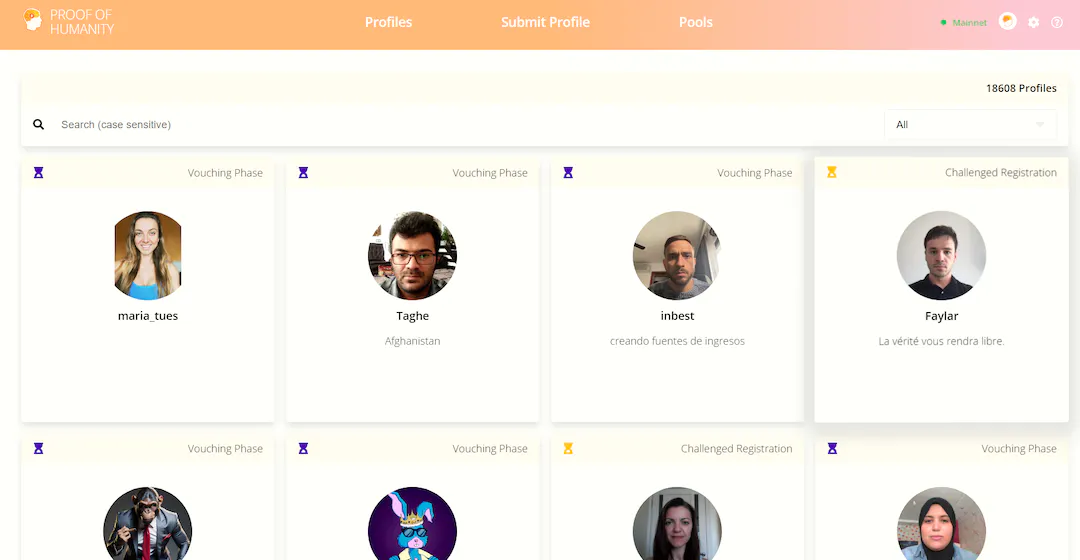 https://proofofhumanity.id/
After entering the official website, click "launch app" in the upper right corner, then fill in the relevant information in "submit profile" at the top, and submit your photos and videos.
In the video, the user needs to speak the following sentence in English:
I certify that I am a real human and that I am not already registered in this registry
07, ETH (9.16 points)
Gitcoin LianGuaissport will also give different scores based on the user's ETH holdings, transaction quantity, and GAS consumption.
Although the score given for ETH is not small, the cost to be paid is also not small.
Holding Quantity (4.33 points)
More than 1 ETH: 1.79 points

More than 10 ETH: 1.27 points

More than 32 ETH: 1.27 points
Transaction Quantity (2.43 points)
The first ETH transaction occurred more than 30 days ago: 1.16 points

Transaction volume with at least 1 ETH: 1.27 points
GAS Consumption (2.4 points)
Spent at least 0.5 ETH on GAS fees: 2.4 points
08, Snapshot (4.23 points)
Snapshot is a voting tool where users can vote on project proposals. It is also considered a representation of real users, so scores will be allocated here as well.
Voted more than 2 times: 1.41 points

Proposal created and voted by others at least once: 2.82 points
For voting here, you can enter any community and vote on their proposals, as long as the proposals have not expired.
https://snapshot.org
Creating proposals scores high and is worth doing. You need to use a wallet with ENS to create proposals. If your secondary account does not have ENS, we can set the wallet without ENS as a core member so that the secondary account can successfully create proposals.
For specific tutorials, please refer to:
Gticoin 18 轮捐赠下周即将来临🚀

学会下面这个 Passport 提分小技巧,快速增加 2.82 分!

并且这是完全免费的,也不用耗费太多时间。

下面是操作方法: pic.twitter.com/v0CddjDIjx

— Biteye (@BiteyeCN) August 10, 2023
09, GitPOAP (1.54 points)
GitPOAP is a contributor recognition platform that integrates POAP issuance into GitHub. Unlike the previous POAP verification, which only required holding for 15 days, the new GITPOAP is no longer in use. However, Gitcoin still assigns corresponding scores for it.
Therefore, users without GITPOAP cannot pass the verification, and users no longer need to waste money to purchase POAP.
10, NFT Holder (0.69 points)
Having 1 NFT in your wallet is sufficient. If your wallet does not have an NFT, you can go to mint.fun to mint one for free.
https://mint.fun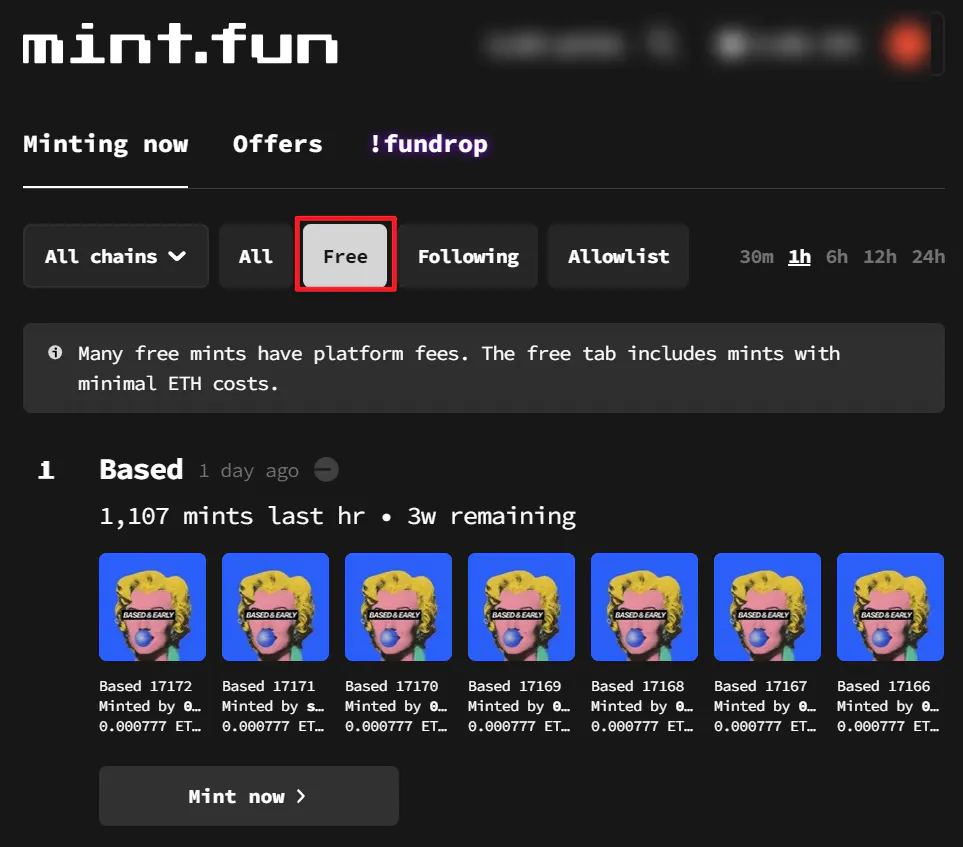 11, ZkSync (0.8 points)
Users need to have interaction traces on both zkSync lite and zkSync era. If your wallet has not used zkSync yet, you can give it a try.
It is recommended to perform cross-chain transactions from the mainnet. Withdrawing directly from exchanges to the corresponding chain may not pass the verification.
zkSync Lite: 0.4 points
zkSync Era: 0.4 points
12. Lens (2.45 points)
Lens holders can receive 2.45 points, which is a relatively high score. Previously, due to Lens not being open, the price of Lens remained high. After partially opening up to invitations, the price of Lens has dropped from over 200 U to around 30 U.
If your budget allows, you can directly purchase a Lens.
13. Gnosis Safe (2.65 points)
Gnosis Safe is a multi-signature asset management platform, which has now been renamed as Safe. As a smart contract wallet running on Ethereum, it requires approval from a minimum number of people for transactions to occur.
Here, users need to become owners or signing users of this multi-signature wallet. Therefore, we need to create a new Safe multi-signature wallet.
First, open the official website of Safe:
https://app.safe.global/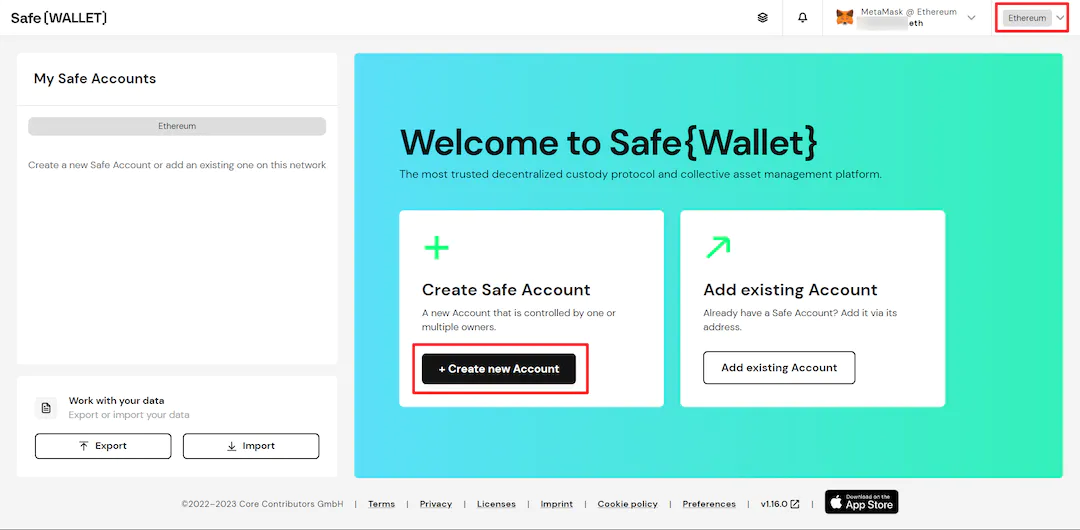 In the upper right corner, switch the network to Ethereum mainnet, click "Create New Account", fill in the relevant information, and confirm the wallet.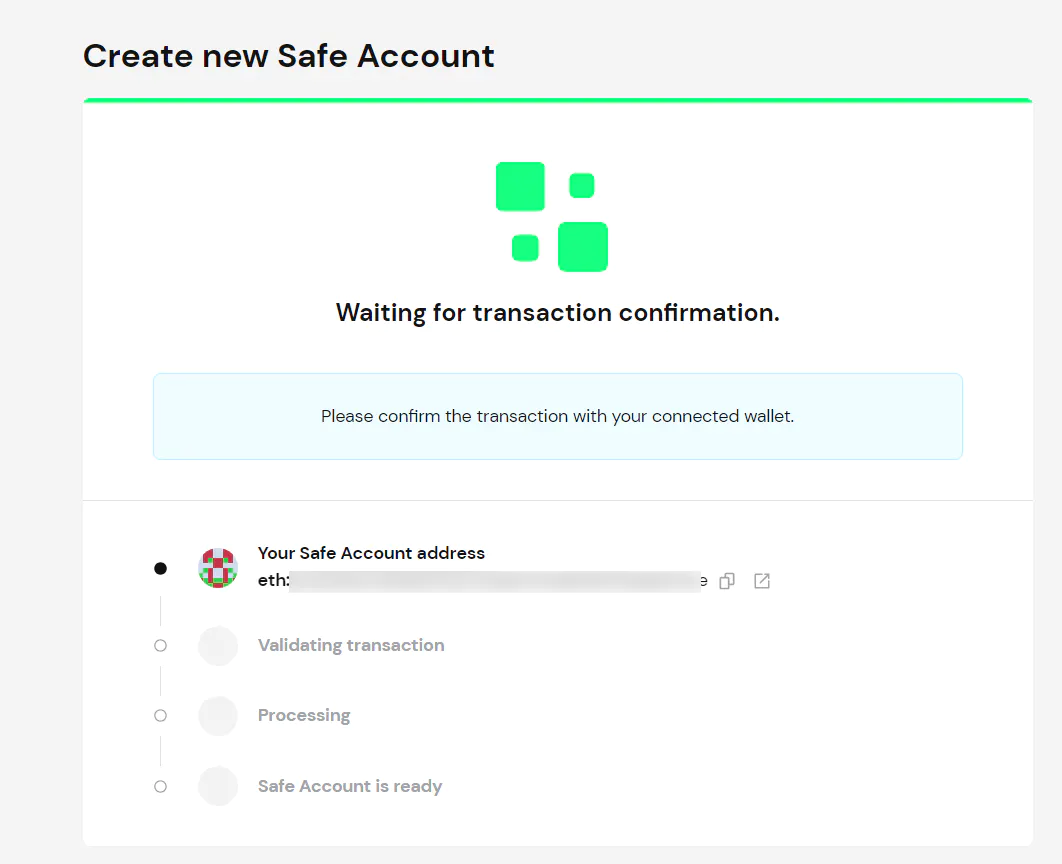 We can also set our other accounts as signers because both owners and signers can earn points through tasks here.
14. Coinbase (1.35 points)
Coinbase is a compliant exchange in the United States. Users with Coinbase accounts can complete the verification here and earn 1.35 points.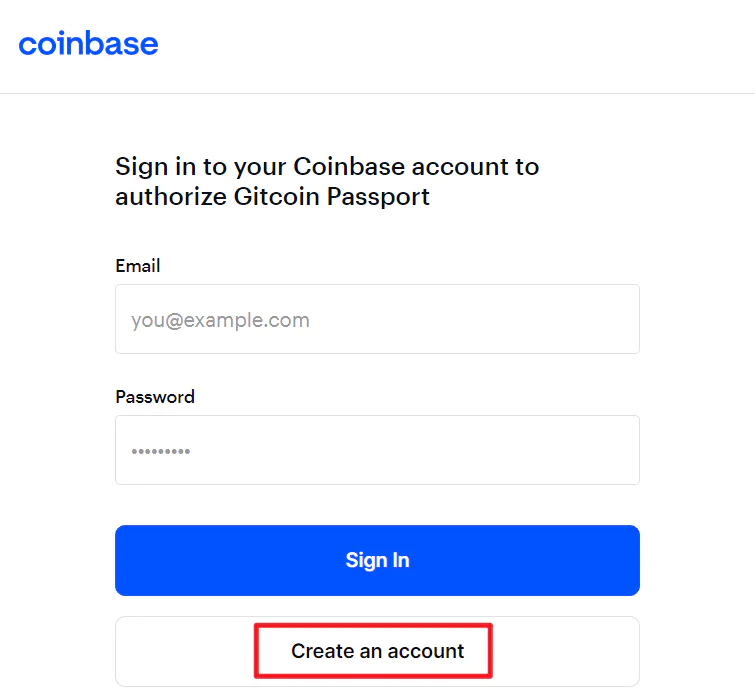 For Coinbase account registration, you can directly click on the verification in the Gitcoin LianGuaissport verification interface, and you can register a new account in the pop-up window.
Note that during the registration process, your account may be blocked due to issues with your device and network environment. Be sure to ensure the security and cleanliness of your environment.
15. Guild (2.067 points)
https://guild.xyz/explorer
Guild is a cryptocurrency protocol used to create and manage decentralized crypto communities. The platform aims to facilitate interaction between projects and user communities. Users can participate in various tasks and earn roles, NFTs, and other rewards.
Gitcoin has 3 conditions for verifying Guild.
Join 5 or more Guilds and earn 15 or more roles: 0.689 points
Guild owner or administrator: 0.689 points
Have at least 1 role in Gitcoin LianGuaissport Guild: 0.689 points
The first two are not restricted, any role in any Guild can qualify. The last one must join Gitcoin LianGuaissport's own Guild.
https://guild.xyz/gitcoinLianGuaissport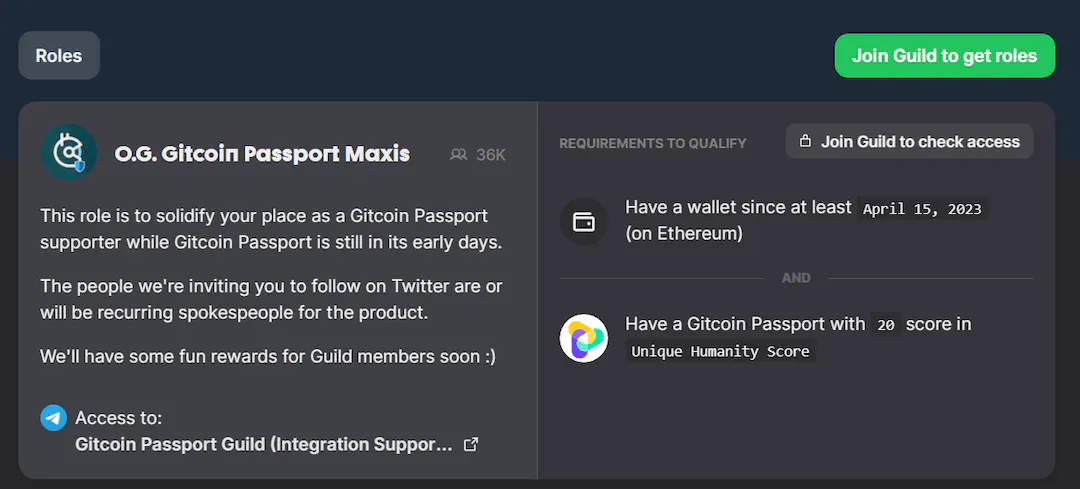 To obtain the official Role of Gitcoin LianGuaissport, the following conditions must be met:
The wallet was registered before April 1, 2023
Hold 0.03 ETH on the mainnet
Gitcoin LianGuaissport score exceeds 20 points
16. Hypercerts (0.689 points)
https://hypercerts.org/
Hypercerts is a public welfare certificate invented by Protocol Labs, which can trace and authenticate someone's contribution to something. Gitcoin's requirement is to hold at least 2 Hypercerts for more than 15 days.
If you have participated in Gitcoin's alpha and beta rounds of donations before, you can check if you have Certs. If you don't have Certs now, you can't reapply for them.
17. PHI (2.83 points)
https://quest.philand.xyz/
PHI is a visual identity project on the Polygon chain. Gitcoin's certification requirements include:
Silver level 65,000 points: 1.67
Gold level 1,500,000 points: 1.16
It is easy to obtain points, you only need to complete the corresponding tasks in PHI. For example, holding ENS can earn 1,500 points, and minting an NFT in Mirror can earn 500 points.
18. Holonym (4 points)
https://app.holonym.id/issuance
Holonym is a Web3 privacy protection passport that allows users to perform anonymous verification. The verification method is relatively simple, currently including mobile phone number and identification documents.
The identification documents here can be an ID card, passport, or driver's license, and Chinese mobile phone numbers are also supported.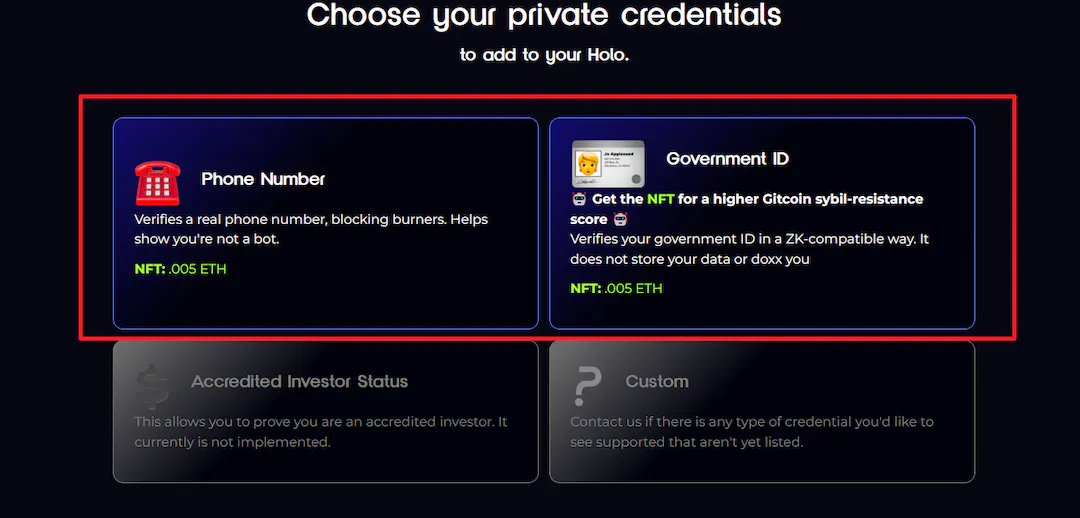 Verification used to be free, but it has recently started charging. Each verification requires a fee of 0.005 ETH and generates an SBT on the OP chain to be sent to your wallet as proof of identity.
Note that Gitcoin's requirement is to pass at least two verifications for 15 days. Therefore, after completing the tasks of Holonym, you cannot immediately obtain points through verification. You need to wait patiently.
19. Idena (9.9 points)
https://app.idena.io/home
Idena is also an identity authentication system, but unlike the above authentication, it has its own chain and token. Gitcoin has more requirements for Idena, including identity status, token staking, and identity duration.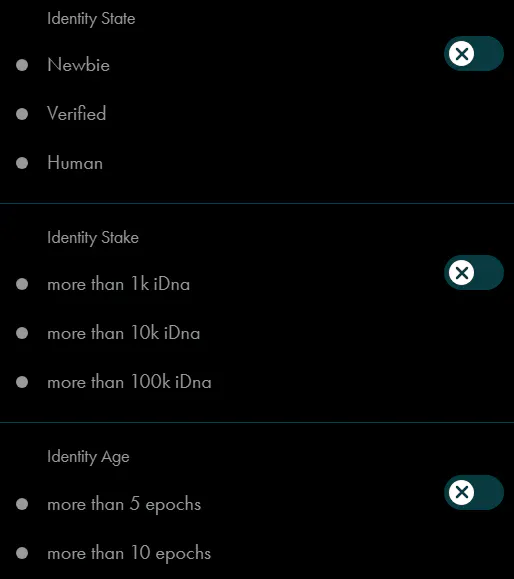 The first one can be achieved by completing enough real human verification tasks, the second one requires staking their tokens, and the third one is the duration of identity existence.
Idena's verification is mainly based on Flips, which are flip validations. For example, in the following picture, throwing garbage, picking up garbage, picking up a cola, and drinking a cola, the picture on the right is logically correct, so the picture on the right is chosen here.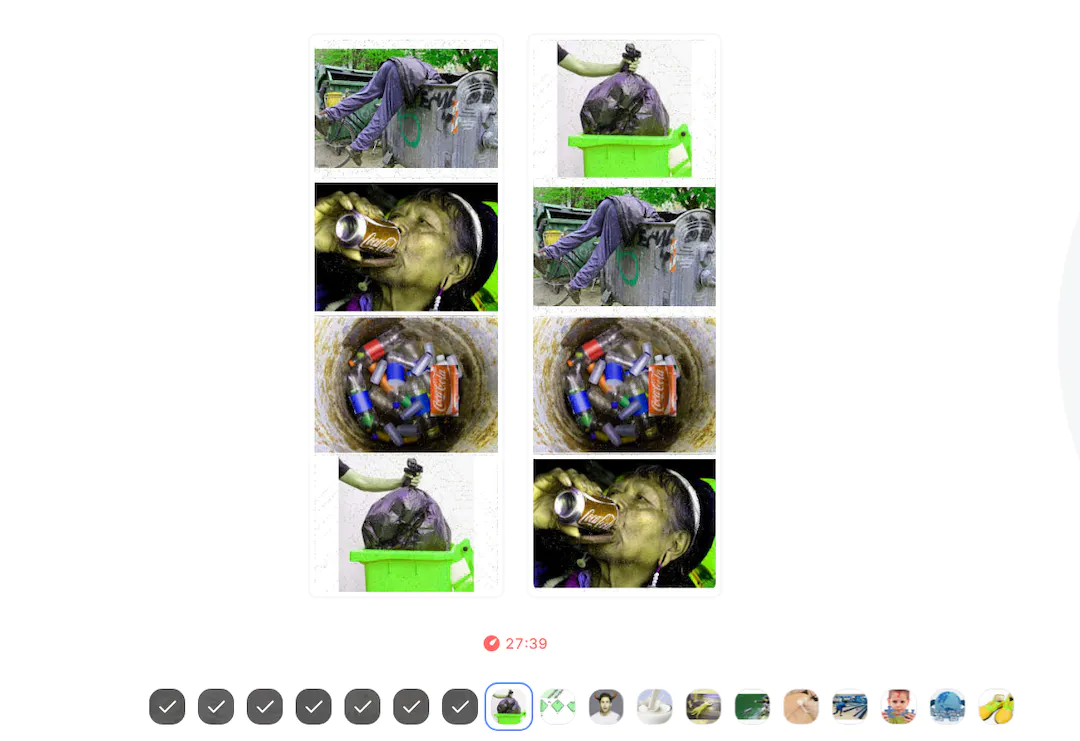 In addition to the test mentioned above, there is also a text-image matching task. It will provide you with a piece of text and a selected image. If you think they are related, click "approve". If you think they are not related, click "report".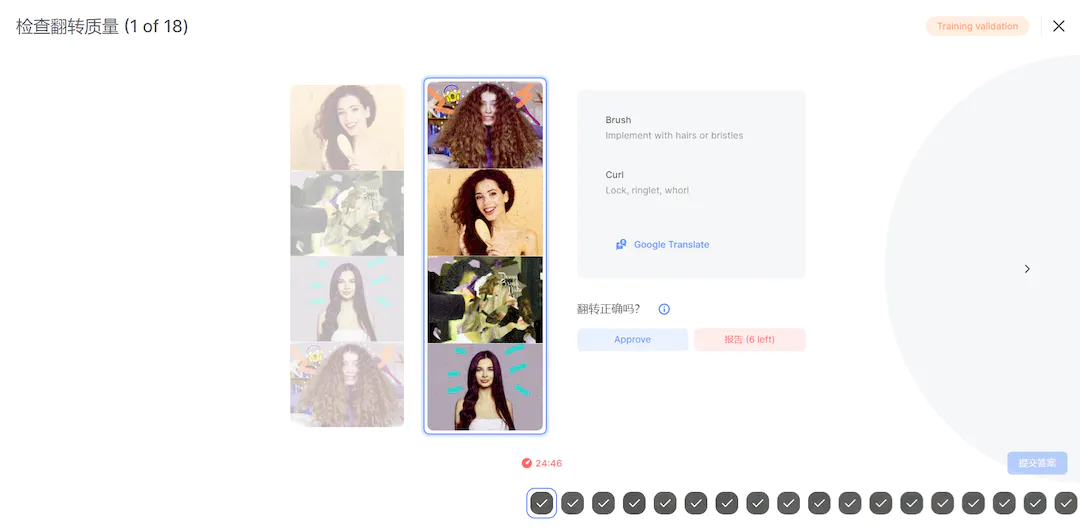 The test includes three modes: Easy, Medium, and Hard. Each task is further divided into many smaller tasks. Verification requires waiting, and the next verification time is displayed in the lower left corner.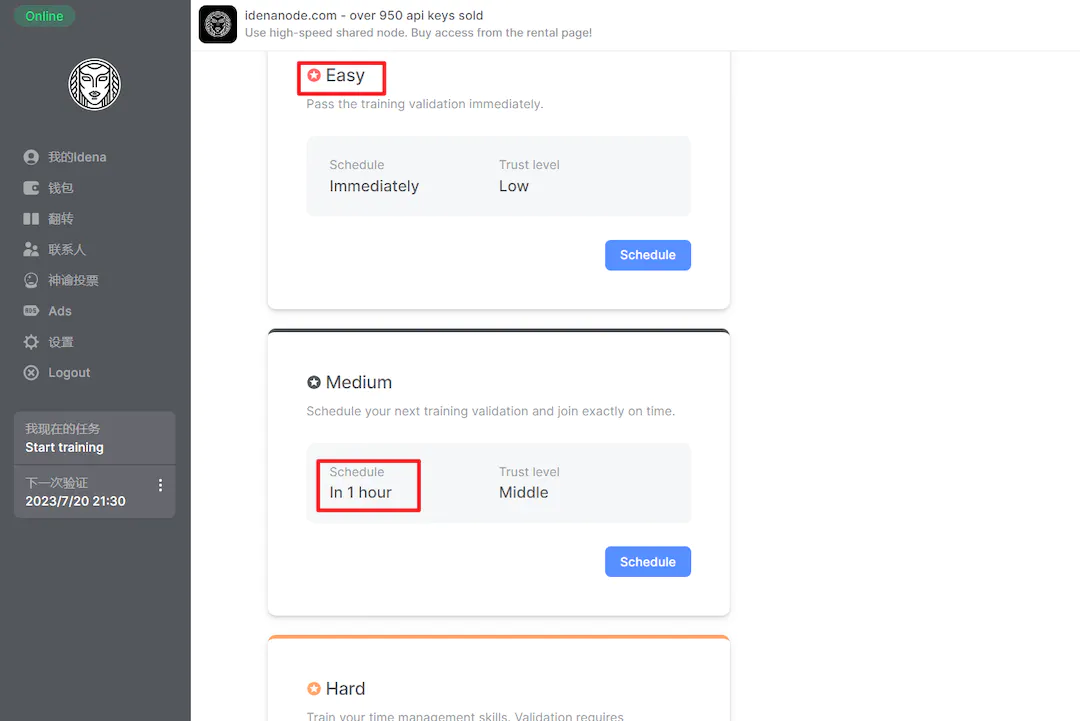 As for token staking, users need to mine to obtain tokens. The mining method is to create image tests similar to the one mentioned above.
20. Civic (5.5 points)
https://getLianGuaiss.civic.com/
Civic is a digital identity verification platform. Gitcoin requires three types of verification to be completed:
CAPTCHA verification: 1
Uniqueness verification: 2.25
Liveness verification: 2.25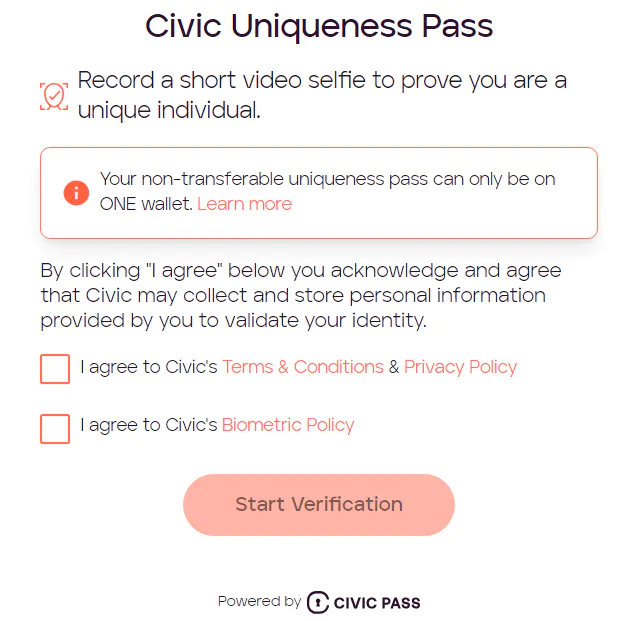 Uniqueness verification requires users to upload a video to prove that they are real people.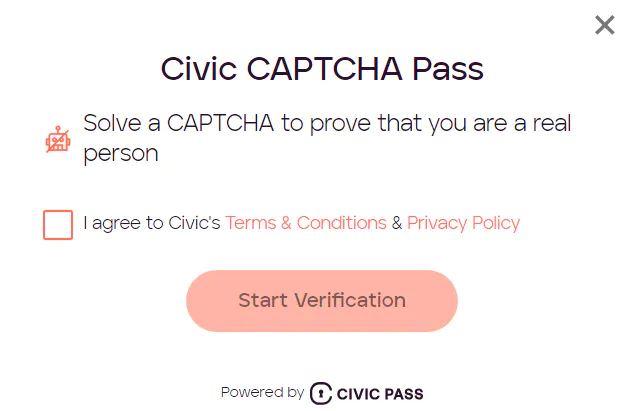 CAPTCHA verification is relatively simple, as users only need to pass the CAPTCHA code.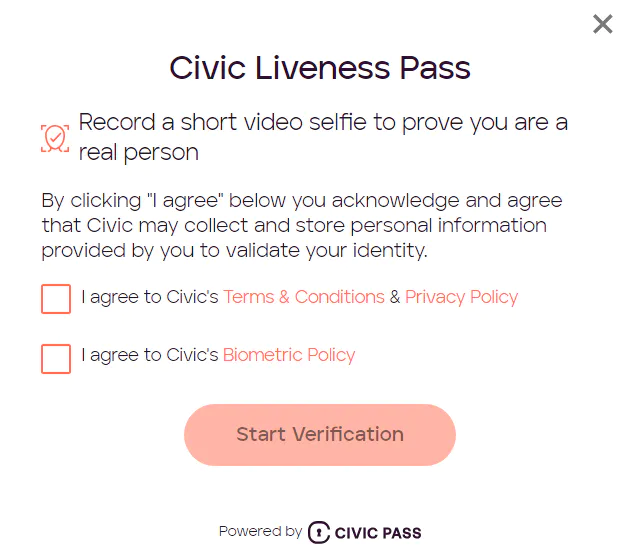 Liveness verification also requires users to upload videos to verify that they are real people.
These operations are not difficult, but they require real KYC, which may be difficult for some users.
21. Summary
Web2 account verification tasks are generally relatively simple. For example, accounts such as Twitter, Facebook, and LinkedIn can be registered directly. If the budget allows, it is recommended to use old accounts as they are more stable and can earn higher scores. For example, a two-year-old Twitter account;
Real-name verification tasks are more difficult and cannot be verified immediately. If you are concerned about personal information, you can consider giving up some of these tasks;
Some tasks require spending money, but they can significantly increase your score. If the cost is acceptable, it is recommended to complete them, such as GTC staking, ENS domain ownership, Lens, etc.
Some on-chain interaction tasks can be performed when the GAS fee is low to save costs. Generally, the GAS fee is the lowest between 2 a.m. and 10 a.m. Hong Kong time.
---