Analysis: Which cryptocurrencies had the best performance in the upcoming second quarter?
Which cryptocurrencies performed best in Q2?
Cryptocurrency is a "narrative" game. But narratives are constantly changing, and narrative trends are constantly evolving.
The second quarter of 2023 is coming to an end, and the cryptocurrency market has been mostly pessimistic for most of the time. Which narratives have performed the best?
On-chain analyst Crypto Kroyo has plotted 20 narratives into a dashboard and analyzed the data.
Market cap Top5 —> BTC, ETH, BNB, XRP, ADA

DeFi blue chips —> AAVE, COMP, CRV, MKR, UNI

Ethereum L2s —> ARB, BOBA, MATIC, METIS, OP

LSD —> FIS, FXS, LIDO, RPL, SWISE

LSD L2 —> Asymetrix, Lybra, Blockingrallax, Pendle, TENET

DEX —> CRV, GRAIL, JOE, SUSHI, UNI

Perpetual DEX —> DYDX, GMX, GNS, VELA, MCB

RWA —> CFG, CPOOL, GFI, MPL, TRU

AI —> AGIX, ALI, FET, OCEAN, ORAI

GameFi —> APE, AXS, GALA, MANA, SAND

GambleFi —> ARC, BCB, BETU, FUN, WINR

Meme 1.0 —> BONE, DOGE, ELON, FLOKI, SHIB

Meme 2.0 —> BOB, LADYS, PEPE, TURBO, WOJAK

NFT —> Azuki, Bayc, CryptoPunks, Doodles, Mayc

Wallet —> TWT, SFP, C98, TGT, XDEFI

Privacy —> NYM, SCRT, ZEC

Actual revenue —> CRV, GMX, GNS, RDNT, SNX

Stablecoin issuers —> FLX, FXS, LQTY, MKR, TRIBE

Account abstract —> BICO, EDEN, INST, KROM, WALLET

Application chain —> ATOM, AVAX, OP
Average weekly returns

Trading volume on DEX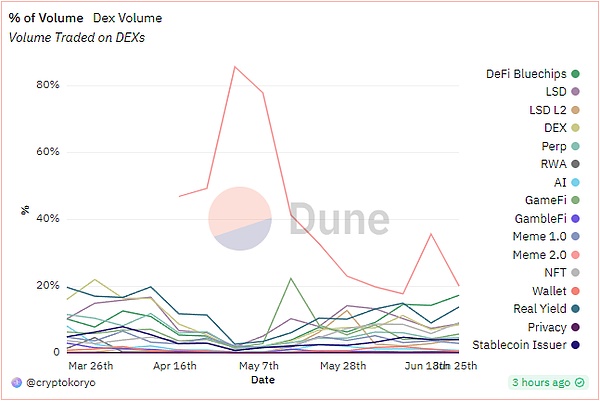 Proportion of each narrative in trading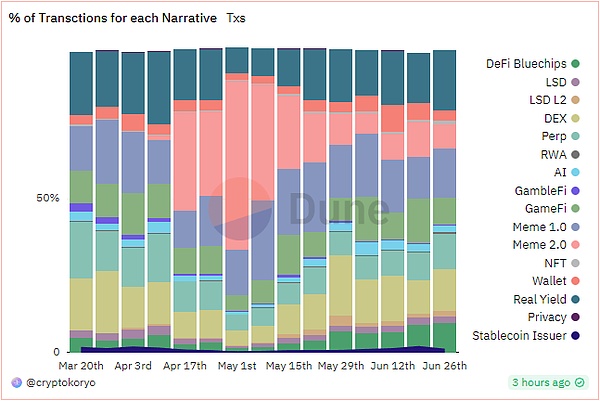 Analysis
In the past three months, the LSD L2 narrative has emerged as a winner, led by new projects such as Pendle, Lybra, and Tenet.
Meme 2.0 experienced a typical pump and dump, with most tokens dropping more than 80% from their peak in April.
As expected, tokens with larger market caps have lower volatility, and vice versa.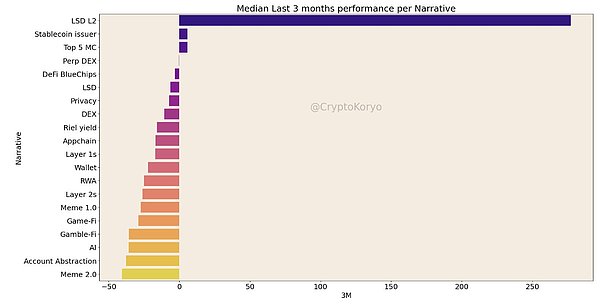 However, the market rebounded last week. As the bitcoin ETF and BlackRock pushed the market higher, the performance of DeFi blue chips surpassed all other narratives, which is a very rare phenomenon.
The RWA narrative, led by Centrifuge (CGF) and Maple (MPI), also performed well.
It is worth noting that Meme 2.0 also rebounded.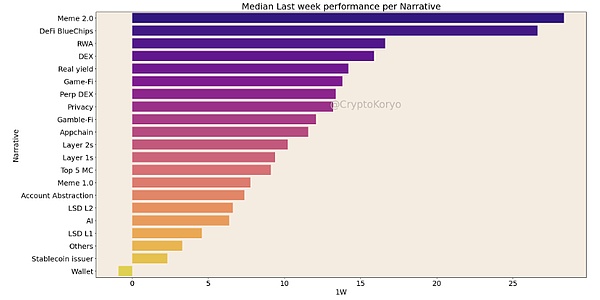 In terms of daily trading volume, tokens with larger market caps largely dominate. There is nothing particularly noteworthy. (Note that the data comes from CMC and it is unclear whether it includes trading on DEX).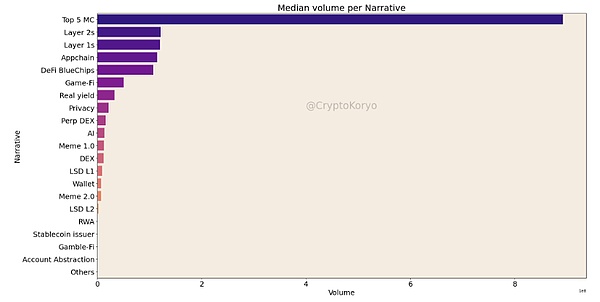 Conclusion
It is not yet a bull market, so we have not seen any narrative clearly outperform the overall trend.
The excellent performance of the LSD L2 narrative is biased because many projects were launched in the second quarter, but this is still a narrative worth paying attention to.
DeFi blue chips have performed relatively well in both bearish (slightly retraced in the past three months) and bullish (slightly increased in the past few days) periods. Given the uncertainty of the market situation, it is wise to allocate more to the DeFi blue chip narrative. (CRV, AAVE, COMP…)
---