Will the US SEC 'as usual' postpone all Bitcoin spot ETF resolutions, and is there still a possibility of approval?
Will the US SEC postpone Bitcoin spot ETF resolutions and is approval still possible?
Compilation: Felix, LianGuaiNews
On August 31st, according to documents, the U.S. SEC postponed the rule change decisions proposed by Fidelity (Wise Origin), VanEck, WisdomTree, and Invesco, all of which intend to issue Bitcoin spot ETFs through the BZX exchange under Cboe (Chicago Board Options Exchange). Applications from Valkyrie Investments and BlackRock (iShares) were also postponed, as these two companies plan to issue ETFs through Nasdaq. Another postponement involves Bitwise, which intends to launch its ETF through NYSE Arca.
Most decisions postponed until October 17th
Documents show that the U.S. SEC has set a new deadline of October 17th for making decisions on the applications from WisdomTree, Invesco Galaxy, Wise Origin, VanEck, and BlackRock. The decision on Valkyrie has been postponed until October 19th, and the decision on Bitwise has been postponed until October 16th.
Bitcoin falls in response
According to CoinGecko data, the price of Bitcoin continues to fall following this news. As of September 1st, 12:00 PM (Beijing time), Bitcoin has fallen by 4.1% in the past 24 hours to $26,077.99. The previous increase in Bitcoin price driven by the news of Grayscale winning a lawsuit against the SEC has been wiped out.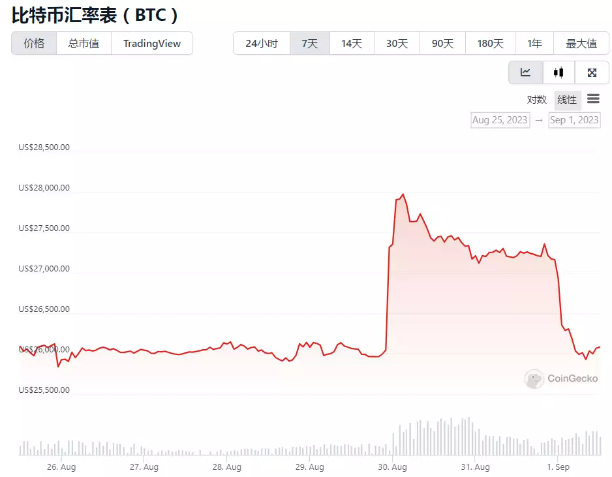 Why the postponement?
Similar to previous postponements, the U.S. SEC stated in the latest batch of documents that the extension is to "allow sufficient time to consider the proposed rule change and the issues raised therein".
It is reported that regulatory agencies have a total of 240 days from the date of the initial review of the application to make a final decision of approval or rejection. SEC staff traditionally use all possible comments and review periods to delay making a final decision until the end of the 240-day period. Therefore, this postponement is also in line with expectations. Currently, the regulatory agencies have at least 45 days to process these proposals, and then the U.S. SEC can approve, reject, or further postpone its decision.
Approval still possible
The latest group of Bitcoin spot ETF applications and proposed rule changes are widely regarded as hopeful. BlackRock, which manages over $9 trillion in assets, made headlines when it applied for a Bitcoin spot ETF in June. As one of the first applicants in this round of proposals, BlackRock's favorable factors for its proposal include its high success rate in past ETF applications (note: BlackRock has had 575 ETFs approved by the SEC and only 1 rejected), and its proposed Bitcoin spot ETF relies on Coinbase's monitoring sharing agreement.
It is precisely because of BlackRock's application that other companies that previously attempted to launch similar products have resubmitted their applications. Therefore, some believe that if BlackRock is approved, all similar applications will be approved.
In addition, on August 29th, the District Court of Washington, D.C. made a favorable ruling for Grayscale, stating that the SEC's refusal to approve Grayscale's Bitcoin spot ETF was unreasonable and that the SEC had adopted a double standard for Bitcoin spot and derivatives but failed to explain the necessity of such a dual standard. The court ordered the SEC to reconsider Grayscale's request. James Seyffart, an ETF analyst at Bloomberg, said that although it does not mean that GBTC will automatically convert to an ETF, it does bring the approval of a Bitcoin spot ETF one step closer. The CEO of Grayscale stated that it is still uncertain whether it is necessary to resubmit the application for a spot Bitcoin ETF to the SEC, and attention should be paid to the final authorization of the court.
Currently, it is unclear whether the U.S. SEC may once again postpone making a decision when the next deadline arrives. However, previous Bitcoin spot ETF applications from each of the aforementioned companies have been rejected by the SEC. If the SEC decides to reject the latest round of ETF proposals in October, applicants may submit new applications, restarting the cycle of approval, delay, and rejection.
References: Coindesk, Cointelegraph, Blockworks
---